Keywords are a tool that helps us understand user intent. What matters to Google is that your content provides valuable information for people searching for keywords related to your area of expertise -
as opposed to simply including the exact keyword terms one or more times per article.
The actions people take on your page are becoming increasingly important in SEO, and if you're not matching user intent, then you're getting off to a bad start. Only through matching user intent, do you provide the content that can grow organic leads that ultimately convert into new customers.
Here are five hacks to help you understand the search intent of your audience:
1. Group Keywords by Basic Intent
By this point, you've probably done some keyword research and know what search volumes you're looking at for each search term. Now you want to focus on what information searchers are looking for from each keyword, and the best place to start is by breaking them down into four broad categories: informational, navigational, commercial, and transactional. By way of example, if we take our KeyScouts SEO-related content, the breakdown would be per below:
Informational: What is SEO?
Navigational: KeyScouts About Us
Commercial: Digital marketing services
Transactional: Buy blog content
Language is complicated, so not every keyword is going to fit neatly into a category, however, it helps you to get a rough idea of what the searcher expects to see from their search results.
A quick way to categorize basic intent is to Google your keyword and look at the top results. Pay special attention to the titles and meta descriptions which can tell you more about the user intent behind the article.
2. Test Keywords Using Answer the Public
Your keywords might give you the big picture of what information your audience is looking for, but what about the finer details?
People are searching for a keyword because they have a question or a problem they need to solve. A big part of matching user intent is understanding what those questions and problems are really about.
The great thing is, there are free tools that give you access to this type of information and the one we recommend is called Answer the Public.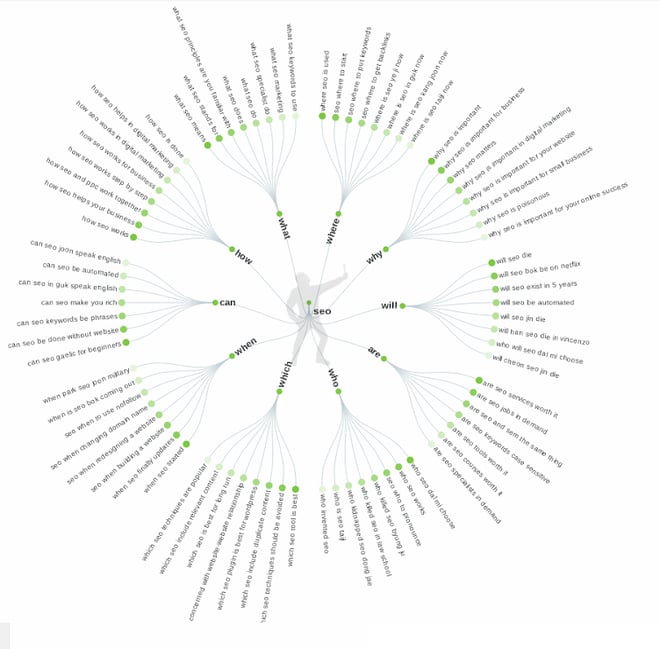 Simply put your keyword into the search bar, and Answer the Public will show you a huge list of questions people are asking about that subject. This isn't just a good tool to get content ideas, it's also a great way to ensure you're matching user intent.
Think about how you can answer the biggest questions in your content, and match the phrasing in your headers.
3. Take Advantage of Google Hints
If you look carefully, you can see that Search Engine Results Pages (SERPs ) are full of helpful hints about user intent - but you need to know where to look for them.
You can get a good feel for user intent by looking at the top results. After all, these are the pages Google has determined are doing the best job at answering a particular search term. If you look carefully, however, there are lots of extra snippets of information scattered around the SERP that can help analyze search intent.
One of the best indicators of user intent is the People Also Ask box, this shows the questions people ask and related topics you can talk about. You might want to incorporate some of these in your H2 headings, or even create a dedicated section to answer these questions.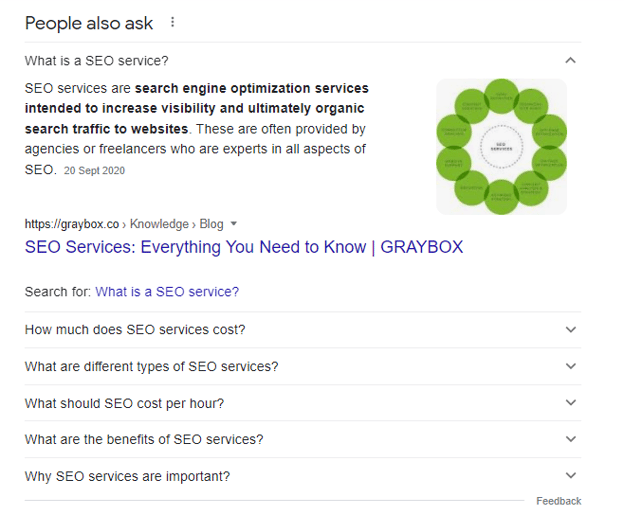 If you scroll to the bottom of the results page, you'll also see the Related Searches box, which gives you even more insight into how people are searching. Again, these are useful phrases that can be incorporated into H2 headings and they can help guide your content creation.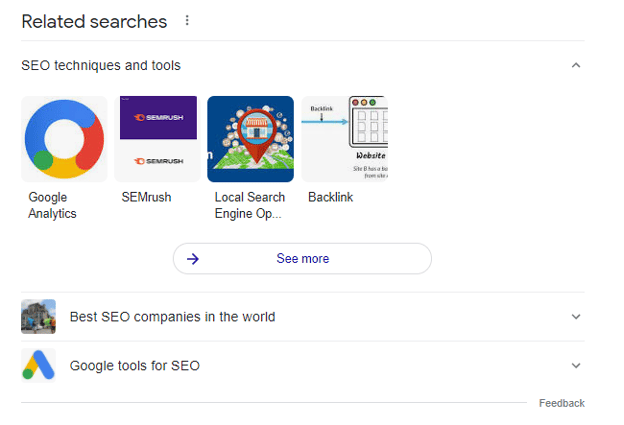 Yet another place to find insights into user intent is the image results. At the top of the page, you'll see individual keywords that are commonly found in top-ranking content. These can serve as auxiliary keywords that give extra context to your article and help make sure you're matching user intent.
4. Scan the Comments
The comments on your blogs and the top results for your keywords can give good insights into what content your audience wants to consume. People often comment about the parts of a blog they like, additional information they'd like to see, and how the information relates to them.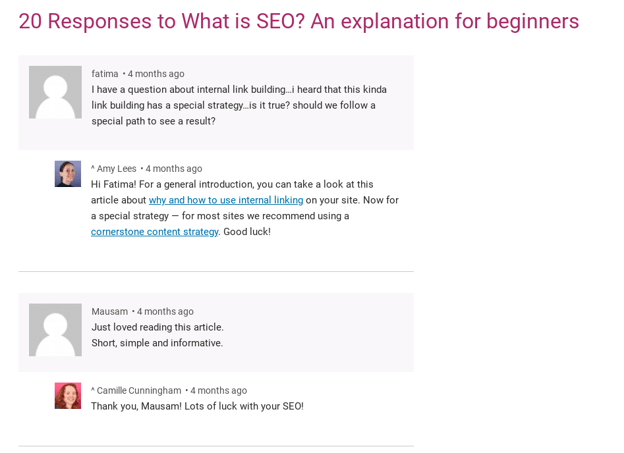 This can be extremely important information because it's coming directly from the people you're trying to reach.
Your competitors might have done the hard work to get to the top of the rankings, but if they're not attuned to their audience and don't read the comments, which happens quite frequently, then it's an opportunity for you.
You want to replicate the content that the top search result getters are using and improve on their content by paying attention to the comments section which can provide lots of insights about how to do this.
5. Speak to Other Departments
User intent can be determined in the real world as much as in the online world.
Your salespeople and support teams are speaking to your target audience on a daily basis, helping to answer their questions and solve their problems. This is exactly the kind of information you're looking for to guide your content strategy.
Marketing is most effective when it is coordinated with what is happening on the ground, so don't be afraid to reach out to other departments and hear what your prospects and customers are saying. You might just gain some unique insights that give you extra ideas about how to match user intent.
Takeaway: Make sure you Understand Search Intent
There are lots of paid SEO tools out there, but when it comes to user intent, there are plenty of free "hacks" you can use to your advantage.
Google gives you access to lots of information that can help you get a clear picture of what your audience is looking for. When you leverage services such as Answer the Public, the information your audience provides, and the knowledge already in your company, then you should get a good understanding of the search intent behind each keyword.
Targeting specific keywords won't be effective, unless you understand the meaning behind them. For example, let's say you are studying the behavior of Panda bears and you notice that sometimes they look as if they are practicing the martial art of Kung Fu. Now you want to do a Google Seach to see if other Panda researchers have observed the same phenomenon: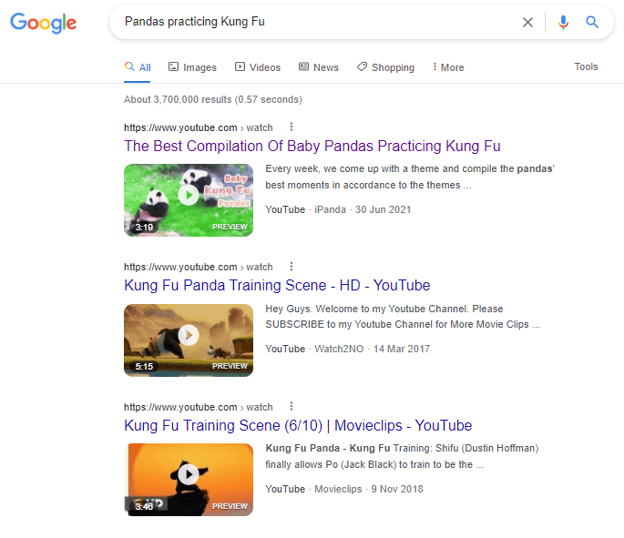 Those not familiar with Dreamworks animated films might innocently type in the term "Pandas practicing Kung Fu" to see if any of their colleagues have observed similar behavior as part of their academic research. Regardless of their search intent, the top search results will inevitably center around silly home videos of Pandas filmed at the zoo and the Kung Fu Panda film series - which is in no way related to the scientific study of the movements of real Panda bears.
What really matters is the intent behind the keyword search, and the five tips described in this article will help ensure that your keyword strategy matches the intent of your target audience.
Beyond that, if you want professional support in your keyword selection that reflects the search intent of your target audience, then why not request a call with KeyScouts and see if you qualify for a free consultation.