Search engines get smarter every day. They've become amazingly adept at understanding how ideas fit together to create meaning, which means selecting the right keywords for your business in 2022 may be more challenging than ever.
In the earlier days of search engines, keywords were so important that people would just stuff them everywhere, and it worked. Today, SEO is not so simple, and instead, it rewards high-quality, focused content that offers value to the reader.
However, don't think that means keywords are out - the word "focused" is key, and to achieve the right level of focus, you need to have defined keywords.
Every piece of content should have a target keyword and these five criteria can help you select the right one.
1. User Intent
Everything in SEO comes back to giving your users what they're looking for. This is the number one reason keywords are still so important.
Before you create content, you've got to have a good understanding of your target audience. Specifically:
The questions they have
The problems they need solving
The way they look for information
This information is summarized in your keywords. If you use the right keywords, then you start with a perfect platform to reach people with the right answers to the right questions in the right format.
The other thing that's vitally important to remember is that the keyword also has to reflect your goals. You can rank number one for a big keyword, but if there's no way to tie it into the products and services you offer, then it's going to have very limited benefit.
Another way to get a deeper insight into how your audience and Google thinks is by looking at the SERPs for your target keyword. You'll find helpful information such as similar questions people also ask and related searches.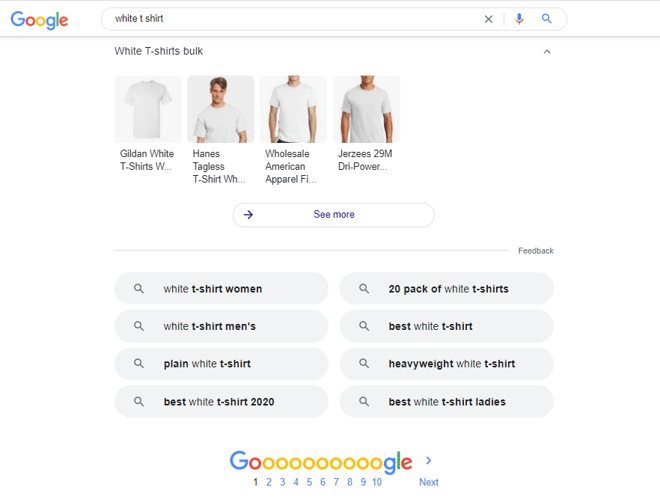 This information can give you a good picture of how your audience is searching and give you additional keywords to target.
Know your target audience and use this knowledge to focus on the keywords that matter to them.
2. Volume
You can't talk about keywords and not mention volume.
Of course, this is the standout figure everyone will look for. The thing is, it's not always about choosing the keywords with the highest search volumes. In fact, for many businesses, it's much more beneficial to focus on more specific keywords with lower search volumes.
For example, if I search "t-shirts", not only are there going to be millions of results, but it's also clear I don't know exactly what I'm searching for.

On the other hand, if I search for "short-sleeve formal white t-shirts," it's fairly evident that I know exactly what I want.

Longtail keywords may have lower search volumes, but they're also a sign of greater intent. Throw in the fact there's a lot less competition for these search terms, and it's an opportunity for your business to reach the right people with the right message.
3. Competition
SEO allows businesses of all sizes to reach their target audience. In fact, good SEO can allow you to outrank much bigger companies with much bigger budgets and this is one of the reasons we love it.
This doesn't mean you can immediately start ranking for the most competitive keywords though.
The search engines use complicated algorithms to decide the top rankings, but one of the key elements is authority. Authority is built by creating backlinks from other authoritative websites back to yours and it applies both to your domain as a whole, and individual pages on your site.
If the top results for your target keyword are pages with lots of authoritative backlinks, on domains with high domain authority, then this is going to make it difficult to outrank them.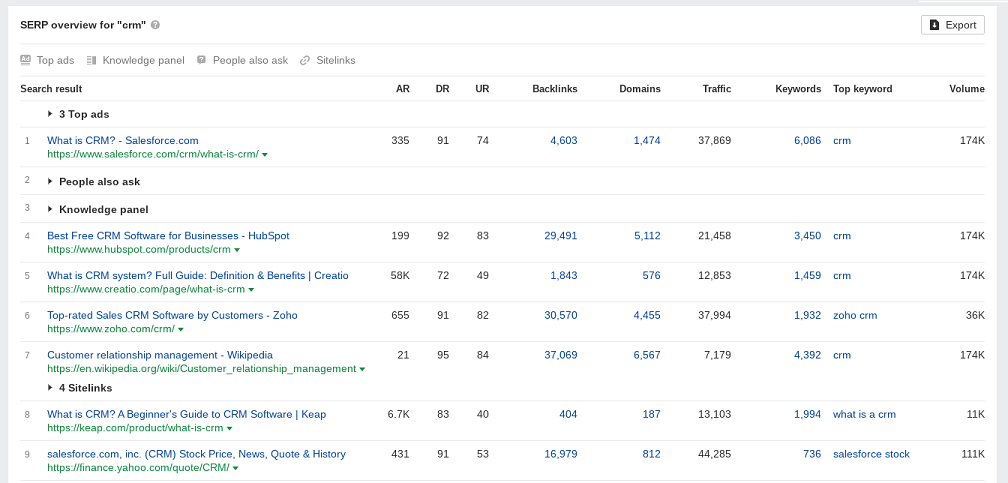 This is why you're always working to build your backlink profile, and it also means you have to be strategic with the keywords you select.
4. Commercial Intent
Ultimately, we want people to land on our website and make a purchase. This might not happen immediately, but we need to progress people through the customer journey until eventually, they become a customer.
Your potential customers are making Google searches at every stage of the customer journey. The further through the journey they are, the more valuable they're likely to be for your business.
If I search "what is SEO," then I'm probably not at the point where I want to hire a marketing agency. If I search "B2B SEO companies in Atlanta," then it's likely I'm much closer to making a purchasing decision.
One way you can understand the commercial intent of a keyword is by looking at its cost per click for paid advertising. If people are paying a lot for each click, then it probably means the keyword has higher commercial intent.
5. Halo Keywords
You're not trying to appeal to robots. You're writing for real-life human beings, so you need to be able to do more than just repeat a keyword over and over again.
Google and the other search engines are getting much better at understanding how phrases link together, which means it's not all about looking for one keyword. Instead, the best way to please the search engines is by offering maximum value to the reader by answering their questions in-depth.
To help you do this, you can look for halo keywords that give you a deeper understanding of what your users are looking for.

If you're using a keyword planning tool like Ahrefs, then you'll see lots of halo keyword suggestions in the keyword ideas section. Again, you don't want to be stuffing these in at every opportunity, but they can guide your content creation and fit into your writing naturally.
Conclusion: SEO Keyword Selection Criteria
Choosing the right keywords is an important part of SEO. This isn't just because search engine bots are scanning your website looking for keywords, but because they go right to the heart of user intent.
If you understand how your target audience searches, then it allows you to craft the content that answers their questions and helps solve their problems. Modern SEO is about engagement, but the time-old keyword is still a big part of this.
It's all about focus, and when you choose the right keywords, it allows you to start creating the high-quality, focused content that's going to get noticed by the search engines and your users.
If you are hesitant to do your own keyword selection, you are not alone. Call the SEO keyword experts at KeyScouts and get a free consultation.