When it comes to SEO in 2021, it's certainly not a case of out with the old and in with the new. You'll be pleased to hear that the things that have made you successful in recent times won't become redundant, but as ever, there will be evolutions in the process.
Rather than going through wholesale changes, SEO continues to build on solid foundations, and if your website has those, then you're in a great position for success in 2021. However, Google and the other search engines get smarter every year, and your SEO needs to develop to reflect this.
So, what's going to make the difference for your SEO in 2021, and how does it tie-in with the hard work you've already done.
What is Google Looking for in 2021?
At its core, Google's job is to send people to the information that answers their questions. In the past, there's been a lot of emphasis placed on keywords to help you achieve this. However, over the years, Google's algorithms have become much smarter, and they're able to better understand how words come together to give meaning.
This means that just putting keywords in your content isn't going to cut it (and it hasn't for a long time). What Google is looking to promote is content that's valuable for its users, and more than ever in 2021, the only way to succeed with SEO in 2021 is by offering your audience exceptional value!
Here are some ways Google continues to focus on quality content.
Matching User Intent
Keywords are still important, but Google has become much better at understanding semantics - the meaning behind the words. This means it's better able to understand the motives behind people's searches and send them to content that matches user intent. For example, if you type into Google "who painted the Mona Lisa" - Google will give you the answer of "Leonardo da Vinci" although it has no mention of the "Mona Lisa" keyword.
When you think about it, keywords don't exist in isolation - they're part of a broader subject with lots of different branches (AnswerThePublic gives some great insight here, as you can see in the image below). If you're approaching your keyword research in isolation though, you're missing the human way words and ideas link together (natural language). In the past, this didn't matter as much because Google couldn't understand semantics, but now it's one of the most important parts of your content production.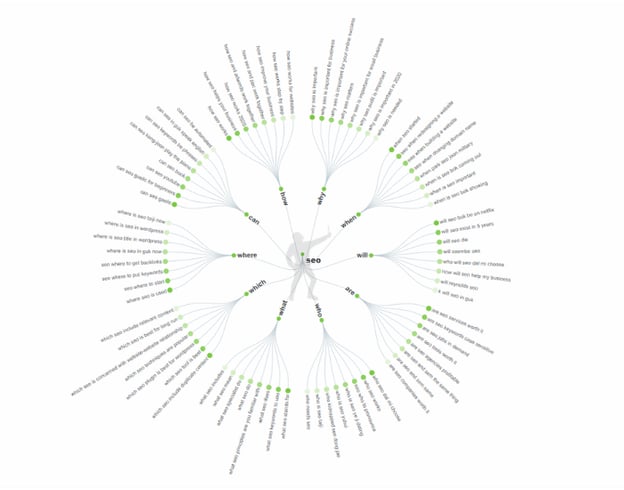 Keyword research is still an important element for your SEO, but now it's just the tip of the iceberg. The most critical element is understanding your audience - their pain points, the questions they have, the problems they need solving. Your keywords give you some clue to this, but they can't give you the whole picture.
Once you have a good grasp of what you're audience is looking for, then you'll be able to start linking topics and ideas together in a way that offers superior value. When you successfully do this and provide the high-quality content your audience is looking for, then it's going to show up in improved page metrics such as lower bounce rate, and higher retention times.
Page Experience
One of Google's biggest announcements in recent times has been about Core Web Vitals, and 2021 is the year where we're going to see them factoring into rankings.
Core Web Vitals are all about page experience, and how your visitors perceive your page.
Essentially, this is Google trying to crack down on all those things websites do that annoy us as end-users. Slow load speeds, buttons that load in one position and then move when you go to click them, and so on.
In the past, there's been a big focus on page load speeds, and of course, mobile experience, but with Core Web Vitals, Google is giving you even more detail about what it's looking for. You can quickly see how you're doing in these areas by running your site through Google Lighthouse, and you'll get important tips on how to make improvements.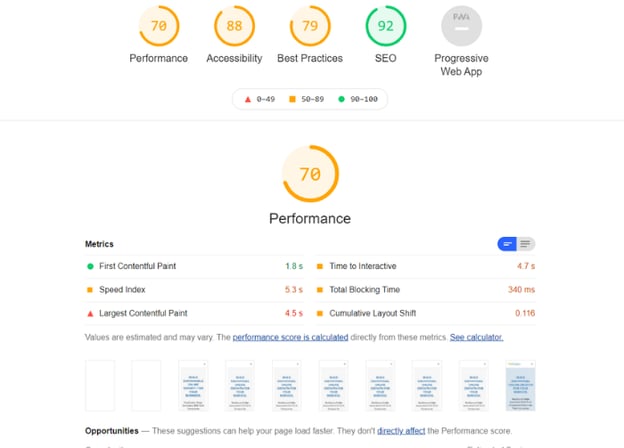 Again, this is a natural progression from Google. You can have the most incredible content, but if your page experience is terrible, then it's not of any value to anyone, and it's not worth Google ranking it. Core Web Vitals allow Google to dig deeper into the quality of your page experience, and make sure it's ranking pages that truly offer value.
Core Web Vitals aren't going to be the biggest ranking factor out there, but they're part of the package of a web page that offers value, and this is what you need to achieve in 2021.
E-A-T
Google EAT is nothing new, but in 2021, it's something you've really got to focus on. If you think about some of the concerns the world has with the internet, elements such as security and misinformation, then EAT - expertise, authority, and trustworthiness are naturally going to become more and more important.
To meet Google's requirements, your site, and its content have to answer some simple questions, and the better it does this, the better chance you have of ranking:
Who wrote the article and what expertise do they have in this subject? This is where your author bios come in.
From where does the site/ content draw its authority? In other words, who is endorsing this content by linking back to it and sharing it on their social profiles?
Is this site trustworthy? Does it have a good level of security, SSL certificate, clear terms and conditions, reviews on Google My Business?
Google isn't reinventing the wheel in 2021, but when it comes to EAT, it is going to play a big part in this idea of offering ultimate value.
Takeaways
Are there other little technical tweaks you can make to improve your SEO in 2021? The answer is yes, there are hundreds of elements that go into Google's algorithms, but when you look at it, everything comes back to the fundamental idea of offering your target audience value.
As Google continues to get better at what it does, SEO is only ever going to move towards offering the end-user a better and better experience. If you're going to be successful with your SEO in 2021, then this has to be at the heart of everything you do.
New details such as Web Core Vitals will continue to come out, but if you're doing a great job of creating value, then they're nothing to worry about. Instead, they're opportunities to refine what you're doing that little bit better and reap the benefits of the hard work you put in.
With the right focus, 2021 can be a great year for your SEO, and as ever, KeyScouts is here to help you.