How do you feel when you meet up with someone you know nothing about? How about when you get your credit card out to buy something from a business you know nothing about?
makes us feel edgy, and that, in a nutshell, is why the about us page is important.
Humans don't enjoy engaging with entities they know nothing about, and they're certainly going to think twice about sharing sensitive details.
This is part of the reason why virtually every website you see will have an about us page. However, too many businesses see the about us page as an inconvenience, rather than what it is - a great opportunity to make a connection with their audience.
Why is the About Us Page Important?
When you come to creating a website, the home page and about us page are probably two of the first things you think about. Often though, people approach the home page with lots of creativity and energy, and then just throw a bland block of text on the about us page with a few pictures.
The about us page is so important for any business though.
When you look at the psychology of making sales, your about us page is a great place to start building on many of the principles. People buy things from businesses they feel a connection to, and one of the most powerful ways to create this connection is by telling your story - now where might you be able to do that?
Your about us page is a great opportunity to show the human element behind your business, giving it a face, and an identity people can make an emotional attachment to. For example, these about us pages from HubSpot and Zapier immediately introduce the human element that's behind the business.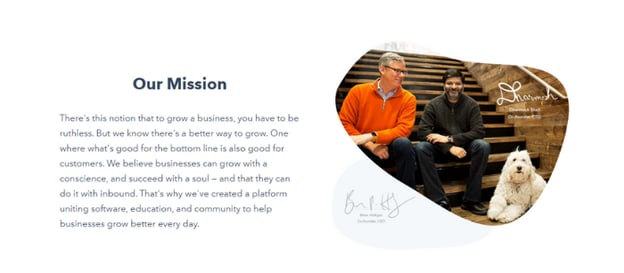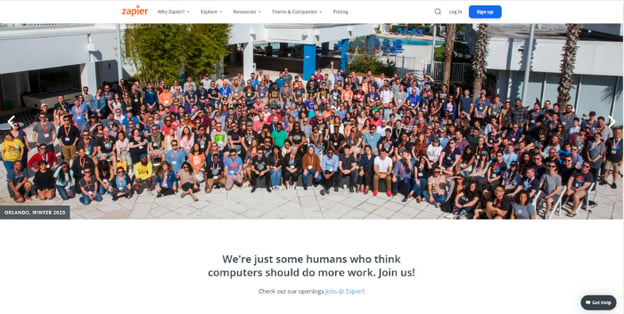 Conveying your story in a great about us page starts with two of the most important things in marketing - understanding your audience, and finding your brand voice, so it can serve as a blueprint for everything you want to achieve with your website.
How to Create a Successful About Us Page
Your about us page doesn't need to be complicated, but it does need to be focused.
Understand What You Want to Achieve
Don't just write an about us page because it's required; write an about us page with a clear picture of the steps you want your audience to take.
People want to know who's behind your business, so your about us is likely to be one of the most visited pages on your site. You've got a captive audience, so what do you want to achieve with it? What steps should people take after they've read your about us page?
This is where it's important to understand the customer journey and use your copy to guide people through the steps you want them to take.
Going back to the HubSpot example.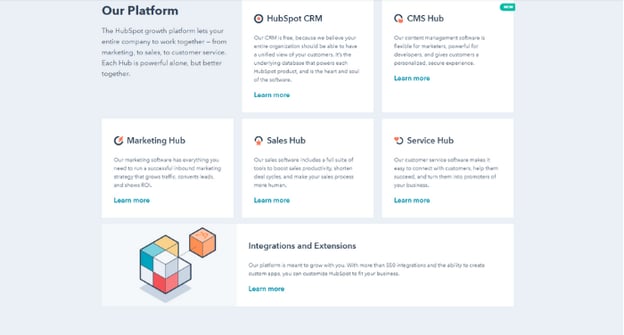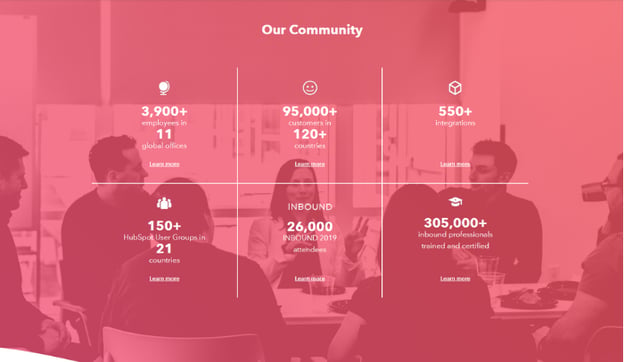 The copy talks about a wide variety of topics, but the calls to action all point people in the same direction - to learn more, either about HubSpot's products, or their social proof. The about us page humanizes the business, but it also guides people through a planned customer journey.
Don't Forget to Entertain
Think about all the struggles your business has overcome just to reach the point where you're writing this about page.
You've built up a lifetime of knowledge, come up with an idea, put a team together, done endless market research, backed your idea with financial investment - every business has an incredible story to tell when you dig beneath the surface.
Humans love stories, and your about us page is the perfect place to craft your story in a way your target audience can identify with it. So often, businesses fail to capitalize on the wonderful story that is their business, and instead, opt for a lifeless about us page with a few bullet points.
Remember though, at its heart the about us page is part of your sales copy, and there are few things that sell better than a great story.
Think About Your Voice
One of the keys to branding is consistency. As your about page is likely to be one of the first places where people interact with your business, it's important you set expectations by zeroing in on your brand voice.
When we think about some of the biggest brands in the world, we often tend to ascribe characteristics to them that are very human - forward-thinking, confident, inclusive, friendly. A lot of this stems from voice: the words brands use, and the way they portray themselves.
Your about us page is where you tell everyone all about your company, so it's a great opportunity to introduce them to your voice at the same time. If your brand is edgy, disruptive, and thought-provoking, then that should show in your language.
Think about a huge B2B brand you engage with and take a look at their about us page. What are some words that define their voice? When you look at your about us page is it just as obvious what voice you're trying to convey?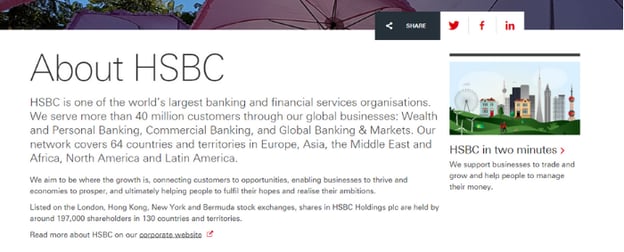 Here's an example of HSBC's about us page. The first words that jump out are connecting, enabling, and helping, which quickly identify part of the brand's voice.
Always Remember Your Target Audience
At the end of the day, the story you tell, and the voice you develop for your brand don't matter if they don't appeal to your target audience.
Your about us page is all about your business, but in reality, it's all about your audience, and giving them the emotional connection, information, and entertainment they need to continue to engage with your brand. If you're going to do this efficiently, then you've got to understand exactly what it is your target audience is looking for.
It's easy to get consumed with yourself when crafting your about us page because, well, after all, it's called about us. When you write any copy or content though, you've got to keep your target audience in mind and make sure it's perfectly optimized to meet their needs.
Takeaways
People are interested in your story, which means your about us page is a wonderful opportunity to captivate your audience.
Every business has a story to tell, and telling it in an engaging way should be one of your top priorities when creating a website. We rightly focus on our home page, and sales pages, but your about page is just as important and deserves your attention.
If you can successfully use your about us page to entertain your target audience and guide them through your customer journey, then you'll find it makes a major contribution to the success of your website.
An about us page is an opportunity, so take the time to craft your story.