Do you want to know how to rank your website in 2020?
Unfortunately, Google doesn't provide a step-by-step guide on how to do it, so you can't get it straight from the horse's mouth. However, we do have a pretty good idea of what's likely to get your website ranking high — it all boils down to relevance, quality, and trust.
There are six key areas that you should focus on so that your website appears at the top of the SERPs for your target keywords:
Domain factors
Content
Site structure
Performance
User interactions
Link factors
Let's dive into each one now...
Domain Factors
Google will use certain information contained within your domain to help determine the ranking ability of your website. These factors help them understand how your website relates to certain keywords and whether your content is likely to be trustworthy.
Relevance
Google needs the results it shows to be relevant to queries its users are asking. To do this, it needs to understand what each website is about. One of the ways it does this is by looking at the domain.
If your domain has the word "karate" in it, then that's a pretty clear signal to Google that your website is going to be about karate. Even better, if the domain is an exact match for certain keywords, say karatenewyork.com, then this can give a slight advantage in the SERPs. In the past, this was seen as a critical SEO factor, but it has diminished in importance as Google has perfected its algorithm.
People still spend a lot of money to get the right domain name though, and having your keywords in your domain, preferably as the first word can make a difference according to this 2017 study. For 2020, it's recommended to include keywords in your domain as part of a broader branding strategy. It's most important that your domain name is memorable, but if you can fit a keyword in naturally, then it can give you a slight advantage.
Another relevancy signal is the country TLD extension (.co.uk, .co.za. ca). Google recognizes that content from these sites is likely to be relevant to those countries, giving it extra ranking ability.
Trust
Google also uses your domain to help establish whether or not your site is trustworthy. The search engines want to send their users to quality content that provides value, and they use information about your domain to help them do this.
Your domain's age and history play a part in your site's ability to rank. Older domains are able to build authority over time and show a positive history of producing quality content. However, not all old websites have good histories, and domains that have been penalized for things like spammy links in the past may still carry the penalty over, even under new ownership.
In order to establish trust, Google wants to know certain details about who owns the domain, and how long the domain has been registered. Being open and having public WhoIs and registering your domain for a longer period are seen as signs of high-quality websites, and therefore can give you a positive bump in the rankings.
Content Factors
One of the most important things for Google is that they're sending people to quality pages that answer their questions. If they can't do this, then people will quickly start using a search engine that can. Therefore, Google places a lot of emphasis on understanding what your content is about and making sure it is of high quality.
Quality
Producing comprehensive, high-quality content should be your first point of call. Whatever your goals are, good content will help you achieve them.
There has been a lot of talk about content length and longer content ranking better. In general, longer content does rank better, because it covers topics in more detail. If someone queries "the Revolutionary War," Google doesn't want its users to go to one website and get the dates, another website to find out who was involved, and yet another website to find the total number of casualties. It wants to send its users to content that answers all their users' queries. Longer-form content is more likely to do this.
But at the same time, people need to be engaged, and Google recognizes this. A page with 2,000 words of block text isn't engaging to read, so Google gives preference to pages with multimedia that has been optimized with alt text and accurate image file names. This is also extremely important for visual search, which is a trend that's only going to grow in the '20s.
Relevance
Google uses a number of signals to determine how relevant your page is to a certain search term.
To understand what your pages are about, Google pays particular attention to the keywords in your titles, H1 tag, H2 and H3 tags, and description. Your title tag will carry the most weight because it should denote what your page is about.
However, you can't fool Google by putting a keyword in your title tag and then not talking about it in the actual content. Your keyword needs to be prominent throughout your content whilst appearing in a natural way. Google is really good at its job, and the only real way to do this is by producing great content centered around the keyword.
One of the reasons Google is so good at understanding your content is because it can understand the relationships between your keywords using Latent Semantic Indexing. Through LSI, Google can better understand the overall themes of your content and the nature of its users' queries. This allows them to link people with the right content to answer their queries.
By searching Google for a keyword such as "moon" you can find LSI Keywords to use by looking at the related searches people are performing. Simply search your keyword and scroll down to the bottom of the page to find related searches.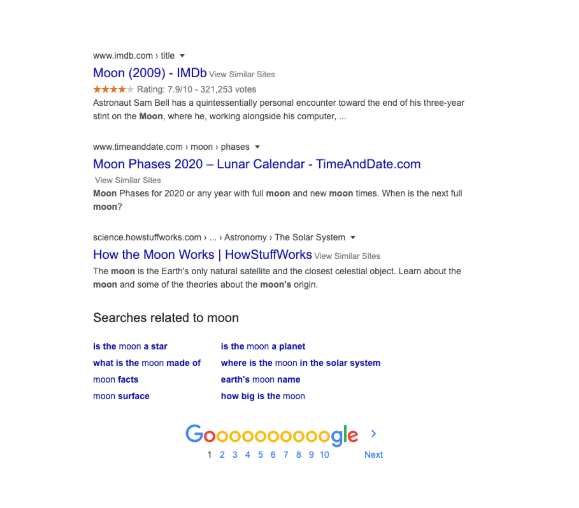 Trust
Google can send someone to a great article that answers all their questions, but if the information is incorrect, then it hasn't achieved its goals.
This means that Google will look for signs within your content that the information is trustworthy. One of the ways they do this is by looking at the outbound links from your content. If you're writing about "trade relationships between the US and UK" then Google wants to see you citing relevant information from trustworthy bodies like the WTO.
Strong outbound links to authoritative sources are a sign of quality and trust and can help your content rank better.
Site Structure and Code Factors
With recent updates such as BERT, Google has moved towards semantic search, which focuses on the meaning behind the search query, rather than just the keywords in it. This makes the structure of your website even more important as it allows the search engines to better understand your site.
Quality
First, your site has to have a user-friendly layout. If your pages have a poor user experience, then people will quickly get frustrated and leave without finding the information they need. Google is going to make your rankings suffer as a consequence.
Keep your site simple, intuitive, and easy to navigate and Google and your visitors will be happy.
Relevance
How you structure your site will give Google a better idea of whether you should be showing up in the rankings for certain search terms. The more information Google has about your site, the more likely it is to rank your content.
Uploading your sitemaps through Google Search Console, using schema.org markup, and including page categories are all good ways of helping Google understand your material through your structure.
Within your content, using tables of contents and structuring your H tags in the right order will also allow Google to better understand what your page is about and boost your chances of ranking.
Trust
Google will look through your site structure for hints that your organization is trustworthy. Making sure your company is transparent by having a contact page and terms of service will signal to Google that your website has some level of accountability, which can help your website ranking ability.
Performance and Security Factors
A website that loads quickly is great for your rankings. However, it's not only speed Google is worried about — it also wants the people who use your website to be safe.
Quality
High-quality websites in 2020 do two things extremely well (among others). They load quickly and they work extremely well on mobile devices. The majority of traffic now comes from mobile devices, so Google needs to see that your website is accommodating this group of people.
If your website is slow to load and doesn't work properly on mobile, then it's going to find it much more difficult to rank.
Trust
Boosting your website's security with an SSL Certificate shows Google that you take your visitor's online security seriously, which can help with your rankings. People are much more concerned about online security in 2020 and they, too, want to see that your site starts with https as opposed to Http.
User Interaction Factors
All of Google's work boils down to connecting people with the content that best answers their questions. Thus, it pays attention to how people interact with your website and take that into consideration when it comes to rankings.
Quality
With the RankBrain update, Google introduced machine learning to look at how users interacted with the search results and adapt the algorithm accordingly. Google recently announced that this is their third-strongest ranking signal. So it's clear that the way people interact with your site is very important.
This is important for both the quality and relevance of your website, with key user metrics such as dwell time (the amount of time a user spends on the page) starting to play a bigger role in the rankings.
Through its Chrome browser, Google is also able to track the level of direct and repeat traffic you get to your site — both signs that your content is high-quality and popular.
Another factor is comments left on individual pages. It's thought that pages with more comments might be seen as higher quality, giving your page an edge in the rankings.
Relevance
Other metrics that RankBrain factors include are organic click-through rate, bounce rate, and pogo-sticking (when someone clicks your result in the rankings, doesn't find what they want so returns to the search results and selects a different page).
These metrics show Google how users are interacting with a page, and if they find people are having positive interactions with your page (high CTR, low bounce rate, lots of dwell time,) then they're going to give that page a boost in the rankings.
If your page isn't relevant to the search query though, you're going to see lower CTRs, a higher bounce rate, and more pogo-sticking, indicating to Google that your page should feature lower in the results.
Link Factors
It's not just about what you do on your own site that Google looks at. It also places a lot of importance on how other websites interact with your website. Through the backlinks that point to your site, Google can learn a lot about the quality, relevance, and trustworthiness of your content and decide whether it wants to rank it for a certain search term.
Quality
Google likes the idea of "experts linking to experts." If you've written about the Moon, and Google sees that NASA is linking to your page, then it's going to take it as a pretty good sign that you're producing high-quality content.
The number of linking domains and the number of linking pages you have to your website are big signals of quality and trustworthiness and play an important part in the rankings. However, not all the links are created equal.
The more links you get from authoritative sites, generally sites with a high Domain Authority, the more this is going to improve your Domain Authority and boost your website's ranking ability. Google will take into account the quality of the content that's linking to your page, and it's thought there might be a preference for links that have been around longer.
Relevance
Backlinks that come from relevant domains offer even more "juice," by helping to show Google what your pages are about as well as their trustworthiness. This is why in our Moon example, the NASA link is so powerful; it's from a respected body, that's an expert in the study of the Moon.
If the page NASA links from has your keyword in the title then this also helps Google understand what your page is about, as well as other factors such as anchor text, and the link's location on the page. Google wants your link profile to be natural, and so it doesn't want links that are hidden in images or in footers. Google gives less power to these links. Contextual links that are found in the body of the text generally carry much more weight and give your link more potency.
Trust
If Google sees websites that it already trusts linking to your website, then this is a strong sign that your website is worthy of trust and high ranking, as well.
Keeping a natural link profile and gradually building your links (positive link velocity) is a good way to give your website more ranking power, and keep Google happy. If you're too aggressive and build lots of spammy links in a short time, then Google will notice.
Link building is not just about numbers, but about showing Google your website is high quality as well as trustworthy. Build a natural link profile and you can greatly boost your website's ability to rank.
Conclusion
A key requirement for ranking well is that you help Google achieve its objective - to send users to the content that best answers their query.
Creating great content is the first step to doing this, but you've got to be able to communicate with Google so that their bots can understand what the content is about, and then demonstrate that the information is trustworthy. This is why your SEO strategy needs to be a multi-pronged approach, where you consistently get things right in all areas of your website.
It's no use producing quality content if Google can't understand what it's about, and it's no use Google understanding what it's about if it doesn't trust the information. The three elements go hand-in-hand, and you need to be able to demonstrate you have quality content, that is relevant to a certain search term, and that your information is trustworthy.
The more you can use these ranking factors to build trust with Google, signal to them what your content is about, and provide users with exceptional quality, the more you're going to find your pages at the top of the SERPs.
Interested in learning more or looking for help with your SEO strategy? Contact the SEO experts at KeyScouts today for a free consultation.