Getting prospects to notice your brand online is no small feat, especially with all the competition you have to contend with. No matter your industry, you're likely competing with at least one other major brand. To effectively establish your brand as superior, a solid search engine optimization strategy is needed.
Most specifically, you need a Google SEO, since Google has managed to maintain a near 90% share of the search market for the last decade.
HubSpot found that 61% of marketers say that increasing organic visibility is their highest marketing priority. That's where a comprehensive strategy comes in, which includes your website, content, in and outbound links, and a host of other techniques.
This checklist will provide you with the nuts and bolts you need to establish a successful strategy that yields attention, leads, and customers using the power of Google SEO.
On-Site vs. Off-Site SEO
Before we begin, it's important to differentiate between on and off-site SEO. See, search is essentially separated into two factions.
There is on-site, which is the type you can fully control, and which indicates your website and all the content it contains.
When search engines crawl a website, they'll look at a variety of factors. These include:
Content:
Pages with no content have nothing for crawlers or spiders to scan. Therefore, ensure you have at least 100-200 words per page. The longer your content, the more search crawlers have to work with.
Titles & Descriptions:
These tell crawlers what each page is about. Titles and descriptions are shown as Google search results, so make them descriptive and enticing to click.
Internal Links:
These are links placed throughout your on-page content that helps visitors learn more. As long as the hypertext, link, source page and landing page are all related, internal links can help with SEO. They keep visitors on your website longer, which indicates interest, and when used properly they help with navigation, which is great for everyone.
Speed, Trust, URL Structure & More:
Crawlers look at dozens of factors, but the overall goal is the same: Deliver to search engine users the highest quality and most relevant web resources that most closely match their queries.
If a search user types, "How to market my SaaS on Facebook?" Google wants to return the very best resources, and Google does a great job. That's how they've stayed on top. Your job is to deliver to users first the very best and most relevant content you can. You do this through on-page SEO. Google will pick up on your signals and rank you appropriately and - hopefully- highly.

Then there is off-site SEO, which indicates other publishers and platforms that may link to your site, and which you cannot so readily control.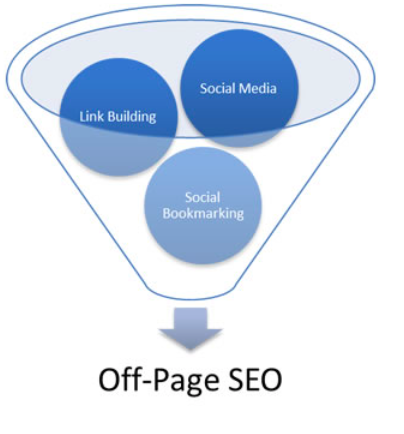 Both are important to SEO and, some would argue, that off-site is more important, especially if your site is new to the web and you manage to get linked-to from a super-authority site like ADT or AT&T or WhiteHouse.gov, or instance.
Obviously, we want to focus on the elements you can control, so we'll start with on-site SEO. Your first job when developing an SEO strategy is identifying your keywords.
1. Identify the Right Keywords
Google AI has learned how to discern meaning from pages using the keywords site developers provide to crawlers. As a B2B web marketer, you should be infusing your site with the very keywords Google needs to rank you for the terms your audience may be searching for.
Finding the right keywords takes research.
To be thorough, you can use a variety of tools, including free ones like Google Adwords Keyword Planner or paid services like SEMrush.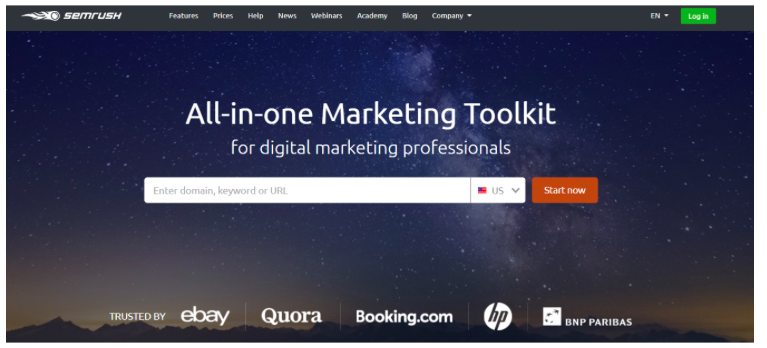 Other ways to search for the right keywords include:
SEMrush, and other platforms, can help you spy on your competition so that you can see what keywords they're optimizing for, how much traffic they're receiving, and how to essentially model your online strategy to surpass these other players in your market.
Search Google and Take Suggestions:
Once you have a list of keywords, search for them in Google and see what the search engine returns as suggestions at the bottom of the page. These links are in blue and can yield suggestions you may not have thought of, and yet that are based on actual searches from other Google users (namely your audience).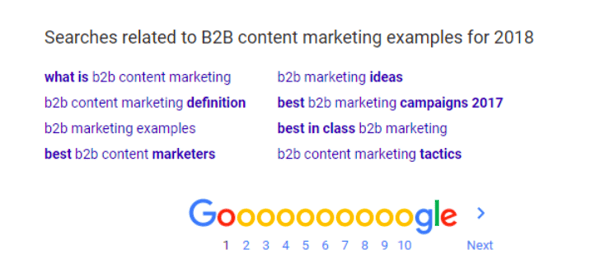 Topic Clusters
Once you have an idea of how your audience is searching Google for your offerings, it's best to create topic clusters. These are essentially brainstorming exercises that have a triple effect. The first is that they provide users with a logical way to learn more about your brand, products and services.
Second, topic cluster pages provide excellent content that Google can spread around, providing your brand with more attention and traffic.
Thirdly, topic clusters give you a great way to organize your content while helping to keep your SEO strategy on the right track.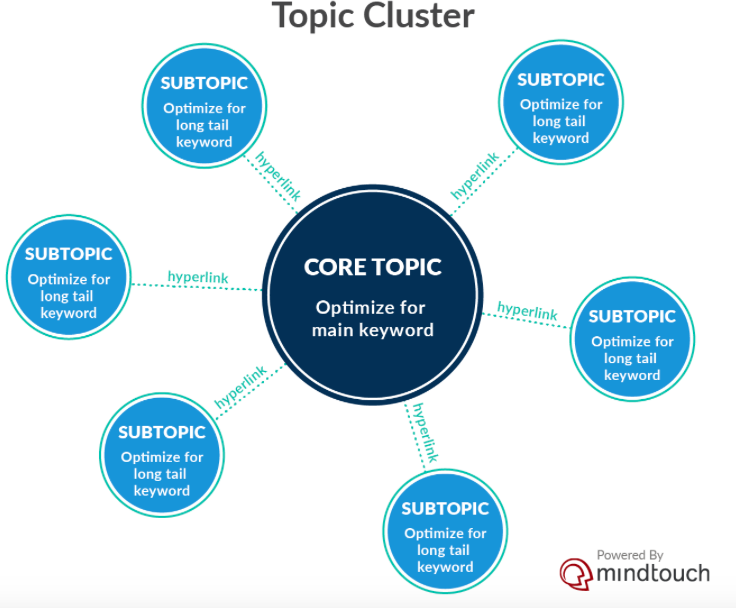 You can think of topic clusters as branches off of a single topic. You have your pillar page, which acts as a hub for your content. This can be your homepage, for example, where you may have snippets of all your other topics listed in order. By clicking on those snippets, visitors can be transported to your cluster pages, where they can learn more, and potentially convert. Internal links will then connect all your cluster pages and pillar page together, keeping your visitors in a constant loop of unique and relevant information, thus paving the path toward the conversion.
Keep in mind that your keywords could change over time, as you devise new offerings and as the growing needs of your audience changes. It's up to you to continually research keywords and come up with topic clusters that help you rank higher on Google long into the future.
2. On-Site SEO
Your website is more than an online business card or brochure. For best results, it should be an interactive client-support system that is designed for one thing and one thing only - to convert web visitors into paying clients.
Your website can have any number of pages, but each page should contain:
The Title and Meta Description of each page will be shown in Google. Make sure you start your titles and descriptions with your keywords so that they can't be missed by bots or humans.
Each page should, at the very least, have a keyword-rich H-1 tag. Headers help to separate your content, but they also give crawlers a good idea of what your site is about. Use them intelligently and often to gain search favor.
Your content should include your keyword in the first paragraph, last paragraph and peppered throughout. Don't use your keyword exactly so that it's obvious that you're optimizing for the web. Instead, use your keywords naturally and, when possible, use synonyms and latent keywords that enrich your content and give Google more than enough information to rank you where you want.
The first relevant image should include your keyword. Think short and sweet. If the image could use a caption, be sure to include a keyword for good measure.
Google uses internal links to determine what your page is about and to determine relevance. Used appropriately, and visitors will stay on your site longer, which tells Google that your site must be great! Don't stuff your pages with internal links, but use them whenever you can to add value to your site and give your site more fuel for a Google rankings boost.
Video, Image & File Names:
Think of all the ways a Google user might search for your offerings. They might do a text search, but then they may click the Images or Video tab in Google. Infusing your website with YouTube videos (your own, preferably) and images that are named with your keywords can bring even more prospects your way.
Google prefers sites that load ultra-fast. Use a tool like Pingdom to check the speed of your site and to get advice on how to hasten things up, such as removing faulty plugins, bulky images, and using a caching plugin that will condense each page's digital footprint.
In other words, use your keywords at every turn, but focus on value first, and optimization second. Never keyword stuff. Instead, focusing on solving your prospects' problems and do it with useful content that is easy to search for and find. That's on-site SEO in a nutshell.
But we have one more piece of on-site advice that can truly boost your rankings when done correctly.
3. Optimize Your Blog
Aside from your website, your blog is incredibly important for SEO purposes. Blogs give Google more content to disseminate to search users, but they can also showcase your brand as a thought leader. Done properly, and an effective blog can put your organization at the top of Google while simultaneously keeping your brand top of mind.
To keep an effective blog, focus on solving the problems faced by your buyer personas. What keeps them up at night? Those are the topics you should blog about.
Such as:
How to Build a Website Strategy
How to Use Emotion in Content Marketing
Will A.I. Replace Content Marketing?
You get the idea. Whatever you do, update your blog regularly. A stagnant blog isn't good for anyone or anything, after all.
Blogging for SEO
Use Keywords Throughout:
To help Google find each of your blog posts, follow the on-site advice above. Infuse your keywords in your blogs' meta data, headline, H1-tags, and alt-tags.
Format for Skimmers:
It's a good idea to use short sentences and paragraphs. This breaks your content up so that you don't have a block-of-text. Content that is easier on the eyes is perused longer, which is great for SEO.
Use Images & Videos:
Just like you would on your primary web pages, break up your content with images and videos that are named with your keywords. This gives your blog value, as long as the content is relevant, and gives you more ways to reach search users.
Relevant Blogs:
Make sure you link to similar blog posts so that your site visitors can keep reading. This increases their time on-site and solidifies you as the go-to brand for information and advice.
Build a Content Calendar
To keep the blogs flowing, it's recommended that you develop a content calendar. This calendar should include blog topics, their categories, proposed word count, the keywords you want used, who will write the blog, what images will be included, and how the blogs will be disseminated, such as on social media.
While that sounds extensive, the most detailed content calendars are the most followed, but nothing is set in stone. Don't be afraid to tweak your calendar going forward as you begin to conduct user behavior analysis.
If you are have trouble coming up with creative blog post topics, send out a questionnaire or interview your current customers and ask them about their most pressing problems. Then write blog posts providing solutions to those problems with engaging blog posts your prospects will come to look forward to.
4. Schema Markup
While this sounds like an overly technical term, schema markup is really easy to understand once you see it in action. Essentially, schema markup indicates content that is structured for easier viewing and clicking. When you conduct a Google search, for instance, you see the titles of the listings in blue and the meta description in standard black text. The URL is in green, and so on.

Schema markup not only makes web content easier to discern for users, but search engines like Google will give you a bump for using the markup on your website.
The good news is that you don't need to fluent in HTML or any computer code language to use Schema markup. Google has saved the day by creating a Structured Data Markup Helper.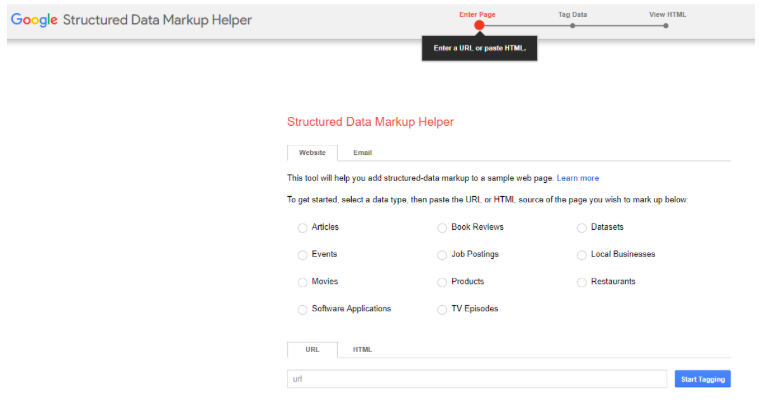 You simply select the type of markup you want and Google will help you implement the micro data seamlessly. You can then check your code by using Google's Structured Data Testing Tool.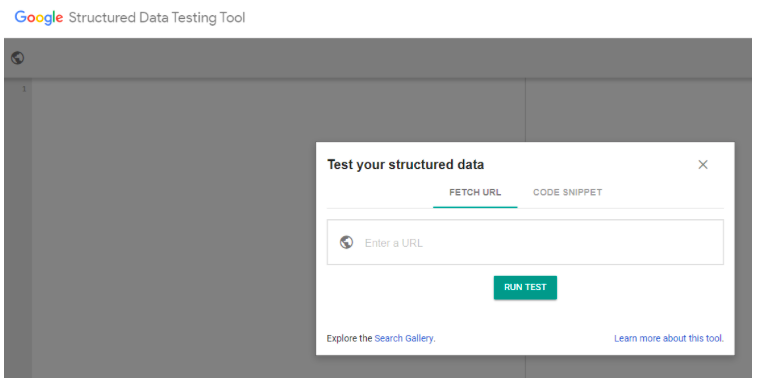 5. Link Building
Backlinks
Google figured out long ago that the value of websites that link to your site says a lot about the value your site provides. In other words, if an authority site links to your site, your site must be great.
In the Wild West days of Google, webmasters learned that if they purchased thousands of backlinks, they'd get a major boost in the search results. Back then, SEO services were largely focused on getting clients mass amounts of backlinks quickly.
Then something unexpected occurred. With so many backlink hacks going on, Google made a stop to the practice with its Penguin and subsequent algorithm updates. Otherwise referred to as "algorithm upheavals" by those who lost rankings virtually overnight, the backlinks fiasco put a lot of webmasters back to square one.
NOTE: If you're wondering if your backlinks are causing your SEO harm, use the Panguin tool by Barracuda to check for Google penalties.
While mass backlinks are never a good idea, natural backlinking is encouraged. You can get your website listed on news sites like The Washington Post or The New York Times, for example, which can bring lots of link juice and traffic your way.
The idea behind this type of backlinking is that it shows your website to be trustworthy and honest. The more backlinks you can secure from high-profile websites with a good domain authority, the better it will be for your site's SEO.
Other tips for effective backlinking include:
.EDU or .GOV domains offer the highest relevancy. Secure them as often as possible.
Whenever possible, try for link diversity so that all of your authority links don't come from just one or few sites.
Gather your links slowly and organically. Too much link velocity can harm your SEO, as the practice looks shady in Google's eyes.
Excellent ways of gathering backlinks is to reach out to influencers in your field, guest posting on authority blogs with valuable information, and partnering with top brands, for example.
For best results, set up time to reach out and attempt to gather authority links from the best sources in your niche to maintain top rankings.
6. Mobile Optimization
Google recently announced its "Mobile First" index initiative, where it rewards sites for being mobile-friendly. That means websites need to be responsive and tailor themselves to any sized screen — be it a standard desktop monitor or tiny iPhone screen, the display will look great and be perfectly functional.
Google has already acknowledged the importance of mobile as a ranking signal. To further make the case, it's said that 70% of B2B buyers conduct research and commit to purchases using mobile devices.
To make your site mobile-friendly, you must have more than merely a responsive website.
Ease of Use:
Mobile-friendly websites don't force their users to scroll very much. The most important information is located above the fold and buttons are large and simple enough that anyone can click and learn more, subscribe, or buy.
Few Clicks:
Make sure the information your site visitors are looking for can be found in one, two or - at most - three clicks. When looking for a way to contact a sales representative, for instance, the Call-to-action button should be on every landing page and prominently displayed so that it's easy to see.
Sparse Images & Media:
Remember, more so than ever, your site visitors' time and attention spans are short. Therefore, use only as much text as you need to provide the necessary information or entice the conversion.
Images should be relevant and sized so that they don't interfere with the text on the screen. Same with videos. When it comes to buttons and links, make sure they're spaced far enough apart so that they are easy to click for anyone, even those with large fingers and thumbs.
To help webmasters conform to the mobile-first mindset, the AMP Project was developed. This open-source initiative is aimed at helping brands create websites and ads that are fast, eye-catching, and highly-performing across all platforms and devices.
The AMP Project stands for "Accelerated Mobile Pages" and was designed by Google and Twitter to be a stripped-down version of HTML and CSS that is lightweight and designed for quick-loading.
AMP search results show up as a carousel that are positioned above the regular blue links. While typically reserved for news related terms, AMP can also be used for blogs, discussion topics, video topics, and more.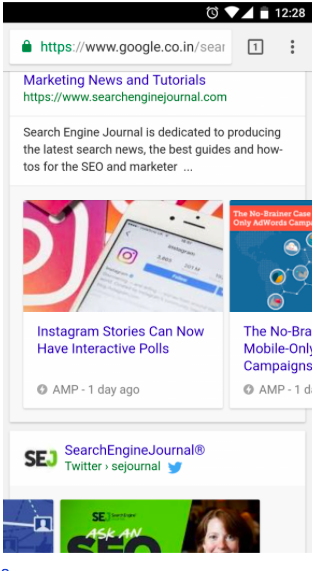 You should begin incorporating AMP pages for your site to get a boost in Google while giving your visitors what they want most: an enjoyable mobile experience.
To check the mobile-friendliness of your site, use Google's Mobile Friendly Testing Tool, which will give you your current mobile status, tips for how to improve, and allow you to view the mobile version of your site in action.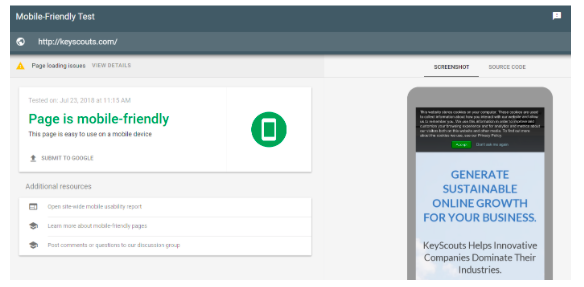 7. Use Analytics and Monitor Results
Choose a web analytics platform that can help you measure your campaign results over time. Google Analytics is one of the most popular web analysis platform for B2B marketers. HubSpot is also a favorite, as it not only provides analytics, but it's a marketing automation platform that lets you create an all-in-one marketing campaign, including email and social.
For best results, it's recommended that you connect your website to Google Analytics and Google Search Console at the very minimum. You are then encouraged to add platforms like Hubspot when you want more detailed information about your visitors and audience overall.
Google Search Console can tell you if there are crawl errors on your site, which keywords people are using to find your website in Google, and tons more.
Analytics can give you even more detailed data, such as important key performance indicators. The KPIs you might want to focus on include:
Bounce Rate:
This number represents the amount of people who land on your site and then immediately leave. Keep in mind that a high bounce rate doesn't necessarily cause for alarm. Visitors might be looking for your phone number, for instance, and then leave immediately upon finding it. Therefore, use bounce rate in conjunction with other KPIs, like conversions, so that you get the whole picture.
Average Time On Site:
This represents how long visitors read, view media, click-through your internal linking structure, fill out forms, and other activity they complete as they read through your site. The longer visitors stay, the higher performing a page or website is said to be. Keep visitors on your site by providing long-form content that is useful and valuable, by providing videos that add even more value, and by providing an internal linking structure that acts as stepping stones through the various pages of your site.
Exit Pages:
You can learn a lot about the ways to fix your website and conversion funnel by looking at the top exit pages for your website. Then look at the page and ask yourself why your visitors are leaving so quickly. Is it easy to convert? Is it clear what you expect your visitors to do? Is there enough information on the page? And, finally, did the page successfully solve the problem the visitor came for?
Google Analytics and other data platforms can help you gauge which pages users find relevant, the ones they spend the most time browsing, and the keywords that are typed into Google daily to bring visitors to your site.
You can also identify issues so that you can tweak and improve your web presence over time. For instance, if you find a page is performing better than the others, you can identify what's working and then replicate your efforts over time to boost your rankings even more.
Metric Accuracy
Ensure that your analytics results are accurate.
It's said that 50% of marketers report issues with the accuracy of their web analytics reports. You can improve accuracy by using more than one data analysis platform.
Furthermore, less than half of marketers struggle to gain actionable insights from analytics reports. Make sure you are paying to the right KPIs and that you're analyzing them regularly in order to glean the proper insights into your audience's behavior.
The Result of a Successful SEO Strategy
With these tips, your brand will soon be able to organically attract the attention of your target buyers. With a powerful website in place that is optimized for onsite SEO, Google will trust and rank your pages prominently. By engaging in outreach for offsite SEO and using a web analytics platform to gauge and tweak your campaigns over time, you will be able to yield viable leads and, ultimately, more paying customers.
These are the tactics used by the experts to dominate Google. Put them into place for your brand and start dominating Google for your industry.
Want help building and implementing your SEO strategy? Contact KeyScouts for a free consultation, today.