As you may recall from an earlier entry we published about techniques for writing a blog post, there are many methods for B2B writing or for constructing a post to guide readers towards taking the action that you want them to take. But in order for those methods to be effective, you must first find and attract readers by writing an SEO-friendly blog post.
One way you can do this is by maximizing on the automated SEO tools rendered effective by today's search engines (yes, primarily Google).
B2B SEO (Search Engine Optimization) is as much an art as it is a science; the rules and policies used by the search engines themselves (er, Google) constantly change, as marketers try to learn and beat the system, and as Google tries to give users the best search experience with the most relevant results.
As a writer, therefore, you have the chance to play scientist (by learning the rules that make the technical side of blog post writing), and also to become an artist (by creating your posts in the best way for them to be discoverable).
Here are 4 B2B SEO best practices every content marketer must know:
1. Incorporate Keywords
Keyword usage is one of the most dynamic elements of B2B SEO strategy. Until recently, it was recommended that bloggers use the most specific terms possible as a means of getting hits from those who searched the keywords precisely. Lately, "fuzzy matching" is all the rage, and the precision of keywords has fallen out of vogue in favor of ensuring the general concept is readily available in the text a user wants to discover.
That said, you can feel rest assured that if you optimize a blog post around one central term, you'll likely invite hits, especially from those users who are searching for your specific topic. This is where using commonly-searched long tail keywords can help you the most.
By organically incorporating terms or phrases that most people use to search for your topic, you are more likely to rank highly in the SERPs (search engine results pages) and receive more visitors on your blog.
For example, using a long tail keyword in your post like "tips for optimizing a blog post" will increase the likelihood that your post will be among the top search results when a person searches for tips on how to optimize a blog post.
Google Keyword Planner is an excellent tool for bloggers to use for developing variations on short and longtail keywords. It offers a ton of information on trending popular keywords that you can adjust with advanced options for filtering, too.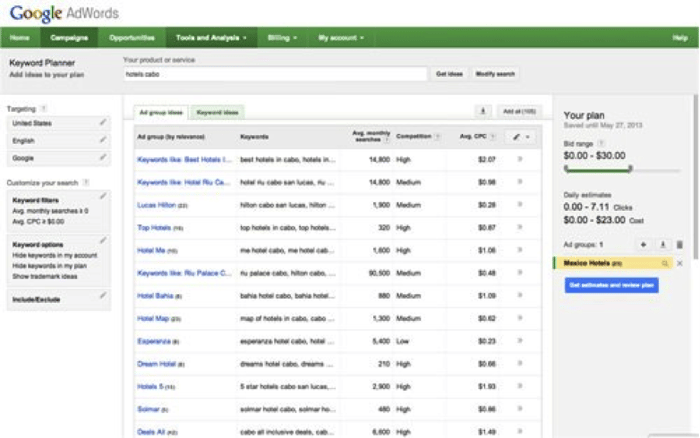 Keep in mind that there are bloggers out there who favor using one keyword three times (at least), or rather, variations of that keyword, in 500-600 words of text. But if you want your blog post to be good and not just discovered, take extra care to make sure that you are using a variety of your keywords naturally. Stilted writing doesn't appeal to anyone, and search engines (Google, again) recognize this practice, which you could be penalized for using.
2. Use Internal and External Links
Search algorithms are quicker to "find" sites that are connected (a.k.a., linked) to other sites. Having undertaken the goal of writing a B2B SEO optimized blog post, make sure to use links that are relevant and make sense in your context. Also, make sure that the link opens in a new tab or a new window, instead of removing people from your page. Ideally, you want them to stay with you until the cows come home.
Majestic SEO is a must-have (free) SEO tool for any blogger trying to improve SEO results. It specifically focuses on link intelligence and domain-based metrics.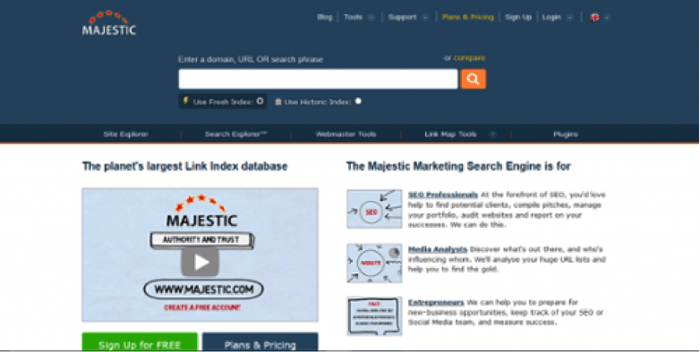 Here are a few ways to use linking effectively in your blog posts:
Reference link

. When quoting and/or displaying data, make sure to source your information, usually via hyperlink. This kind of link is akin to a footnote – you are backing up the information in your blog post by presenting the source of your data.

Connecting link

. Link to other posts and articles where another blogger discusses the ideas you touch upon in your post. Links that connect to other sites are like cyber tentacles, where the external connections work to strengthen the SEO juice of your post.

Internal link

. If your blog's purpose is to drive traffic to your website, make sure that it can accomplish this by linking to the main pages or subpages of your site. Be subtle to the extent that you can – rather than linking from your keywords, use more generic words that are nonetheless logical connectors to your webpages. You should use this same method for linking to other internal blog posts that you have written, as this helps build your authority and credibility, and it can improve the ranking of your other blog posts, too.
3. Add a Title Tag
If you are paying attention to the HTML behind your blog, you may have discovered meta tag option for the page title (TITLE>page name<TITLE).
While the page title can have up to 70 characters, title tags should be short and accurately describe the content of your blog post. This is crucial in B2B SEO best practices, and it ensures that the user experience is optimal, as it helps users easily and quickly find the relevant content they are searching for.
Here are some basic tips for writing an effective title tag – an invaluable component of writing an SEO-friendly blog post:
Make it relevant to the content of the page

Do not duplicate title tags on other pages, as this can be considered duplicate content and search engines use this title tag to gauge relevancy for search results.

Include your company name, if it is also a keyword

Make the wording of the title short and simple – not a long sentence

Include important keywords, but

avoid keyword stuffing

(one of the biggest

SEO mistakes

you should avoid!)
4. Include a Meta Description
The meta description is what users see when your site comes up in their search results. It is the 160-character blurb under the title that advertises to users what your blog post is all about. This description helps users decide whether to click through to your site or not, so by writing a good meta description, you are more likely to maximize your CTR. Your meta description should be compelling, include a call-to-action, be relevant for the content on the page, and intelligently use your main keywords.
Check out this great example of an effective meta description, below:

As a blogger, you know that the most important part of your posts is the content you put into them. Nevertheless, with these tips, you are better equipped to handle your B2B SEO marketing in a way that helps readers actually find your important words of wisdom among the online masses and take the action you want them to take.
Want to learn more about incorporating B2B SEO best practices into your marketing strategy? Download our free ebook "Conquering B2B SEO: A Guide for B2B Marketers".
Or feel free to contact us to receive your free SEO positions report!