Are you ready to reach an international audience? Taking your business global involves the challenges of entering a new market, but there are things you can do to make the process smoother. International B2B SEO is one of them, and any business looking to expand globally should do it for better chances of success.
What does international B2B search engine optimization (SEO) mean? It means your website is set up in such a way that search engines understand which countries you are trying to reach and help you do so. It also means that when visitors from your target countries reach your site, they are presented with the correct content – meaning content featuring the correct currencies, languages, and time zones, among other things.
Content is king, as we all know, and the key of any global SEO endeavor is creating content that's relevant for the audience you're trying to reach, wherever they may be located.
International B2B SEO Best Practices
You'll need a strategy for international SEO, just like you use a strategy for your local SEO. Here are three key tips for entering a new market and implementing international B2B SEO:
Research
This might seem like a no-brainer, but all too often companies breeze over the important research that needs to be done before attempting to execute international SEO.
Research is important if you don't already know which new regions your company wants to target. By doing the appropriate research, you'll be able to identify the potential you have for success in different parts of the world. One place to start is by exploring your international organic search. Who's looking for you, and from where? Find out your top international countries and research the behavioral trends of consumers from those countries.
The perfect tool to help you out? Google Keyword Planner. It'll help you discover the best keywords for attracting visitors from other countries.
Another must-use tool is Google Trends. It's a free tool that measures search trends according to countries, months, years, events, and other factors.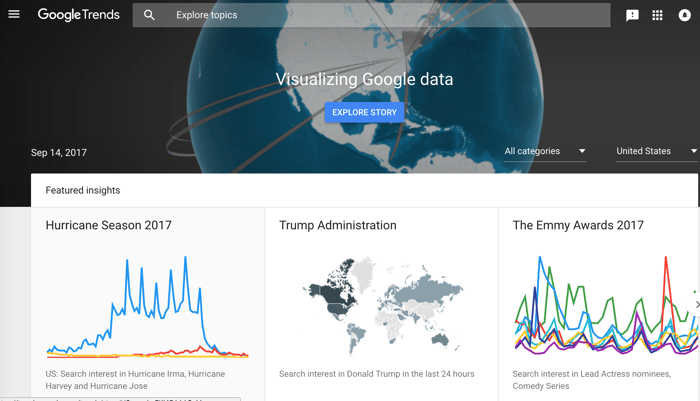 It shows how frequently a certain term is searched compared to the total search-volume in different parts of the world and in several languages. You can use it to understand your audience and competitors, and also get great ideas for your content.
Localized Content
Once you've done the research, you'll know what your international target countries are and the behaviors of your site visitors from those countries. You should also know what keywords you should be using, which may very well differ from the ones you're using locally.
Localizing your content for your new target audience is crucial if you want to give your site the best chances of international success. In addition to the correct currencies and time zones, you should be using local language in all aspects of the site, including the navigation menus and help desk. To ensure success in localizing your website for multilingual search engine optimization, you should use the Hreflang Attribute in your site code.
Code Sample:
<link rel="alternate" href="http://example.com" hreflang="en-us" />
It enables you to signal to search engines what the connection is between web pages in different languages. So, if someone from your new target audience searches a keyword in his language, the hreflang attribute tells the search engine to show your localized page in the search results instead of the identical page you have in another language. This is important as it can decrease your bounce rate and increase your conversions.
You can also use Google Search Console to tell Google which country is your primary target market.
Keep in mind that elements of your content, such as layout and color, can also be localized to best suit your international target audience. For example, red in some Asian countries is ideal for CTA buttons, while in some Western countries, it is a warning color that makes people stop in their tracks and prevents them from clicking.
If localization sounds like a huge project, that's because it is. So, make sure to use a tool like Transifex, to stay organized and communicate clearly with all departments involved.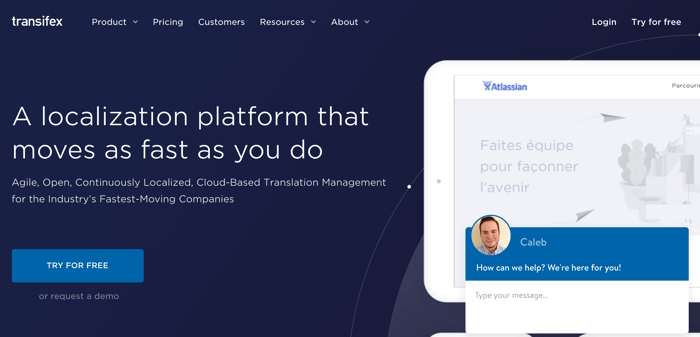 Transifex is a web-based translation platform (a.k.a. "globalization management system"). It is ideal for online technical projects with constantly updated content, such as websites, blogs, landing pages, etc. It facilitates localization workflow automation, as it is integrated with various tools that developers use.
Site Structure
If you're targeting a specific country (as opposed to a specific language), you should look into a ccTLD for international SEO. ccTLD stands for "country code top-level domain." Basically, it's a domain that's reserved for a particular country. So if you're targeting France, for example, the international SEO URL structure you'll want to use will look something like "http://yoursitename.fr".
ccTLDs are one of the strongest ways to let users and search engines know where your site originates, and it'll help with your ranking in your new country.
However, if you're looking to expand internationally to more than one new market, multiple ccTLDs might get difficult to manage. In that case, you might be better off directing international users to different subdirectories or subdomains (more on that below). Whatever you do, make sure your content is organized similarly in every section so that search engines don't run into trouble crawling it.
To help you get going with ccTLDs, check out IANA's list of ccTLDs which also offers information on who administers them.
Alternatives To CcTLDs
Creating new, independent domains for your international target country might not be the best option for you. If that's the case, you have two other options: subdomains and subdirectories. That way, you'll still have content that's dedicated to your new target for which you can implement onsite SEO.
Subdomains
Subdomains can be great for sites that have a generic top-level domain (such as .com or .org). With this option, you'd be opting for a URL structure that looks like "fr.domain.com" instead of "www.domain.fr".
Subdirectories
If you are attempting international SEO with limited resources, subdirectories might be the best choice for you. Subdirectories allow you to maintain the reputation of your current domain, since it still uses that domain and your URL setup will look like this: www.domain.com/ca/fr.
Keep in mind that if you think you might one day target a specific language within a country, always set up your subdirectories to lead with the country ("ca" in the example here) and then the language.
Just like any new endeavor aimed at helping your business grow, international B2B SEO comes with a lot of different aspects you'll need to sort through as you solidify your approach. But you don't have to go at it alone. Getting help from an international SEO specialist who has experience in building a B2B SEO strategy for entering a new market will help ensure you get off to a great start! Contact us at KeyScouts for a free consultation.
Read more about B2B SEO best practices by downloading the free ebook.