Sustainable growth is the holy grail for any successful business. That means consistently delivering for your customers whether they acknowledge it or not. Still, since the Internet revolution of the late 90's, the value of customer testimonials has risen astronomically.
The strength of a good customer review lies in the reliability it portrays to other prospective clients. It's pretty clear that getting a recommendation from a colleague is a lot more dependable and effective than listening to the pitch of vendors themselves.
KeyScouts offers companies the opportunity to gain sustainable long-term growth, and our team has proven time and time again that we are willing to go above and beyond the call of duty to make that happen. But as mentioned, it's always better to hear it from your colleagues than hear it from us.
Consistent Reviews
Going the extra mile over the years, often results in clients responding by acknowledging those efforts with a positive online review. The attributes that consumers want from a product or service, come through quite clearly in the descriptions and words of the customers. A good example is the recent review KeyScouts received calling out our proactive approach and commitment to delivering on time.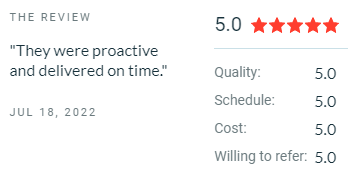 This particular review came from a company in the logistics services industry. The project involved launching a website and attracting visitors using SEO and PPC campaigns to generate leads and convert them into prospects. The project was a success and the client responded with positive feedback and a willingness to recommend us to their colleagues.
All our projects are strictly confidential, but those interested in more information can read the full review and check out feedback from other customers as well. This user-generated content, has proven itself as an effective tool for organic lead generation and conversions.
Good Ratings
Another achievement based on customer feedback is our ranking in the top 100 SEO companies in Israel by The Manifest. The high rating is based on a cumulative score reflecting client reviews and feedback. Reaching the top spot is a worthy achievement and we would like to thank our diligent professional team for their expertise and hard work which is really what's behind our high customer satisfaction ratings.
The Manifest is a third-party B2B platform where companies can find potential project partners. We hope that our achievements and customer reviews will help us engage with clients who can benefit from our experience and digital marketing services.
The concept of matching service providers to potential customers based on customer feedback is a good way to build a shortlist of reliable vendors and select the one that makes the most sense for your business.
Happy Customers
While we appreciate the recognition we've received through customer testimonials and third-party rankings, it does not affect the way we do business. Whether rated number one or not rated at all, we still use our proven digital marketing methodologies along with the latest tools and unbelievable team of SEO experts to deliver consistent results for our clients.
Customer testimonials are a great tool and should be leveraged in B2B digital marketing campaigns. To accomplish that, however, you must have the right front-end interfaces and backend tools in place to encourage customer feedback, use the most positive examples in your campaigns and analyze both the positive - and not so positive - responses. In that way, you can leverage great user-generated content for your campaigns, while gaining valuable insights into your customer's journey.
If you would like some guidance on how to use client reviews and other digital content to attract visitors and convert them to leads, then you should definitely schedule a call with KeyScouts to see if you qualify for a free consultation.