Regardless of what you think about AI, it is changing our lives and the way we do business. In our area of expertise, ChatGPT has had a significant and immediate impact on digital marketing, SEO and content creation.
SEO & Content in the Age of ChatGPT & Bard
That's why its important to keep our customers informed about the latest AI developments in digital marketing. If you want to understand the impact of AI, its strengths and challenges, then the recent webinar by K2 Global Communications COO Amy Kenigsberg and KeyScouts CEO Tomer Harel is for you.
SEO & Content in the Age of AI is a webinar that covers not just the impressive capabilities of AI when it comes to content and SEO, but also examines the drawbacks and potential legal issues related to AI while offering hands-on advice on how these tools can be used to optimize your digital marketing efforts.

Topics covered in this webinar include:
Overview of AI and popular tools

Limitations of ChatGPT and AI

Regulatory and compliance issues

Writing quality, plagiarism, and copyright issues

Using AI for basic and advanced SEO operations

Using AI for digital marketing and content creation

Recommended AI strategies and guidelines

Tips and tricks for maximizing ChatGPT

Future Trends and Resources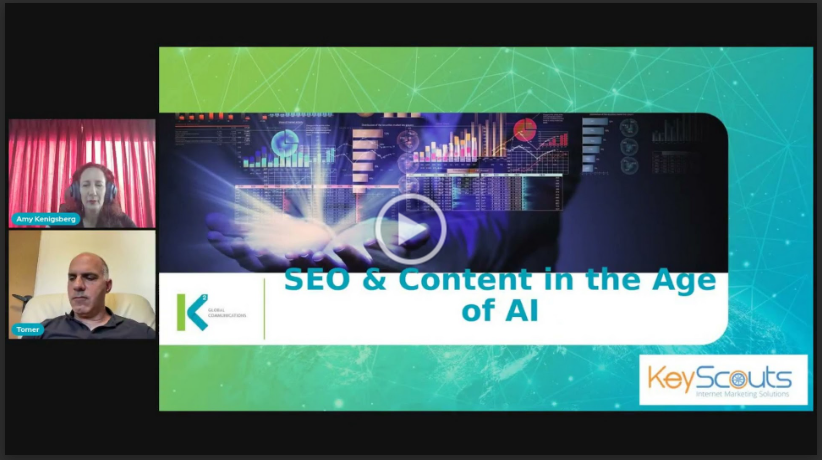 In addition to watching the webinar, feel free to download the presentation to get a better understanding of AI and its short/long-term effects on digital marketing SEO and content creation.
If you want to know more about how today's AI tools can improve your SEO and content marketing results, then contact KeyScouts today for a free consultation.