As you read this, millions of customers are currently online searching for YOUR products or services. However, if they can't find you, they will quickly choose someone with greater online visibility.
What's the problem?
As an SMB, you probably struggle with a limited budget and lack of time, resources, and knowledge in online marketing. But you shouldn't let that stop you from developing a powerful digital marketing campaign.
The reality is that less than half of American SMBs (46%) have a website, and for those that do, it's not good enough.
Though search engines drive 93% of all website traffic, only 7% of searchers make it to the third page of the results. So, unless you're showing up on the first two pages, you're not where you need to be online.
So, how do you make sure your company is found online?
Digital Marketing Campaigns for SMBs
Good website promotion and online marketing will help make you accessible and desirable to the RIGHT audience. Here's how it works:
The more exposure you have online through your marketing campaign (like PPC advertising), the more traffic you'll receive to your website from clicks directly to your website.

The more effective organic traffic you receive to your website through online advertising, the greater the number of leads your small business will receive and the more your revenue will increase.
There are many ways to increase traffic to your site, but you can take it one step further by following three simple steps: professional SEO, PPC, and social media marketing.
Learn how to accelerate your B2B SEO with KeyScouts today!
Step 1: Professional SEO
You're probably familiar with the term "SEO," but you may not understand how it will help you or why you need it. In fact, barely more than half of all SMBs (254/500) have a basic understanding of SEO, according to Higher Visibility 2017.
Search Engine Optimization (or SEO) is a very cost-effective form of internet marketing for SMBs that not only provides you with a visible rank on search engines, but assists you in targeting the RIGHT searchers online. SEO is about building a long-term online asset, similar to buying real estate in a premium location.
SEO can help you boost your revenue in the long run by making your website accessible online to your targeted audience. There's a reason why 61% of marketers say growing their SEO is a high inbound marketing priority.
It is critical that you promote your website and engage in a digital marketing campaign because your competitors are already using these tactics to win YOUR customers.
PRO TIP: Make sure you pay particular attention to mobile SEO! It's where most of your customers exist, and it's the only organic search that's currently growing, according to the Digital Marketing Report.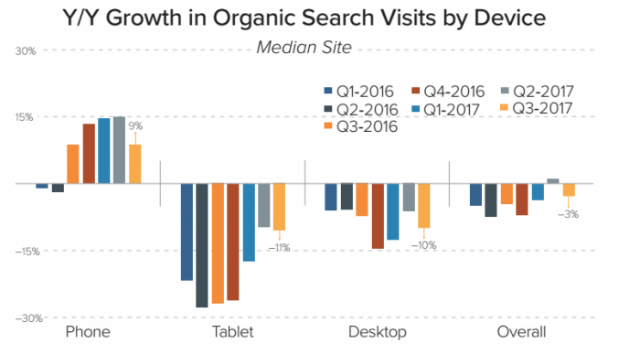 Step 2: Pay Per Click (PPC)
Many inexperienced users attempt to build and run their own pay-per-click campaigns, but end up losing a lot of time and money. The reality is that the average click-through rate of a paid ad is just 2%. That is, unless you earn first position (which requires a lot of know-how), then you can earn a click-through rate of almost 8%.
So, how do you get the best results? You hire a professional team to build a highly targeted digital marketing campaign for PPC.
Through niche marketing, you can reduce the amount of competition for click-throughs by increasing the relevancy of your ads. This makes your PPC far more cost-effective and profitable. In fact, the ROI (return on investment) can be impressive!
For example, KeyScouts helped one company boost its online presence using PPC and content optimization, dramatically increasing its organic website visits by 90% in just three months.
So here's what to look for in a firm to bring you effective PPC:
Experts in niche marketing campaigns

Ability to effectively build and then manage profitable campaigns

Can work with relatively small budgets
Solution 3: Social Media Marketing
Social media networks are some of the most heavily trafficked areas of the web—capturing 30% of online time. Almost every internet user possesses at least one social network account which they frequently check and communicate through.
The key is to get "plugged in" to the right social networks, such as Facebook, Twitter, LinkedIn, Youtube, etc., promoting your company, products, and services to the audiences which are most interested. Just remember, B2C is different than B2B. Make sure you choose the right networks (Clutch).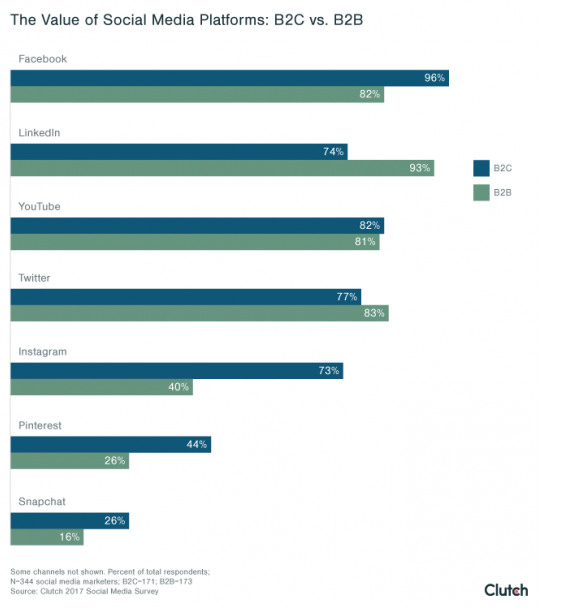 "I use social media as an idea generator, trend mapper and strategic compass for all of our online business ventures." – Paul Barron (@paulbarron)
As an SMB involved in social media marketing, you'll have the opportunity to hear directly from your target audience and respond accordingly.

This is certainly one of the most effective and direct forms of marketing. It provides companies with a valuable glimpse into the thoughts and opinions of the individuals they desire to appeal to, as long as you have an authentic and honest brand personality, which 86% of consumers prefer.
In this way, you'll be able to connect and communicate with individuals interested in YOUR business.
Just take a look at General Electric (GE), which uses social media to tell stories and share reports that their audience finds highly valuable.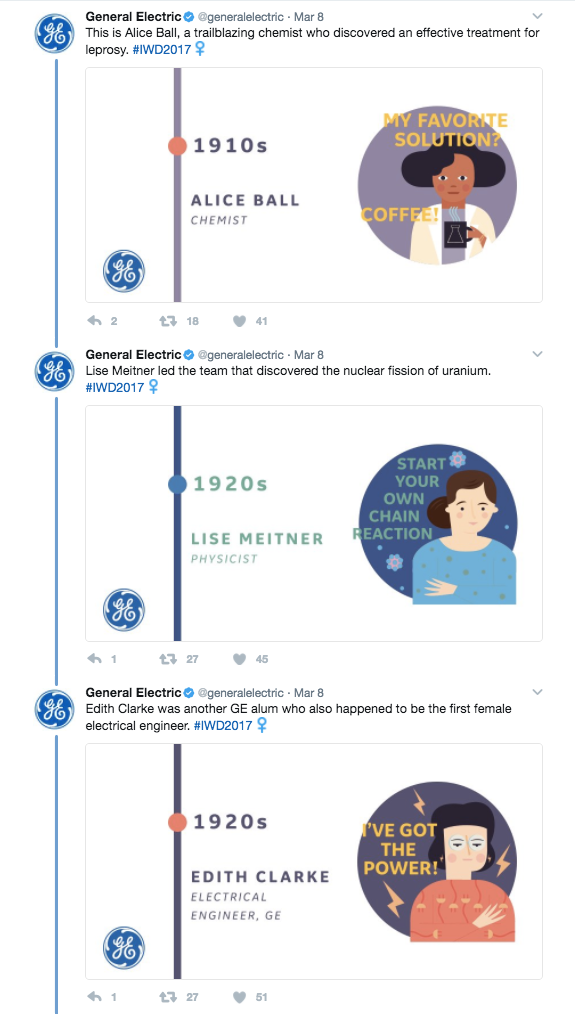 Some of the benefits of social media marketing:
Allows for incredible visibility within social communities

Able to connect with target audience in a very direct manner

Presents the opportunity for social network community members to share their interest in your company/services/products with other members and drive significant "free" traffic to your website.

Build your online reputation and brand name in the long run.
Master B2B SEO with these powerful tips.
"Social media is not just an activity; it is an investment of valuable time and resources. Surround yourself with people who not just support you and stay with you, but inform your thinking about ways to WOW your online presence." – Sean Gardner (@2morrowknight)
Digital Marketing Campaign Ideas for SMBs
As you search for a digital marketing firm for your business, it is imperative that you find an ethical firm with which you can establish a long-term relationship.
Make sure that your business relationship will be a successful one by first checking referrals.
Check third-party professional review websites to get an accurate idea of how the firm functions and the quality of service it offers.
Seek out a marketing firm that specializes in services specific to SMBs. A company that understands SMBs will be able to provide effective solutions within reasonable budgets, giving you the best value for your investment.
Some things to think about before starting a new digital marketing campaign:
1. Set Your Marketing Budget
To get the most out of your digital marketing efforts, you need to make the most of your budget. To do that:
Determine a realistic marketing budget for your small business

Determine your website marketing goals

Contact a

reliable expert

in internet marketing for SMBs such as Key Scouts to determine which website promotion services would be the most effective for your company in meeting your budgetary restrictions and marketing expectations

PPC can be an EXTREMELY effective for small businesses if done right, as it allows full budget control and can deliver instant profitability with minimal effort and resources.
2. Determine How You'll Measure Success
There's no reason to start a digital marketing campaign if you can't measure its success. To measure your website's promotion results:
Determine your business objectives before the start of your marketing initiatives

Align your efforts with your objectives

Monitor and report:

Search engine ranks

Traffic growth

Sales/Lead growth
3. Target Your Local Audience
Don't be afraid to go local. By trying to target a local market, you can avoid overwhelming competition, which:
Allows you to gain highly targeted customers

Is more cost-effective for SMBs

Provides prospective customers with more testimonials. Check out this

Testimonial Samples

site to see what others out there do.
A well thought out digital marketing campaign can be vital to the success of your SMB. Not only will the right SEO strategy help you become more visible online, increasing your organic traffic, but through PPC and social media marketing you can reach more customers than ever before.

The key is making sure you have a partner who will be your on-the-ground expert, getting you the results you want.