Inbound marketing activities educate and guide prospective customers through the conversion funnel, but many marketers might feel they need a bit of guidance on how to do that.
Maybe you have an amazing website, you're running successful online campaigns, and you've even done an email blast or two. But these are only a few of the steps towards attracting leads and converting them into sales.
You also need a B2B lead nurturing strategy to improve the efficacy of your marketing activities and to see your conversions increase. Not having one would be a huge lead-generation mistake.
Upgrade your B2B marketing by contacting KeyScouts today!

What Is B2B Lead Nurturing?
Put simply, B2B lead nurturing—which some people call drip marketing or marketing automation—is a targeted email campaign that goes hand-in-hand with your online marketing strategy.
The purpose of B2B lead nurturing is to automatically provide leads with an abundance of relevant and consistent content via email so that you can eventually convert them into customers.
Leads are considered potential customers who have already provided their name and email address in order to access additional content that you might offer, such as whitepapers or e-books. With that information, you're now equipped to nurture those leads in a way that will significantly increase your chances of making sales.
How Does B2B Lead Nurturing Work?
Let's say your company produces helpdesk software. A potential customer visits your site and downloads a white paper about how helpdesk software can help improve customer service for e-commerce websites. Of course, in order to download, the interested visitor must fill out a form with some personal details, such as their name and email address.
Now, you have an idea of what your lead is interested in (improving customer service). You're equipped to schedule a series of emails containing additional information that will likely interest this lead.
For example, you could send an infographic detailing all of the features in your helpdesk software and their benefits. In a subsequent email, you might send a chart showing how efficient your helpdesk software is in comparison to other leading brands, and so on and so forth.
These automated emails, which are targeted to this lead based on an initial action he or she took, are the essence of B2B lead nurturing.
Why Should You Do It?
By offering targeted emails that more precisely address your leads' interests and concerns, B2B lead nurturing can be much more efficient than other types of email campaigns or customer conversion strategies.
Here are four reasons why you should implement a B2B lead nurturing strategy:
1. Engage Your Leads When The Time Is Right for Them
Not every lead that comes to your site is ready to speak with sales. With an effective B2B lead nurturing campaign, you can maintain contact with your leads until they're ready to have a more serious conversation about making a purchase.
By nurturing leads first instead of speaking to them right away, you're more likely to close the deal than if you had pushed them to make a decision too soon. In fact, according to Strategic IC 2017, 46% of marketers with well-planned lead management strategies have sales teams who follow up on more than 75% of leads.
One great tool that can help automate the lead nurturing process, and ensure you send the right messages out at the right time is HubSpot.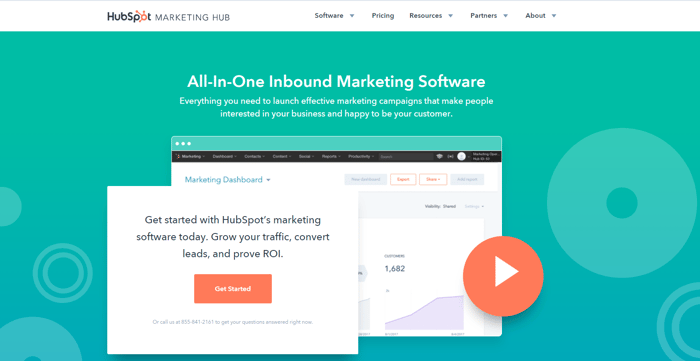 HubSpot provides an amazing marketing automation tool that you can configure to sends automatic emails based on your customer's behavior and where they are in the buyer journey. They also offer a wide database of educational tools that help you build your B2B lead nurturing strategy.
Learn more about how to effectively use HubSpot. Contact KeyScouts today!
2. Save Your Sales Team Time
By implementing a B2B lead nurturing strategy, you're presenting your sales team with more sales-ready leads, thus saving them time.
How?
First of all, a B2B lead nurturing campaign allows you to easily respond to your leads right away with an automatic email. A 2017 study from inContact revealed that just 43% of customers were highly satisfied with their most recent email customer service interaction and that's because the average company takes 12 hours and 10 minutes to respond to an email according to a 2018 study from SuperOffice.
In fact, according to a study conducted by Toister Performance Solutions, which surveyed 1,200 customers to get their ideal business response time, your business should target a response of one hour, with 15 minutes representing world-class service.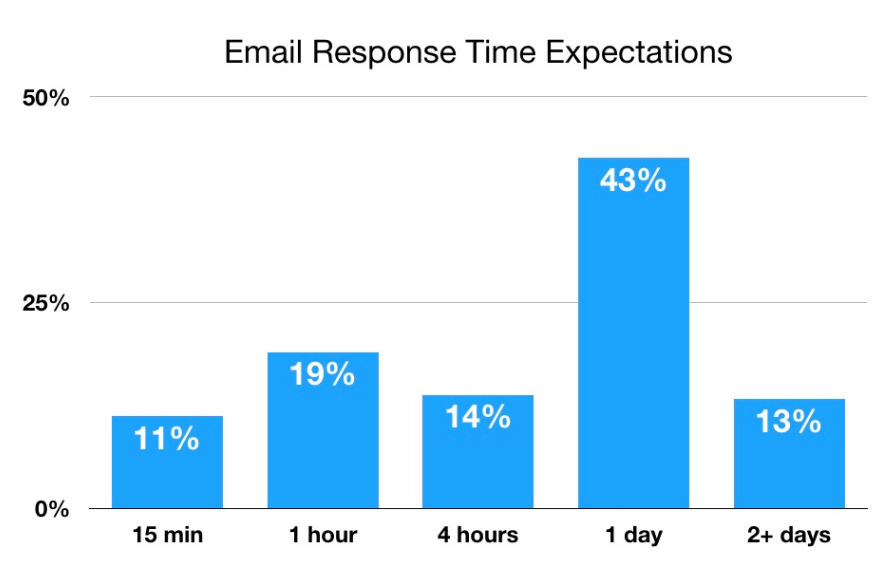 Furthermore, studies consistently show the value of maintaining ongoing communication with potential customers, both for relationship building and for reminding them about your business, if they stop visiting your site for a while. B2B lead nurturing helps you maintain this conversation with potential leads automatically.
Take your B2B marketing to the next level! Contact KeyScouts today!
3. Learn About Your Leads
Drip marketing campaigns offer a fantastic way to learn about who's considering your product or service. As you continue engaging with leads by providing more content based on actions they've taken, you only get to know them (and their desires and motivations) better.
As you learn more about your leads, you can segment them and put them on different nurturing tracks according to their interests. By targeting the content you're providing to your different segments, you optimize your nurturing campaign and better meet your leads' needs.
How can you successfully provide targeted content to each segment?
First, you must understand each segment's unique buyer persona. A great tool that helps you create your buyer personas is MakeMyPersona, by Hubspot.
The free tool walks you through the step-by-step process of creating buyer personas for your brand.
Once you've created your detailed buyer personas, you can begin producing content that is based on each persona's interests, goals, objectives and marketing triggers. Only then will your targeted content be effective in nurturing each persona through the sales funnel.
4. Boost Your ROI
Rhetorical question: Would you rather...
Buy from a website that bombards you with flashy "buy now"/"shop here" buttons?

Or a website that regularly provides you with valuable, targeted content and that has been in touch with you via email and other channels for some time, helping you decide what the best fit for you would be?
It's obvious why implementing B2B lead nurturing best practices would boost your return on investment (ROI.) By the time nurtured leads speak to a salesperson, they're significantly more sales-ready. This, in turn, raises win rates on marketing-generated leads while also helping sales teams meet their quotas.
How to Set Up B2B Lead Nurturing


1. Determine Your Target Audience
The first step to lead nurturing is to determine who your audience is—what type of customer you want. There's a reason why 51% of email marketers say email list segmentation by audience is the most effective way to personalize lead nurturing, according to a study by Ascend2.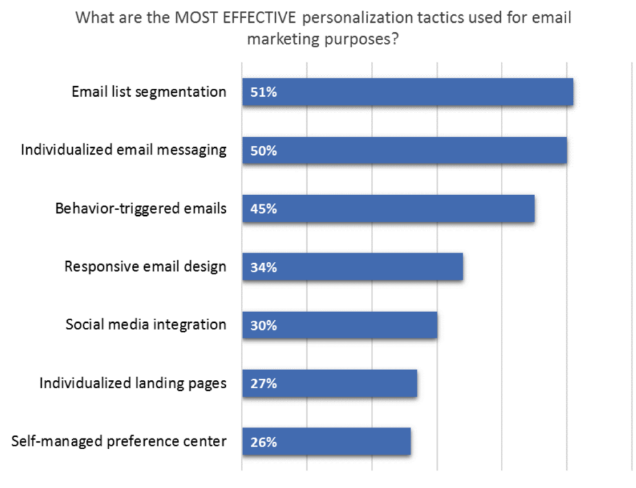 The good news is that you can create a segmented audience based on a variety of qualifications including:
Online behavior or actions such as downloading a white paper, signing up for emails, etc.

The industry where they work
2. Set Goals
Next, you need to determine what you're going to offer your audience and that will be based on your objectives and goals. For example, you might offer a webinar or ebook if your intention is to bring your chosen audience further down the sales funnel and closer to the customer stage. Or you might use a whitepaper to introduce your company, services, and products to a brand new lead that needs more information.
Ultimately, you need to make sure your offer matches your chosen audience and includes a strong CTA that will entice your reader to accept what you're offering. HubSpot recommends following this format:

3. Set a Timeline
How long is your B2B lead nurturing cycle? This will help you develop an appropriate timeline for your email campaigns. We recommend sending two to three emails during a lead nurturing campaign. Just make sure they're spaced out appropriately. For a 30-day cycle, you might send out an email on the 1st, 10th, and 20th while a 60-day cycle would have a longer timeline.
3. Analyze
Once you start your campaign, you need to analyze the results to make sure that it's working. Look at everything from your email subject line to the call to action you use, the offer, and your audience segment. You can use a software such as MailChimp to check your open rates, click-throughs, reads, conversions, and more.
4. Optimize
Last, but not least, you need to take your results and use A/B testing to ensure that you are getting the most out of your campaign. The key to A/B testing is to change just one variable at a time until you know what's working and what's not. For example, you might change the email subject line first. Then, once you have optimized that, work on updating the CTA.
It's not enough to attract quality leads to your website through B2B SEO alone. Once a lead has landed on your site, it's time to convert them through implementing lead nurturing best practices.
If you would like more information on starting a B2B lead nurturing campaign,
contact us
at KeyScouts, today!