How social affects your website's ranking ability has alway been something that's hotly debated. While Bing has come out and said that social factors do play a part in their rankings, Google has repeatedly said they do not play a direct role.
As ever with Google's algorithm though, we're never going to know exactly what's in it, but the way to look at it might be correlation rather than causation. In effect, there's a correlation between good social signals and high rankings rather than the social signals causing the high rankings.
So, what are some positive effects good social signals can have for your SEO?
Shares Don't Equal Links…. But…
Links play a huge part in search engine optimization and they're one of the most powerful ranking factors. Social media shares do not carry the same weight but research has shown that pages that rank highly in the SERPs do tend to have a high number of social signals such as shares.
Of course, if you're getting thousands of shares on social media, then that should be reason enough to keep going, but there's also another benefit.
The more people you get your content in front of, the more people are going to see it and think "that's amazing content, I'm going to link back to that on my own website." Shares might not have the power of links, but if you're getting your content in front of the right people, then they can help build those powerful backlinks.
Reach People Where They Are
We're always using this saying "reach people where they are" in SEO. Well, guess where people are?
For billions and billions of people around the world, social media is the place they're hanging out. If you want to make the most of your SEO, then it follows that you should probably be hanging out there as well.
Social media platforms are more than just social, they're also search engines in their own way, and many people will start their searches here. If you've got an underwhelming social media presence, then you're missing out on many of those people.
If you're doing your social right, then you can build large audiences, and reach people with your message on a regular basis. Take a company like Hootsuite, who have over a million subscribers between Facebook, Instagram, and YouTube alone.



This kind of reach is invaluable, and while it might be difficult to reach a million followers, it is possible to scale it so that it's beneficial for your business.
Build Brand Awareness
When you type a query into Google, which result are you more likely to click, the brand you know, or an unknown one?
Brand awareness can make a huge difference in all areas of your business, and one of the best places to start to build it is on social media. Brand awareness isn't just limited to huge companies, it's something everyone can strive for, and one of the easiest places to build it is on platforms such as Facebook and Instagram.
When your page features in the search engine results, you need to show Google that your listing is valuable through a good click through rate (CTR) and the brand recognition you earn through social media can help you with this.
A great example of a brand continuing to build awareness through social platforms is energy drink Red Bull.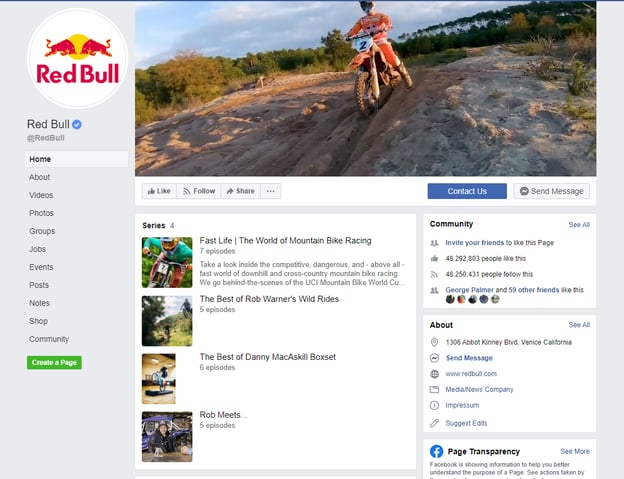 Red Bull does an amazing job of associating themselves with some of the most active, "cool" sports in the world, and now when people think of their brand, the words "active, adventurous, and cool" all come to mind.
https://www.youtube.com/watch?v=EwIyX3uxT0Q
Most importantly, Red Bull are continually getting their message in front of thousands and thousands of people, and this really helps when it comes to people selecting their listings in the SERPs.
Create Beneficial Relationships
Social media platforms give you a great opportunity to build relationships with people in your niche. If you can create relationships with people who are highly thought of in your industry, then you can find ways of incorporating this into your content.
Performing an in-depth interview with an industry leader, or even getting a quote is something that can excite your audience and offer them extra value that can make your content stand out.
From the other side of things, it's also a great opportunity to offer up your expertise to other people in the form of guest posts. This is a brilliant way of getting good links back to your website that can have a big impact on your SEO.
Research Crossover
Both SEO and social media give you access to wonderful data that can inform your digital marketing strategy. There's also a lot of crossover between the two, with the information you learn from your SEO helping your social media, and the data from your social aiding your SEO.
For example, your Google Search Console might show you what search terms people are using to reach your website, which can give you an idea of what people are searching for. Then, when you post your content to social media, you can use the comments to see what other questions people might have.
In many ways, your SEO tools can inform you of how your audience engages with you, but social allows you to engage directly with the audience and actually ask them what they want to see.
You're Creating Great Content - Make the Most of It
Great content is at the heart of SEO, so if you're investing all this energy into producing it, you might as well get the most out of it.
Every social media platform you have is another opportunity to get your great content in front of more people, so take advantage of it. Make sure you're repurposing the content so that it's perfectly adapted to the platform you're posting it on, and allow as many people as possible to benefit from it.
We can see in this example from Mail Chimp how social can help you get a feel for what content your audience is looking for.
This post has 197 likes, and 30 shares, which is much higher than many of the other posts on the page. This is a great indication that this content is valuable to your target audience and it's something you can expand on.
If you're creating the type of content that's going to offer real value to people, then you want to get it in front of as many people as possible, and if you're not tapping into the huge audience on social media, then you're not doing this.
Takeaways
Social signals may not have a direct impact on your rankings, but the correlation between a good social presence and a good performance in the SERPs is too big to ignore.
There's so much crossover between what works in SEO and what works on social media, that it's wasteful to leave out one or the other. Although Google might deny the direct effects of good social signals on rankings, the stats suggest there is a correlation, and you want to make the most of this.
Give yourself the best chance of success by embracing both SEO and social media, and continue to use one to improve the other.