Compelling content isn't something you stumble upon. Between creative demands, channel decisions, and budgetary constraints, digital content strategy is at the core of an effective digital marketing plan. The end goal is always to increase leads, move them through the sales funnel and ultimately make them customers. The role of content is to provide compelling information to prospects, helping them move through the next stage of the customer journey.
Of course, it's essential to define your target audience, do competitive analysis and figure out which keywords have the search intent for your business. But all of this is irrelevant if you don't come up with a good content strategy that is backed by solid implementation.
Tech companies in general and startups in particular, need to concentrate on their core activities and can be easily overwhelmed by what it takes to construct an effective digital content strategy. We hope this article will help in understanding the basic building blocks and give you the tools and examples to create a killer digital content strategy for your organization.
What Is Digital Content Strategy?
Digital content strategies outline how you intend to use your content, whether written, audio, or visual, to reach your business objectives. The right strategy will serve your target audience and define what type of content is most appropriate for each stage of the sales journey. At the end of the day, your content should engage potential customers while positioning your brand as a serious player in your industry.
Even though content is at the core of digital marketing for tech companies it does not stand alone. A proper content strategy must also take into consideration the selection of topics that are important to the target audience, the keywords necessary for SEO, as well as supporting product launches, advertising campaigns and events scheduled on your company's marketing calendar.
What Is The Purpose Of Digital Content Strategy?
In general, the purpose of content strategy is to align content creation with business goals. As opposed to one-off content creation, the strategy needs to address how to produce compelling content every month including the topics to be covered, the content creation process, how the content will be distributed and the resources necessary to make all of that happen.
The strategy should serve as a master plan for how content is created, distributed and managed. While it should have well-defined guidelines, it also needs to be flexible and checked each quarter to make the content strategy is working. If not, it should be amended accordingly.
Despite its importance, it's surprising to find that according to the Content Marketing Institute only 40% of B2B companies have a written content strategy. While a company may be able to get along without a content strategy, it inevitably leads to lackluster content, ineffective campaigns, wasted resources and a lack of coordination between content creation and marketing goals.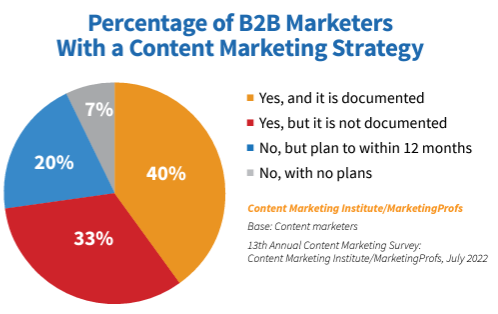 Courtesy of Small Business Trends
Now that we have an understanding of what a content strategy should be and why it's important, let's turn our focus to what you need to build a digital content strategy that makes sense for your business.
What You Need To Know
Before creating your strategy, there are a number of clear definitions you must have before starting your plan.
Customer Personas
A customer persona is a detailed representation of your business's ideal customer obtained from real data collected from market research, current customer profiles, and competitor analysis. Most businesses have multiple buyer personas that should include details like the target audience's industry, company, job titles, preferences and pain points. It's also important to know how each person's role in the purchasing process.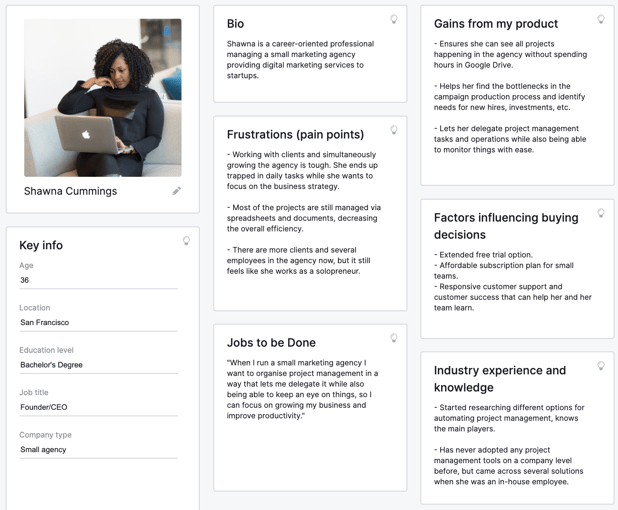 Courtesy of Semrush
Once you've identified your personas you can now have a better understanding of what content types and topics would interest them as well as which digital channels are best suited to reach them.
Content Distribution Channels
Just as in real life where people have their favorite places to hang out, your online audience has virtual locations where they consume content. It might be a professional industry-specific bulletin board or social media platforms such as LinkedIn or Twitter. Speak to customers and prospects and ask about their favorite online destinations and make sure their feedback is included in your content distribution strategy.
In addition to these specific locations, there are common digital distribution channels such as email, blog posts and video. In-depth knowledge of your audience should help you determine which distribution channels are most effective for your target audience.
The digital age has also seen the rise of Influencer Marketing which has become a $16.4 billion industry in its own right. This reflects the purchaser's preference to receive a recommendation from a third party rather than the seller themselves. While this form of distribution can potentially reach a large part of your target audience, there are risks involved as most influencers demand large fees with no guarantees regarding the results.

You don't have to share and promote your content through all channels, only those that are relevant for promoting your content to your audience. Distribution channels can be owned, earned or paid per below:
Owned distribution channels
Website

Blog

White papers

Ebooks

Email newsletter

Video

Podcasts
Earned distribution channels
Press releases

Guest blogging

Social media

Guest on Podcasts

Q&A platforms
Paid distribution channels
Paid influencer marketing

Sponsored content
After selecting your specific channels, remember to track their effectiveness. After six months or so, it should become clear which channels are reaching your audience and which are not.
Identifying Sales Funnel Opportunities
While knowing where the prospect is in the sales funnel is important for sales reps, how is it specifically related to digital content strategy? The answer is that specified content should be offered to prospects at each step of their customer journey. Defining where prospects are in the sales funnel should determine the topics and type of content they receive.
By tracking a prospect through each stage of sale, appropriate messaging can be sent at each step of the way. For example, in the initial Awareness phase, it would be appropriate to send general information about market trends and why the solution is necessary. In the decision phase, a competitive analysis of the other solutions the client is considering could be effective.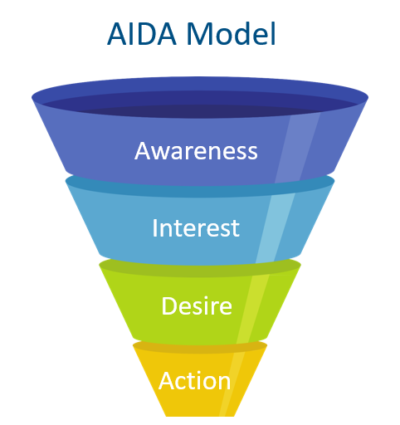 Courtesy of Sitetuners
The funnel paradigm is used to illustrate that many leads are necessary at the top in the Awareness stage, to finally arrive at the few prospects that make it to the finish line. You must make sure that it is possible to identify when a prospect moves from one phase of the sales funnel to the next, in order to implement an effective content strategy.
Competitive Analysis
It's a good idea to check out what's already working by analyzing the content and strategy of your competitors. When doing competitive analysis, in terms of content strategy, it's important to answer the following questions:
What type of content are they using - Blog posts, videos, white papers
What are the topics they are addressing - Titles, subjects, technical, leadership,
What is the customer journey - How are resources accessed on the website
Where are they advertising - Google, social media platforms, industry forums
What keywords are they targeting - Search intent of the target audience
Once you understand what the competition is saying and how they say it, you should now figure out your own unique messaging to help your brand stand out from the competition. It is probably a good idea to use many of the same content distribution platforms as the competition while adding a few of your own that they might now know about..
Now that we have reviewed what you need to know before creating your content strategy, let's move to the hands-on stage of how you build that strategy once you've got all that prerequisite information.
Creating An Effective Content Strategy
Content strategy is essentially a document that describes how content is handled in your organization. While there is no set formula and each director of content may have their own template, for the most part a proper content strategy document should include the following sections:
Objectives
State the business objectives as well as the more detailed content-related objectives of the strategy. Include goals and KPIs where applicable.
Research
It's recommended to include the source of the information on which the strategy is based. This includes internal sources such as web analytics as well as external sources such as industry reports.
Some common sources of information include
Internal company data
Internet data
Customer interviews
Research reports
Surveys
This is important so stakeholders understand that the strategy is backed by real customer data and feedback.
Target Audience
This should be taken directly from the personas that were created and the competitive analysis that was done in the preliminary phase.
Content Distribution
You should be familiar enough with your target audience to understand how they prefer to consume their content. The most popular formats include:
Start by listing the types of content you wish to produce. This may include:
Long-form, SEO blogs
Email campaigns
Interviews
Explainer videos
Infographics
This list helps you further describe each content type. For instance, you could write 2200+ articles targeting search terms to accumulate comments, backlinks, and organic traffic.
Resource Requirements
The content strategy must also describe the human and technical resources necessary for managing, creating and distributing the content. This is usually a mix of internal manpower and sourced third parties who are responsible for content creation and distribution. The main thing is to be precise about who is responsible for each task and make sure that there are ample resources for successfully completing these tasks. Inserting an org chart of content responsibilities should be part of your strategy.
The creation of new content has its advantages but may be both time-consuming and expensive. Many organizations don't realize how much content they have already created over the past few years or where to find it. It's a good idea to make leveraging of existing content part of your content strategy. This means taking inventory of your current marketing content. This is a pretty major undertaking, but several tools can help facilitate the process, such as:
MySiteAuditor

-

A lead generation and sales tool for SEO service providers, available in 20 languages around the world.

Site Analyzer - A variety of SEO tools to improve your online visibility and to become an expert in website optimization.
ContentLook - Makes analyzing content, traffic and site data much easier by using visual interpretations and actionable insights.
By having a full content inventory, you can leverage existing content or have some of the more popular articles updated instead of written from scratch, saving a significant amount of time and money.
Editorial Calendar
This calendar is for scheduling your blogs, ebooks, emails, podcasts, and social media posts over the coming year. It is also an excellent way to get an overview of the content you need to produce for the coming year.
As mentioned, content scheduling should be coordinated, as much as possible, with the company marketing plan. That way content can be leveraged to support activities such as product launches, events and advertising campaigns. Just remember to be flexible as business is dynamic and there may be sudden calls for content that were not anticipated. The pandemic is an extreme, yet good example of that.

When building your calendar it's important to pause and carefully consider the issue of publishing frequency. It makes a really bad impression whenever
someone visits a website and clicks on the Blog page only to find the last post is six months old.
On the other hand, when you receive messages from the same brand every day, on different channels and in different formats, you either block them or ignore their message. The challenge is deciding on a publishing frequency that you can fulfill while avoiding information overload of your target audience.
You can use a spreadsheet to set up your calendar or leverage the editorial calendar feature in many of the leading collaboration and marketing platforms such as monday.com, HubSpot or Trello as pictured above.
Content Creation
This is the core of your Digital Marketing Strategy so invest some time here to get it right. You should start by looking at the most popular topics in your industry. This indicates both what your target audience is searching for and the topics they want to read about.
Since you are an expert in your industry, have spoken to your customers and have done a competitive analysis you should have a pretty good idea of the topics you want to cover. Nonetheless, to make sure you are in sync with your target audience, it's always a good idea to check topic popularity using leading tools such as:
Once you have your list of topics, it's a good idea to define the specific business and digital marketing goals you have for each topic as in the example below.
| | | |
| --- | --- | --- |
| Topic | Business Goals | Digital Marketing Goals |
| How AI increases ROI | Increasing leads | Driving organic traffic to the landing page |
| | | |
| | | |
Putting it All Together
At this point you should have everything you need to create your own digital content strategy. Now you can put all the sections together and make it into a cohesive nicely formatted document. Check out this example of a cool-looking format from Contently.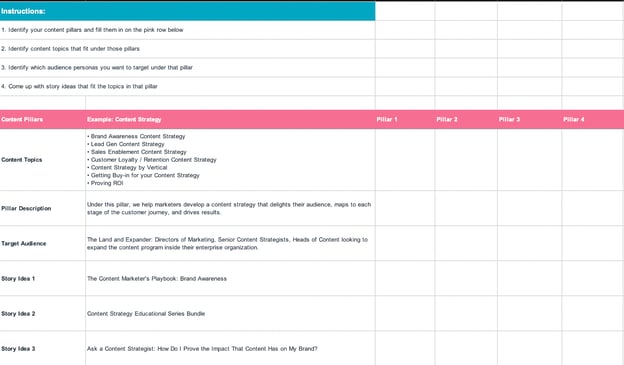 Creating a Digital Content Strategy is an important part of any Digital Marketing Plan. So now that you have that under control it's a good first step. Just remember that it's really only the beginning of the process which must be followed up by efficient and timely implementation in order to achieve the desired business goals.
Summary
Creating a Digital Content Strategy is a complex task with many moving parts. It is essential, however, to succeed in today's content-driven online economy. Making sure your content appeals to your audience, is professionally written and reaches them in a timely manner on a regular basis are really the goals of any successful Digital Content Strategy.
Even the most experienced digital marketing professionals can be daunted by creating and implementing an effective content strategy. That's why it makes sense to schedule a call with KeyScouts today and get a free Digital Marketing Strategy consultation today.
.