Digital marketing is a challenging process for most companies, especially tech companies and startups entering the digital arena for the first time. There are various components, that in one form or another, must be part of all digital marketing plans, each of which requires specialized skillsets, distinct strategies and methods of execution.
In many cases, initial plans tend to be unbalanced, focusing on some aspects of digital marketing while ignoring others. Likewise, the synergy between the various digital marketing activities and how they interact might only become apparent after executing a few campaigns. As a result, initial results may be disappointing and the ROI is not up to expected levels.
If you are responsible for digital marketing in your organization and want to understand how to create an effective digital marketing plan, then please read on as we explain all the relevant digital marketing activities and conclude with templates for creating a Digital Marketing Plan that helps achieve your business goals.
What is the Purpose of a Digital Marketing Plan?
Digital Marketing Plans are a framework for SEO activities, content distribution, organic online growth, paid advertising and digital campaigns across various channels to achieve a set of well-defined business goals for lead generation, lead conversion and revenue generation within an allotted time frame. These may involve running multiple campaigns on different digital channels working cohesively to achieve business goals.
These goals can range from spreading brand awareness, building brand identity, broadening the online audience and increasing sales. There are also post-sales activities that can be defined to keep up relationships with customers and leverage upsell opportunities.
Of course, it would be great to have unlimited resources to accomplish our digital marketing goals, but the reality is that an integral part of the digital marketing plan is to define the technology, manpower and budget required for each aspect of the plan. This ensures that we have the requisite financial backing for in-house or outsourced talent to implement the plan. If not, then the plan needs to be revised to operate within existing budgetary and staffing constraints.
Likewise, once the budgets, goals and KPIs are well-defined, you are then in a position to evaluate your digital marketing ROI. This can be done on a granular level to evaluate specific campaigns and on an annual basis looking at the digital marketing goals that were achieved and at what cost.
Things to Know Before Creating Your Plan
Before conceptualizing a digital marketing plan, it is really important to have a good understanding of the following:
Target Audience

Customer Personas

Sales Funnel

Media and Distribution Channels

Competitive Analysis
This must be well-defined according to industry, including specific target companies down to the department and title of the decision maker. It should also be limited by various criteria such as geographical area and company size to maximize exposure to those who are most likely to purchase your product.
In B2B digital marketing, there are tools such as LinkedIn that allow you to target campaigns towards very specific audiences to the level of job titles and even individuals within target companies.
Every target audience has different personas determined by their age, experience, responsibility and relationship to the decision-making process. It is essential to archetype the entire range of stakeholders within the organization to help properly target your digital campaigns.
It also allows for more effective messaging to each stakeholder in a campaign. For example, for managers, the message should center around product features while for executives it should concentrate on improving efficiency and ROI.
The sales funnel is synonymous with a journey of a prospect from being a lead to becoming a customer. The number of stages within a classic sales cycle might vary between 5-7 steps, but the standard digital sales funnel boils down to four main phases:
Awareness

Lead generation

Conversion

Resell/Upsell
In the first stage, the brand spreads awareness about itself, its products/services, values, benefits, and more within the target groups and personas. The second stage aims to gain the interest of people who are aware of the brand and nudge them to make contact or subscribe to receive more information about a particular product or service.
In the third stage, the company will find out which people are more likely to make purchases and use campaigns to convert the leads into actual customers. Finally, in the fourth stage, the brand wants to maintain a relationship with that so they continue to make additional purchases going forwards.
The sales funnel acts as the guiding compass for any goal that you might set for the digital marketing campaign. No matter what the business goal is, it most likely fits into these 4 stages of the sales funnel.
In today's digital landscape there are numerous social media platforms and channels such as LinkedIn, Youtube, Instagram, TikTok, Twitter, Reddit, Facebook, Discord, Telegram, and more. Each channel offers free storage and distribution as well as paid options to promote your brand over the competition. When taken together, these channels collectively become the digital distribution channels for the brand's online content.
Choosing the right media channels depends on two significant factors - the kind of content it supports and the kind of groups and personas you're targeting. Make sure to research each channel and make sure to concentrate your resources only on those that have the tools and track record for reaching your target audience.
After knowing about your audience, their personas, the channels they use, and the stage of the sales funnel, it is also important to take a look at your competitors and ask these questions:
Which companies target potential audiences similar to your own?

What channels do they use to reach the target audience?

What are the keywords that they are targeting?

Where are they publishing and promoting their content?

What are the unique advantages of your product over the competition?
Answering these questions can help sharpen the definition of your own target markets and product messaging. Likewise, it might give some good ideas regarding the keywords you would like to target and what channels are best for distributing your content. Now that you've mastered these subjects, it's time to move on to Content Strategy which is key to the success of your plan.
Major Components of Content Strategy
At the center of all digital marketing efforts is content. This is why content strategy is imperative to any plan and drives the campaign.
There are different components to a content strategy. It's important, but now always easy, to make sure these components work together to accomplish your digital marketing goals. The component of a basic content strategy should address the following::
Purpose

Channel

Content Types

Success Metrics and KPIs
This defines the goal of your marketing campaign. If your goal is to increase sales then all your content and marketing assets would be directly or indirectly deployed to accomplish that. This forms the core and overarching goal of your plan.
The most important factor in selecting a digital media channel should be how much it is used by your target audience. Today you need to find your customers on the websites and user groups where they are hanging out. It's also a very reliable method for generating quality leads.
Channel selection should also take into account whether content can be deployed as either paid and organic assets. Facebook, Instagram, YouTube, and Google are popular platforms with free and paid methods for reaching your audience. Choosing channels that form a good combination of paid and organic campaigns usually yields the best results.
When it comes to the type of content that helps reach your online goals, it should be nuanced accordingly. For instance, if the purpose is to lead conversion, then the content offering must have enough value for visitors to provide their contact information in order to receive it. There should also be a clear call to action so the audience understands how to provide their information and receive the value-added content.
In the digital age, the frontal sales approach is not as effective as establishing your brand credentials and building online relationships that lead to sales. In this vein, there are various content types that can be broken down as follows:
Value-Based Content

Thought Leadership Content

Action-Oriented Content
Value-based content appeals to people's values which they share with your brand. The thought leadership content shows your brand's industry expertise and understanding of the product and market. Action-oriented content should include a direct call to action for prospects and customers to download a white paper, attend a webinar or purchase a product at a discount.
KPI is an acronym for Key Performance Indicator. This includes all the metrics that need to be measured to determine the success or failure of each digital marketing campaign and the overall goals for the period covered by the digital marketing plan.
For example, if an increase in leads is the goal, then you need to see how many visitors came to your website before, during and after a particular campaign. This shows the effectiveness of digital marketing activities and together with the costs of the campaigns can help determine the overall digital marketing ROI.
For this, the company needs to determine how much was invested in the campaign and the number of new leads that were generated as a result of the campaign. After running a few campaigns, it should become pretty obvious now many leads it takes to qualify as a successful campaign. It also serves as a baseline for measuring the relative success of each campaign to see which is the most effective.
Digital Marketing Plan Templates
Now that we have done the preparation, understand the concepts and defined the basic digital marketing tasks required, it's time to put all that together into a cohesive plan. While that can still be done using a combination of Word docs, spreadsheets and Powerpoint presentations, today there are tools available that can help put a digital marketing plan together in new and innovative ways.
Old School Formats
For those who prefer the "traditional" approach, you might prefer to use a template guide that assists in defining every aspect of each marketing task including descriptions, KPIs, what media is required, who is going to create it and how much it's going to cost.
If this suits you, then check out the Digital Marketing Plan Template from Smart Insights. You may have to sign-up to download the guide, but it's well worth it as they use a questionnaire format to guide you through their "6 Pillars of Digital Marketing" for each digital marketing task.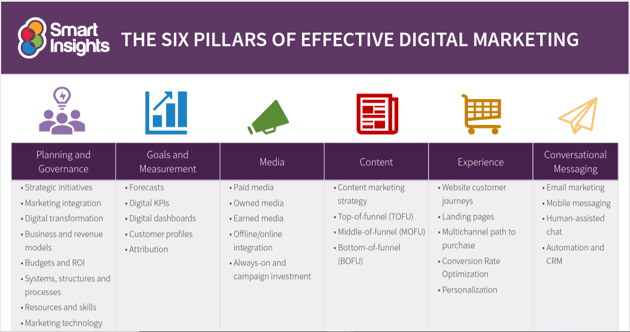 Once you've defined the pillars for each task, it's pretty straightforward to move the information into a document, spreadsheet and PPT format. Check out the Smart Insights website for more information.
Collaborative Formats
With so much expertise and diverse skill sets required to plan and implement digital marketing campaigns, collaboration was always necessary. Today with more people working from home, increased outsourcing and integration of a global workforce, having collaboration software has become a "must-have" for managing tasks, measuring KPIs and getting results.
A good example of this is monday.marketer who helps build a plan by prompting for marketing tasks and then automatically setting up a collaborative workspace where team members can collaborate on creating the plan and then managing its implementation.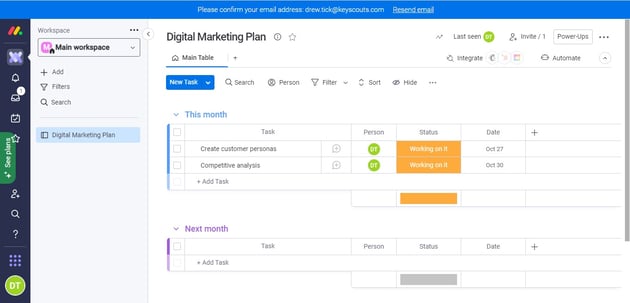 While the collaboration aspect is really cool, regarding implementation it only suggests a few digital marketing tasks, so in terms of the plan, you need to come up with your own list of tasks that you should be able to copy and paste from this article as well as other sources.
Visual Formats
One of the more interesting options for Digital Marketing Plan creation is offered by Miro, who has come up with a new and innovative way of creating, viewing and working with digital marketing plans. Instead of writing down tasks in a document spreadsheet or online form, a workspace is created using a visual White Board and Post Its.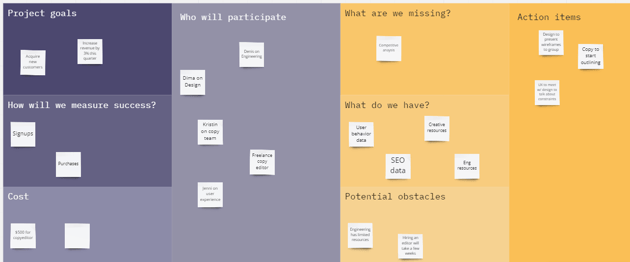 After selecting the digital marketing template, the tasks they suggest are actually quite good and very easy to modify for specific requirements. The platform is collaborative, so various teammates and stakeholders from around the world can be invited to participate in the planning and implementation stages. The membership is free and it's pretty easy to set up to see if the visual interface works for your team.
Summary
This overview should provide the basic information and structure you need to create a realistic digital marketing plan. The main objective is to understand your audience, create content that appeals to that audience and use both organic and paid promotion to bring that audience to establish contact with your company.
With so many distinct fields of expertise required to create an effective digital marketing plan, it might seem overwhelming for even the most seasoned marketing professional to get started. That's why it's probably a good time to speak with the digital marketing experts at KeyScouts with extensive experience in SEO, content marketing, PPC and organic growth. Contact KeyScouts today and see if you qualify for a free online review of your digital marketing plan.