With more and more B2B customers researching products and services online, it's more important than ever for you to upgrade your B2B SEO strategy.
One of the main components of an SEO strategy is content writing. If you're like most B2B companies, by now you've probably worked with multiple SEO consultants, each with their own process and B2B SEO best practices (many of which are outdated). Or, you've tried the DIY method with no set plan or research.
The result? An assortment of keyword-stuffed pages, writers who have no idea what they're doing, and money and time wasted.
We don't blame you. Writing for B2B SEO can be tricky. Instead of finding yourself describing straightforward topics like "how to find the best foundation for your skintone?", you're struggling to describe a complex mechanical system while being creative, persuasive, and optimizing for SEO all at the same time.
Take a look at these B2B SEO writing guidelines designed to help your writing succeed:
Users before search engines
Perhaps the most important element of B2B SEO writing is to keep in mind that you're writing for an actual human reader. Although you should also make sure the text is optimized for search engines, this doesn't mean losing sight of what you're actually trying to do here--pique the interest of your target audience enough to convert them into paying customers. You won't be able to achieve that if you're copywriting reads like it was meant for a robot.
Instead of writing spammy text stuffed with keywords, write valuable and interesting content. Content that people will want to read, come back to, and possibly even share with a friend or two (hundred).
Use headings the right way
Your content's headings include the title, and any sub-headers (H2 and H3) used throughout the text, but many content writers still don't know when or how to use these headings properly.
Your headings (especially the title of your piece) should:
Be engaging
A good heading should be intriguing and engage your readers. For example, the heading "How To Succeed in Sales, Even If You Hate Selling" is both intriguing and engaging. The second part of the heading addresses a common concern most people have about sales, and leads them to want to click and continue reading.
Let your reader know they're in the right place
Utilize 1 or 2 (no more) keywords that your prospective audience would likely use in a search engine to find your content. This will help you rank high for those keywords and let your readers know they've come to exactly the right place to get the information they were searching for.
Google Adwords' Keyword Planner is a great tool to help you conduct keyword research and find relevant search terms with a reasonable volume for you to target.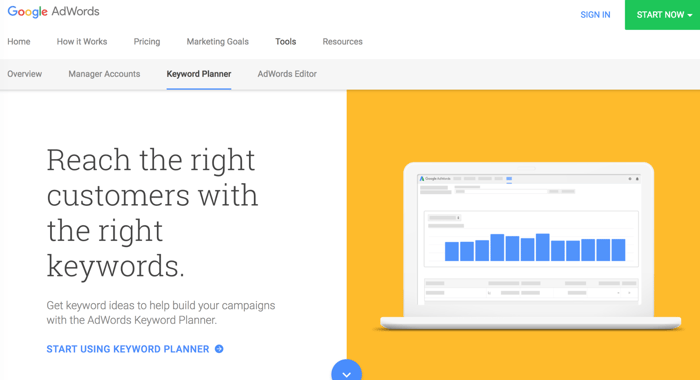 Set the right expectations
Your heading shouldn't be about one thing, and your content about another, entirely. If your heading says "10 Ways to Attract Qualified Leads", each point should be about just that. Don't go off into tangents that can leave your readers confused. Keep your readers happy and engaged by sticking to your point. After all, the title is what interested them in clicking in the first place, so you know that is what they want to read about.
Be as short and concise as possible
No one likes a never-ending heading. Plus, they probably won't stick around to read one in it's entirety either. Keep your headings short and sweet, with just enough information — nothing more.
Also, don't forget to use your heading tags. Heading tags go from H1 to H6, with the biggest tags being the smallest number (i.e., H1 renders the biggest font). It's recommended to use a single H1 tag on each page (the title tag). Think of heading tags like you would headings in a newspaper, try to use many H2 tags to break up the page copy and help structure the information.
Keywords that make sense
Many content writers believe that the more keywords they throw into their content, the better. This couldn't be further from the truth. Keyword stuffing is one of many damaging B2B SEO mistakes that is all too common.
However, it's difficult to determine how many keywords are too many, and how many are enough to get your website ranking higher. Here are a few general guidelines about how many keywords to use and where to put them:
Optimize every page for 1-2 keywords, no more

Use keywords in headings and subheadings (H1 and H2 tags)
Place keywords in paragraphs, especially in the first and last 25 words

Spread your keywords throughout the page.

Place keywords in your images' alt text

If your keyword is part of a small statement, you can bold or italicize it to make a specific point

When possible, use your keywords as anchor text for links

Don't focus on one core keyword over and over again, diversify with many logical variations of the same keyword (e.g. 'compare prices' and 'price comparison')
You should also be sure to include the main keyword you want to rank for in the meta description and in the URL of the page.
With these points in mind, remember again that the key focus of your page should be on readability. If your page does not make sense to human eyes, then it is no good for a search engine and your site will not rank higher. You want to use keywords often, but not to the point where your content reads like you are writing for the search engines and not the user. A great way to approach this issue is to initially write your piece for people only, and then come back to it, to include keywords where they make sense.
Technical Details
Additional B2B SEO writing tips are to make sure your content's technical details are on point. This means aiming for articles to be as lengthy as possible, approximately 1,000 words. Longer posts have bigger chances of ranking high on search engines. That being said, clarity and formatting are more important than sheer length of copy, and the page length can vary based on the goals of your page.
Another detail you must pay attention to is how you name your file paths. You should:
Try to include keywords in each filename or folder

Use lowercased file paths because some directories & content management systems do not handle uppercase file names

Separate words with a hyphen (-) between each word
To ensure your content ranks high on search engines, you want to to engage in B2B SEO marketing that works. That means following the above mentioned guidelines to make sure your writing is up to standard with B2B SEO best practices.
Contact KeyScouts today for a free consultation to see how B2B SEO services can grow your business, and download our ebook "Conquering B2B SEO in 2017: A Guide for B2B Marketers"

Want to speak to someone about KeyScouts?