Omnichannel is the epitome of a customer-centric approach to marketing. It's all about thinking about the big picture when it comes to customer experience and interacting with your customers. From a B2B perspective, it's about offering a seamless experience through every channel a customer could potentially use to engage with your brand.
Omnichannel marketing is no longer just a buzzword; it's vital to every business. In fact, 51 percent of B2B digital professionals said omnichannel customers increased spending in the past year," according to a Forrester Research report.
If you're looking to increase engagement, reduce retention costs, improve customer loyalty, and increase revenue, below are three reasons you need to develop a B2B omnichannel experience.
1. Buyers demand it
A recent study by Accenture and Forrester Research "Building The B2B Omnichannel Commerce Platform Of The Future", found that nearly half of B2B buyers make work-related purchases on the same websites and mobile apps they use for their personal shopping. Whether they're shopping on their desktop, laptop, smartphone, or tablet, your business needs to be available wherever your B2B buyer is looking to find you.
Based on the study, the reality is:
Almost three out of four (75%) B2B buyers look up product information online and expect it to be consistent across every channel.
68% say it is important to be able to view their activities across all channels.
B2B buyers expect (and even demand) an omnichannel experience where they can do everything from viewing product information to analyzing activities, and reviewing their account history. These B2B customers don't want to be limited in how they interact with you or where that interaction happens. Therefore, your business must adapt to this reality or be left behind.
Each of your customers has different needs that can change depending on the task. The key is to tailor your omnichannel experience based on the role of your customer, their requirements, or their buying habits. Don't make the experience unnecessarily complicated, but instead design an omnichannel solution that supports your customer.
For example, let's say after conducting research, you find that most first time visitors to your website are via smartphone but most of your sales are via desktop. You'll need to set up an omnichannel solution that establishes a consistent brand in colors, design, and messaging across all channels. In this way, you create a cohesive brand experience for your customers.
You'll also want to make sure that in the smartphone version of your website, it is just as easy to explore and learn about your product—reading blogs, reviewing your product description, etc.—as it is on your desktop, since your sales funnel starts on the phone. The key is to offer a seamless transition between devices so your customer always has the same experience with you.
2. B2B buyers are online
Nowadays, everything starts online. Just as consumers might start their product search on Amazon, B2B buyers also start online when it comes to their research. However, the difference may be that most B2B customers are more likely to start their research on a search engine compared to a manufacturer's website. Still, they'll use a variety of channels and devices to look up the information they need—sometimes starting on their smartphone before finishing the process on their laptop at the office.
In order for your company to be successful, your B2B business must understand the buying process your customers go through. The first step is to map out your buyer's journey (discovery --> research --> purchase) and meet them at every step of the way.
For example, if they're in the "discovery" step searching for how to increase their employee productivity, you'll want to make sure they find your relevant blog post titled, "10 Ways to Increase Employee Productivity". Then, during the "research" phase, you might want to offer a comparison tool on your website comparing your product/service to your top competitors. The key is to provide your customers with what they're looking for, when they're looking for it.
Providing a seamless and cohesive omnichannel experience at every step, will also require you to weave digital into every aspect of your business, by creating an efficient site that is rich in content and supports how your customers work.
There are a few tools you can use to help you master the B2B omnichannel experience:
SAP Hybris Commerce Cloud

: This solution can take even the most complex B2B businesses and offer a seamless experience for customers along every step of their journey. It offers B2C style personalization and targeting for B2B businesses to help you manage content, deal with suppliers, distributors, and partners, support complex product configurations, simplify the ordering process across all channels, and more.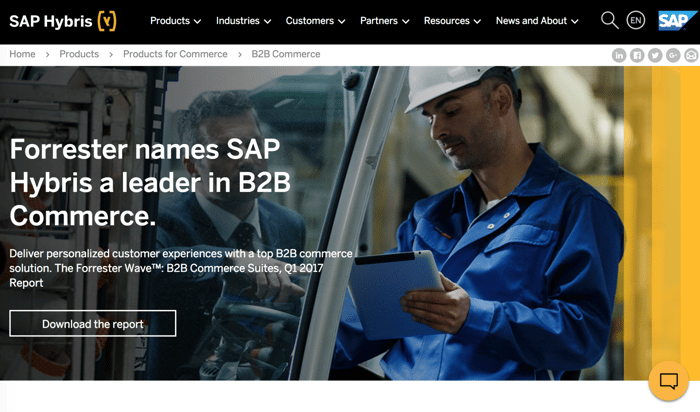 TeleTech

: This omnichannel solution helps you analyze your customer journey and to create solutions that "humanify" the customer experience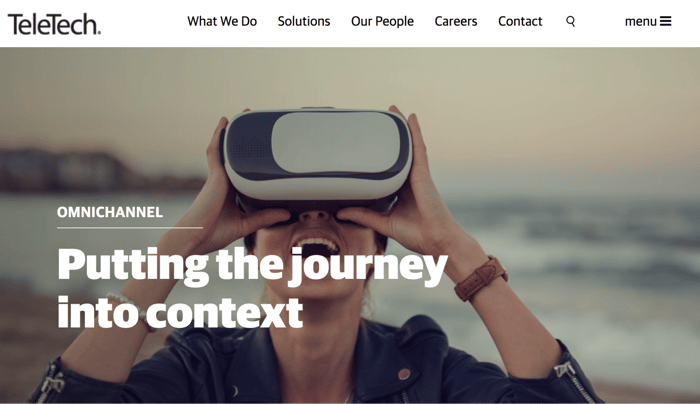 3. Customers desire fast, efficient & seamless service
Your customers expect fast and efficient service on the channel they prefer. B2B buyers want both a seamless sales process with a salesperson or a service center, as well as an efficient way to purchase, reorder, or obtain help—all in a timeframe that fits their needs.
This can be difficult unless you add to your omnichannel experience by implementing the use of AI and chatbots into your customer service. Gartner predicts that by 2018, 30% of our interactions with technology will be with smart machines such as chatbots. A chatbot can be the first layer of contact a customer encounters no matter which channel they use. You can use the chatbot to figure out what your customer needs and to answer that need immediately—if it's something the chatbot can handle on its own. If not, a chatbot can quickly and easily connect your customer with the right person who is ready to help.
It's also important to use a cloud-based CRM platform, such as HubSpot, to inform the chatbots, just like in the Conversations app launch that HubSpot announced recently. This type of conversation can be done seamlessly and move across channels and mediums without ever missing a beat—key for fast, efficient, and seamless service.
Just like with any marketing strategy, creating an omnichannel experience for your business can be a complicated process. The good news is that you don't have to go it alone. Marketing agencies, like KeyScouts, can help you achieve your omnichannel goals.