Millennials make up the largest percentage of the U.S. workforce and are easily the most lucrative demographic right now, and that's not expected to change anytime soon. So if you're not already focusing your marketing efforts in their direction, now's the time to start.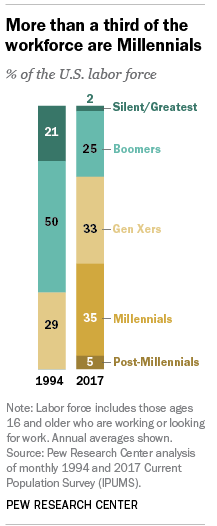 Although millennials make up a mere fourth of the U.S. population, they make up 35% of the labor force. This means that you're going to have to deal with them whenever you're working on a new business deal—they'll be the managers, directors, supervisors, and entrepreneurs who'll make the purchasing decisions.
That means it's more important than ever to understand who millennials are, what they're interested in, and what type of marketing they find attractive. Fortunately, there's a pretty simple-to-follow recipe for getting your slice.
If you're ready to figure out how your company can cater to this demographic, keep reading or contact Keyscouts immediately.
But first, let's make sure we understand exactly who these millennials are before we start talking about marketing to them.

Who Are Millennials?
They're Young(ish).
One of the more popular ways millennials are being differentiated from the rest of us is birth year. While the exact range of birth years has been debated, it's generally accepted that millennials were born somewhere between 1982 to 2004. How does this age range look in the real world today? Right now, millennials are between their mid-teens and mid-30s. More than half of millennial households already have children. And by 2020, millennials will make up nearly half of the U.S. workforce.
They're Tech-Savvy And Social Online.
Can you imagine life without a smartphone or the Internet? Millennials can't. Many of them have never lived without these technologies (or they can barely remember a time when they had to), which is why they're also the best users. Millennials don't just share, like, tweet and pin because it's fun—for them, it's an empowering mode of self-expression. The online content they generate and consume is important to them, which is why authenticity—whether it's coming from a person or a brand—is key.
Marketing To Millennials
Millennials are a unique group, and businesses need to update their marketing strategies accordingly if they expect to win over their companies as customers. Here are 6 tips for effectively marketing to millennials.
1. Break Up With Outbound Marketing, ASAP.
For millennials, tactics like print ads and mail campaigns won't fly. In fact, the vast majority of millennials don't trust (or even pay attention to) traditional advertising.
To catch a millennial, you need to make them feel like you care about them and their company (and not just the sale!) and prove that your product truly enriches their lives. For this reason, you need to give up outbound marketing and embrace inbound marketing.
How?
Start with a solid content marketing strategy and provide them with content that actually helps them rather than simply pitches at them.
And on that note…
2. Give Them Content That's Genuinely Useful And Authentic.
Millennials want brands with an ethos they can relate to. The content you share shouldn't revolve around the concept of "Buy my product or service." Instead, it should focus on "Here's something we thought you may find interesting and helpful."
Millennials do a lot of research online before buying. And in addition to listening to comments and reviews on the content you've published, they'll also listen to (and follow) you online if you give them a good reason to do so.
What you put forth online will be key to shaping how millennials perceive your brand. In addition to providing content that educates or provides added-value to your customer, your level of authenticity can also be increased by publicly supporting a cause.
Nearly half of the millennial consumers are more likely to buy from a company if they know that their purchases go towards supporting a cause, so if you're company is making a difference in the world, make it known!
3. Invest In Mobile Marketing.
Millennials are used to interacting online and doing so via their mobile devices, even at work. Indeed, a whopping 94% of this demographic owns a smartphone and 100% own a cell phone. With this, you'll be doing yourself a huge favor by making sure that when you're marketing to millennials you've got your mobile marketing efforts working.
In addition to focusing on your mobile marketing strategy, make sure your site and collateral are optimized for mobile—that means creating mobile-friendly landing pages, quick page load times and easy-to-grasp CTA's on any screen size.
4. Focus On Use, Not Ownership.
One of the traits that makes millennials unique is their desire for experience over ownership. The vast majority of millennials are more interested in how a product or service can enhance their everyday life compared to enhancing their company's status.
The growing "sharing economy" and "subscription economy" that's being fueled by millennials is proof of this. 70 percent of millennials have a product subscription and 89% have a service subscription.
What does this mean for you?
When marketing your product of service to millennial buyers, you might want to focus on how you can offer subscription billing, subscription SaaS, and more instead of focusing solely on buying your software. Millennials understand that ownership comes with many additional costs including invested resources and maintenance. By offering a subscription service, you can highlight that someone else does all the work while keeping the monthly costs relatively low.
The key is to explain to millennials buyers that they'll have more time to spend on other tasks with your subscription service, but they'll still garner the benefit of increased revenues for their company.
5. When Marketing to Millennials, Be Where They Are.
Millennials have spent more time in their lives on social media than any other demographic. Consuming useful, relevant, and even entertaining content through videos, blogs, and reviews (among other types of content shared on social media) isn't just fun for them—it's a necessary part of their purchase experience.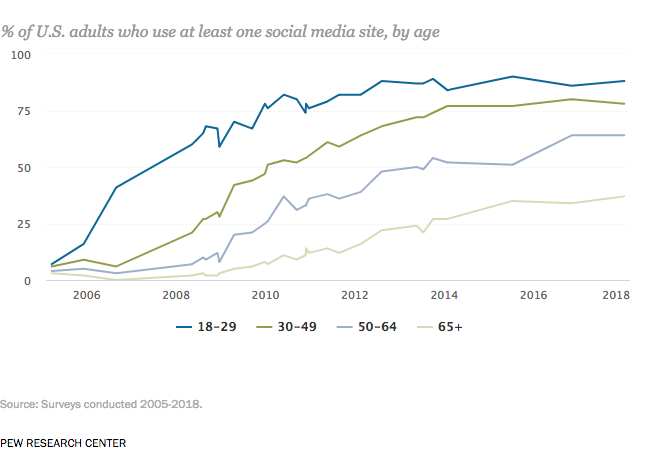 Source: PEW Research Center
So, to reach millennials, you need to deliver your message on the channels they're using (Twitter, YouTube, Facebook, etc.). But how do you find the networks where they spend the most time at work?
The key thing to remember is that millennial buyers are still people; they are not just faceless corporations. So, where millennials might spend their free time online is also where they'll look online for business-to-business communication. That means you need to check out Twitter, Instagram, Facebook, and LinkedIn. Check out this advice on B2B social media marketing to get started.
Build relationships and connections with your customers, and have constant, consistent, and genuine conversations with them on relevant social media channels. Doing so will make your business feel more "human", and it will help develop brand loyalty among your customers.
6. Build Relationships With Influencers.
What's interesting about how millennials are interacting online is the extent to which they rely on strangers' opinions before making a purchase decision. According to Bazaarvoice, "forty-four percent of Millennials are more likely to trust experienced consumers (who happen to be strangers)."
Build a strong connection with the online influencers that millennials are listening to. These influencers can have a big influence on the buying decisions of millennial decision makers. It's why 51% of marketers claim that they get higher quality leads from influencer marketing than from anything else.
Whether you focus on garnering celebrity influencers (key brands who use your product/service) or thought leaders in your industry (key bloggers, speakers, or executives), their opinions and recommendations will be highly respected by millennial buyers. Thus, you can leverage their sway to make the purchase more likely. Here's some insight into best practices for influencer marketing.
Conclusion
Millennials are the gatekeepers at many companies and the key decision makers when it comes to company purchases. By understanding who they are and what motivates them to choose a vendor to buy from, you can adapt your marketing strategy to cater to them and increase your business' likelihood of success, now and in the future.
For a free consultation on marketing to millennials and building your inbound marketing strategy, contact KeyScouts, today. We are always here and happy to help!