Proving B2B marketing ROI is one of the biggest challenges that marketing leaders face when reporting to executives at their company. 66 percent of marketers view analytics as strategically important, according to a January 2017 survey of 217 marketing leaders across 19 industries. But the problem is that only 28 percent are satisfied with their ability to measure performance.
The question is, why is there a disconnect between B2B marketing and proving its value?
It all comes down to what B2B marketers are required to prove. You need to be able to prove:
How your digital marketing efforts contribute to revenue

Why you deserve your marketing budget

That your marketing budget isn't going to waste
Unfortunately, providing proof of the success of your marketing efforts isn't as easy as showing a monthly sales quota. This is because marketing has an incredible number of variables as well as touch points that can be difficult to pin down.
Here are the top three challenges B2B marketers face in proving their marketing ROI and how to overcome them:
How to Attribute Content to Revenue
What is your B2B marketing content worth?
That's the question as well as the biggest challenge that marketers face when it comes to proving ROI. According to research by TrackMaven, 71 percent of marketers feel that attributing social and content to revenue was the top challenge in proving ROI.
This is a huge problem considering that compelling content is what fuels most marketing campaigns. In fact, for most marketers, content is one of the most strategically critical elements of marketing, and it is incorporated in everything they do. Content is published on every channel from paid to earned, owned, and social.
So, how do you calculate the value of this content that has taken up so much of your time?
First, you need to understand that you can't measure everything. Content drives a lot of marketing revenue, but not all of it. The key is to breakdown the value of your content at each touchpoint leading up to a sale. This should be a full funnel progression broken down into four reports from the first touch with a potential customer through the opportunity stage.
The four necessary content reports should be as follows:
First Touch:
This refers to the content that makes first contact with anonymous individuals before they become leads. This report should look at visits to landing pages, views of social media posts, paid advertisements reach, etc.
Lead Creation:
This looks at the content that drives the most conversions. It should demonstrate the effectiveness of landing pages to gain email signups, website link clicks through social media, paid advertisement click rates, etc.
Opportunity Creation:
At this stage you should assign a dollar value to each opportunity/lead. For example, if an email address is worth $5 to your business and you gained 100 email addresses for a landing page, the opportunity creation for that landing page is $500.
All Content Assets per Opportunity:
This stage ties everything together. It should show how your content is consumed, when, by whom, and how much each piece of content is worth.
An easy way to generate these reports is by using Bizible.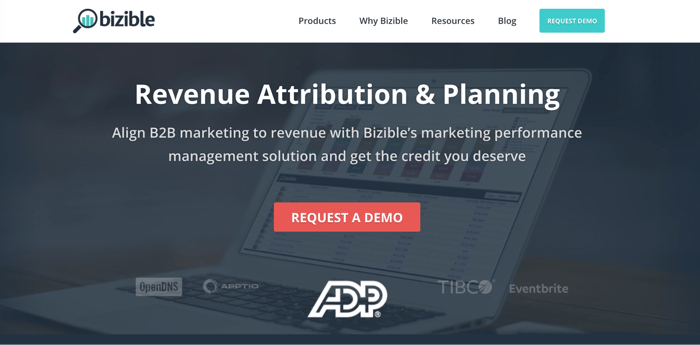 Bizible can help you calculate the opportunity value attribution for each content piece and the ROI based on overall campaign budget and costs.
Aligning KPIs with Overall Business Goals
You can't prove ROI if you're not measuring the right KPIs. In B2B marketing, KPIs can cover everything from the number of website visitors to email signups, SEO ranking, social media comments, and social followers. The problem is that unless you measure KPIs that are aligned to your overall company goals, the ROI you prove won't be valuable to your business executives.
So, how do you align your KPIs with your business? It's all about setting the appropriate marketing goals that are well-defined and matched to your company.
The first step is to get specific with your goals. Don't just say, "We want more email signups." Instead, say: "We would like to generate two new customers from our email marketing campaign, and we would like to add 500 qualified leads to our mailing list." This goal can be specifically tracked back to an overall business goal of earning new customers and generating leads for the sales team.
From there, you'll need to identify a few key numbers to determine your KPIs:
Identify Revenue Needed:
To prove ROI, you need to prove revenue generated, but how much revenue do your marketing efforts need to generate to be considered successful? It's important to determine this number based on your company's goals to grow by X percent.
Determine Sales Required:
To hit your revenue goals, how many sales do you need?
Know Your Closing Rate:
You can determine how many opportunities you need by identifying your closing rate.
How Many SQLs & MQLs:
How many sales qualified leads (SQLs) and marketing qualified leads (MQLs) do you need?
How Many Leads:
Not all leads will be qualified, so how many general leads (visitors that have converted on one offer) do you need?
How Much Traffic:
To reach your lead goals, how much traffic do you need based on your conversion rate?
You can develop other KPIs by looking at other business goals such as:
Sales of a particular product

Increased repeat customer sales

More job applicants

Product downloads
The key to overcoming this challenge is to start with your overall company goals and work backward toward your marketing activities.
Collecting the Right Data
Collecting the right data depends on the KPIs you've set. If you have clearly defined marketing goals and KPIs that are aligned with your business goals, it will be much easier to know which data you need to collect.
Big data is key to increasing your company's operating margin by more than 60 percent according to the McKinsey Global Institute, and that's a big selling point for your ROI as long as you collect the right data. To do that, you need to go back to your KPIs and determine what data you need to satisfy your stakeholders and executives. This is the data that will matter most.
Here are four steps to collecting the right data:
Assess Your KPIs:
If you've already aligned your KPIs to your business goals, then all you need to figure out is what data will fulfill your KPIs.
Have a Conversation:
Sit down with your executives and figure out if there is anything beyond KPIs that they are interested in. These metrics tell some other important story. For example, your CEO might place a high emphasis on blog comments because he is interested in making the company a thought leader, even if it's not an over-arching company goal.
Design and Develop:
In order to capture relevant data, you'll need to design and develop a strategy that will organize your data according to your KPIs. Using marketing software such as HubSpot, can tremendously help you gather and analyze your data in a streamlined and user-friendly way.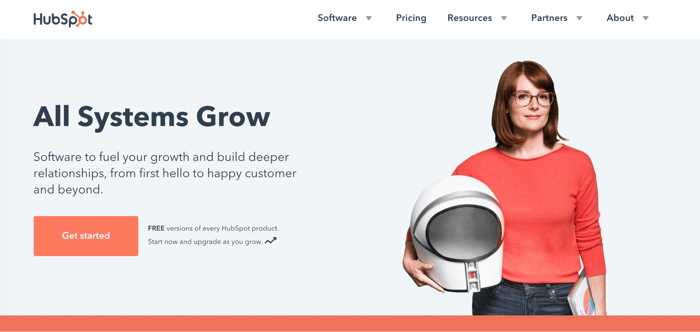 Contact KeyScouts today to learn more about how to utilize HubSpot.
Implement:
The final step is to start collecting data on a regular basis—weekly, monthly, or quarterly—and then transforming that data into an easily consumable report to demonstrate your ROI.
Working with a marketing agency can ease the process of proving your ROI. With a marketing agency on your side you save time, receive detailed monthly/quarterly reports, gain expertise on multiple marketing areas from SEO to social media, content, and PR.
Contact KeyScouts or download our eBook to help you overcome the challenges of proving your B2B marketing ROI.
Ready to contact KeyScouts?