If you've started the journey of measuring your marketing campaign's ROI, and find yourself a bit confused or overwhelmed, we can assure that you are not alone in this sentiment. Measuring a campaign's ROI can be tricky in the beginning for a number of reasons. However, if you are aware of which measurement tools and resources are available to you, as well as what the most important aspects of the campaign are, then calculating the ROI will be much easier than you imagine.
But before we get started, here are some basic reasons as to why measuring ROI can be a bit challenging:
Marketing campaigns can be long and multifaceted.
When developing an online marketing strategy, you never know where your investment will make a significant impact. For example, content that was written a week ago, may not bring you any results for months. Because of the length of campaigns, as well as the unclear reasons as to why one campaign is succeeding, whereas another is not, it's difficult to track concrete logic behind why a piece of content is effective.
Variables can be defined in multiple ways.
"Return On Investment". The difficulty with this measurement, as well as the definition behind it, is that is must be very clear what exact variables are being measured, and it is important that they are uniformly defined to avoid confusion or miscalculation.
Outside events can affect the results of a campaign.
Throughout each campaign, there could potentially be a number of factors that are out of your control which can heavily impact the results, such as a shift in the economy, politics, or natural disasters.
The first and most basic element to keep in mind is which formula you're using to make calculations. In order to determine this, it is important that you know exactly what it is that you would like to measure.
Which formula is best for measuring marketing campaign ROI?
There are a few different formulas and approaches you can take to calculate your campaign ROI. Each one's benchmark of what is considered good or bad depends entirely on which industry is being referred to. Here are some of the more popular ones:
The Gross Profit Formula is one of the most important financial concepts to be aware of in any business, as it is the most basic of all of the formulas. Here is how it is calculated:
Gross Profit – Marketing Investment
High Benchmarks:
Finance and insurance - 50%

Retail - 44%

Wholesale trade - 37%
Another option is to use the Customer Lifetime Value (CLV) in lieu of Gross Profit, which provides insight on customer evaluation. If your business is focused on customer acquisition, loyalty, cross-sales, support costs, etc., then this formula may be beneficial:
Customer Lifetime Value – Marketing Investment
Marketing Investment

Benchmark insights: For best-in-class e-commerce companies specifically, the average customer lifetime value is $3600. Across all companies, CLV tends to be roughly $1300.
Businesses that run marketing campaigns that include multiple incremental costs that they would like to remove from their ROI calculations would likely be best off using this formula:
Profit – Marketing Investment – Overhead Allocation – Incremental Expenses Marketing Investment
Benchmarks: In the example below, implementing Product ID will increase profit from $500,000 to $600,000. It's worth noting that a 10% increase in revenue results in a 20% increase in overall profit.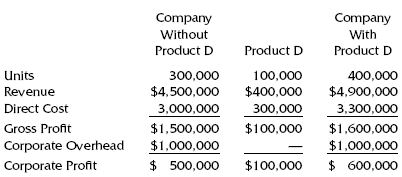 Content marketers can use this formula for calculating the ROI for each content item they publish and measure content performance:
Total Revenue Generated by Piece of Content – Total Cost
Total Cost
Benchmark insight: This chart shows what your company should be striving for in terms of total revenue gained by every piece of content distributed by your company: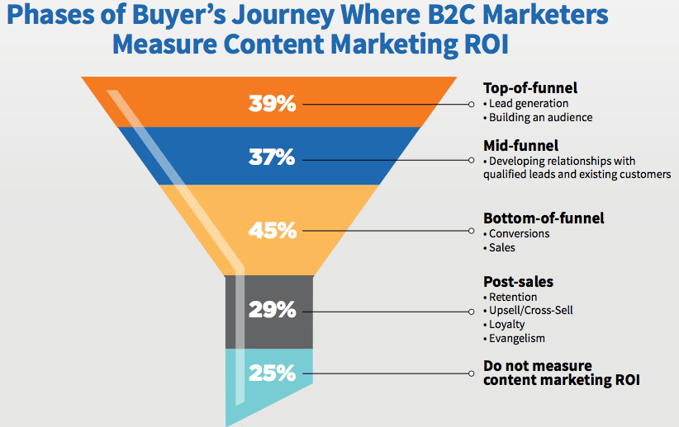 Make sure that your variables are well-defined, so that your calculations are reliable in measuring exactly what you want them to. This will enable you to clearly see how your campaigns are doing, without having to make too many adjustments, which could potentially compromise the results of your campaigns.
Regardless of which formula you choose to implement, keep in mind that there is no "one size fits all," and sometimes, it takes a few experiments with different formulas to find the perfect one to measure your exact needs.
ROI formulas help show marketing value, but they don't attribute revenue to your campaigns. Therefore, it's important to be aware of marketing attribution models, which can provide deeper insight.
Common Attribution Models
Attribution models are a set of rules that are able to identify events or touch points that contribute to a campaign's desired result, and then assign a value to each one. The ability to follow business conversions closely and accurately is crucial to monitoring the success of a marketing campaign, as well as to conversions in general.
Here are some of the more popular attribution models that are used:
Single attribution
This model helps you attribute the entire value of a deal that was made to either the first or last part of the campaign that led to the conversion (the top or the bottom of the conversion funnel).
Single attribution with revenue cycle projection
This model helps you make long-term projections about the results of your marketing campaigns. It adds revenue projections based on past performance to the single attribution model.
Multi-touch attribution
This model gives value to each of the touch points that are part of a successful conversion, for example a CTA button, a blog post, a landing page, an email, etc.
Tools that can help
There is software that will help to simplify the process of analyzing the metrics of your campaigns. Marketing analytics software offer the ability to track the effectiveness of campaigns, and provide reports, as well as highlights in drastic changes.
Looker, for example, is one analytics software that offers a lot of insight as to why certain marketing activities are or are not working.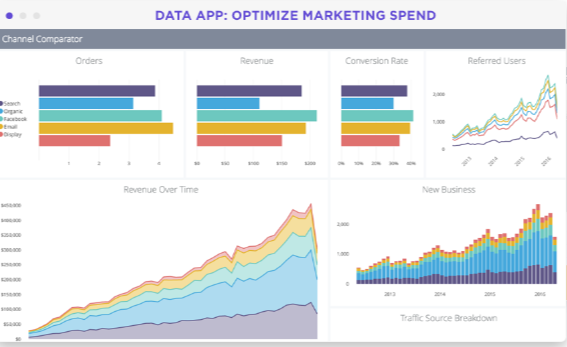 TapClicks is also a great platform to check out. The best part of TapClicks, is that it consolidates all of the metrics into one dashboard, with even deeper analytics.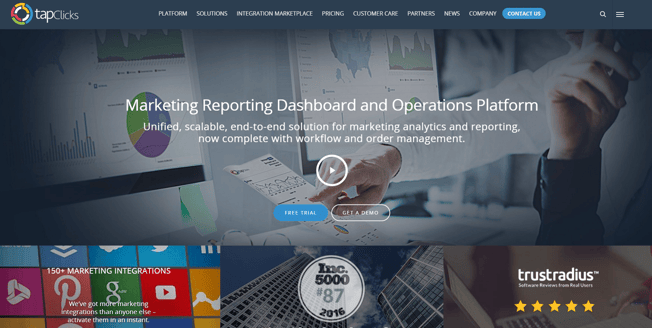 There is an abundance of options for different formulas, attribution models and software to choose from, and it's best to go with the ones that most accurately reflect the metrics you would like insight on, as well as ones that are best aligned with your company's budget and main points of focus.
Looking for more tips on how to take your startup to the next level through effective online marketing campaigns? Contact us at KeyScouts for a no-obligation customized consultation!
Are you preparing to present your startup to investors and secure a second round of funding? Download this free infographic - "10 Steps for Preparing Your Startup for Series B Funding".