In our previous blog post, we discussed basic social media skills and how to establish an online presence in your selected social networks. Now, it is time to take it up a notch and start really building your following and fan base. There are many ways to do this, and we're here to help you understand the different techniques that will bring you optimal results for the first 30 days.
1. It's all about the Competition
No, we're not talking about your competition against other brands in your field - we're talking about a competition or contest to engage your followers. The idea is very simple: kicking off your social media presence with a 30-day competition to win an attractive prize will motivate people to enter, follow you, and share the competition with their circle of online contacts. The more fun the contest is, or the better the prize is for your audience, the more viral your contest will become within the social media sphere.
A company called Qwertee, for example was able to build a thriving social community by launching a very successful Facebook contest that was very simple to enter. All you needed to do was enter your email address and "like" the company Facebook page in order to win unique, original t-shirts, among other prizes.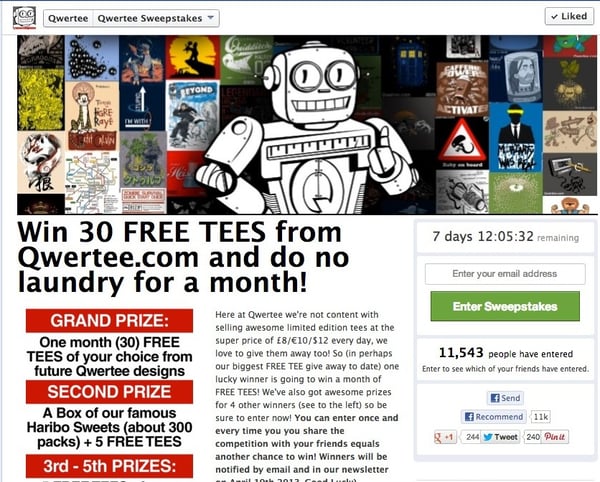 The contest ended up generating over 100,000 likes for Qwertee. Not too shabby!
2. Quora and Medium are your friends
If you don't already have Quora and Medium accounts, open them…now. These two content platforms are gold mines for spreading your brand awareness and for gaining loyal followers.
Many people post questions on Quora, and it is very likely that someone has asked a question pertaining to your industry or field. This is your time to shine! Answer relevant questions on Quora as genuinely and honestly as possible to build your image as an expert and authority figure and to gain the trust of the readers. They will surely look for you on Facebook or Twitter to follow you and continue receiving your advice and updates (or they will convert to customers – even better!). Quora is also a great place to re-publish your blog posts for additional exposure.
Medium is another great content network where you can re-publish your blog posts, but you can also use it in other ways that involve community participation. A great idea is to create a type of content-sharing community where your employees, followers, and fans can all contribute and feel connected to each other and to your company. A great example of this is Marriott's Gone: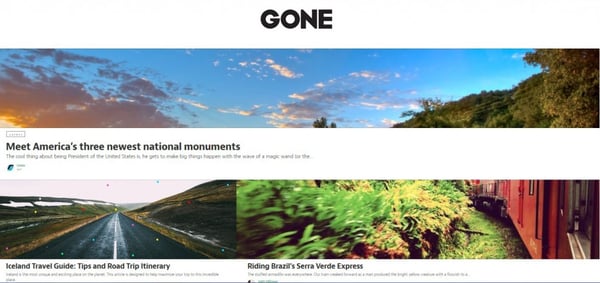 Even people who don't participate will appreciate the variety of content and will most likely end up following and liking your business on social media.
3. Ride the wave of those who have come before you
There is no need to reinvent the wheel. If you want to build your community and grow your following, a smart strategy is to reach out to influencers or like-minded people who are already extremely popular in your industry. You can tweet at them, mention them in your blog posts, tag them in your shared content, or even share content directly with them. This way, you can leverage their clout. Their multitude of followers will see your content and become aware of your business much quicker than if you went about it in a different, more organic method. Thus, their followers are likely to become your followers, too!
4. Get the Viral Holy Grail
One of the main goals in social media is to get your posts and content to be shared at an exponential rate. For that, you need to create viral content, like quizzes, a la Buzzfeed, or videos.
One way to accomplish this is to use humor. Whether you use a witty meme or a funny video, the rule is the same: grab people's attention, make them laugh, and watch the numbers of shares grow. Two classic examples of this are the video campaigns done by The Dollar Shave Club and Old Spice.
"I'm on a horse".
5. Make it Personal
When people follow your company, they don't want to see a brand that only shares promotional content. They want to feel that they're engaging with someone - not something. If you want to keep them engaged, you must find a way to humanize your brand.
To do that, don't hesitate to craft your posts in a way that will sound more personal. Use humor when appropriate, and share personal stories and anecdotes from your daily life in the office, factory, or in the field.
You can also use an inspirational image once in a while. Just make sure you're not overusing it (unless spirituality IS your business).
There you have it; 5 surefire ways to build a successful social media community in one month! Good luck, and let us know how it goes for you in the comments below or feel free to contact us!