When you're looking for advice on how to improve your SEO, backlinks are sure to feature somewhere near the top. We're constantly told that to get to the top of the rankings you need to get backlinks, but how true is this for B2B businesses?
Here's your quick guide to backlinks for B2B SEO and some tactics you can use to help your link building.
Backlinks - A Major SEO Ranking Factor
As we mentioned in our comprehensive guide on Google ranking factors, backlinks play a major part. When it comes to Google's algorithm, we don't have absolutes, but when people like Brian Dean at Backlinko perform analyses of millions of search results, backlinks appear as an extremely important factor every time.
A site's link authority strongly correlates with higher rankings, and the number and quality of links your site has tends to give it a better chance of ranking.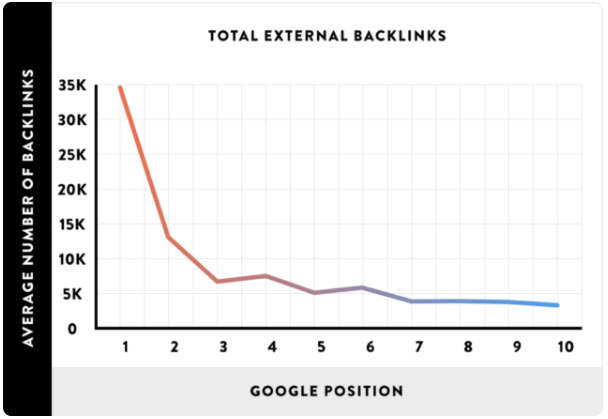 When you're competing for B2B sales, it's vitally important your brand can leverage organic traffic, so backlinks are something you have to pay attention to. Of course, backlinks alone don't get you traffic and earn you sales, so you need to see backlinking as part of a complete B2B SEO strategy.
Why Is Backlinking Important?
Anyone can build a website and anyone can create content.
How do you filter the trustworthy, valuable content from dangerous misinformation?
Undoubtedly, Google does a good job at understanding semantics and the value behind content. However, it needs clues to help it evaluate the trustworthiness and value of a website.
The way it does this is by looking at the links that point from external websites to your pages. It sees these backlinks as a validation, after all, if lots of websites are linking to your content, then it's likely to mean it's of value.
This way of judging value isn't new.
As humans, we use the exact same system to evaluate whether information is valuable. For example, if you want to know how important backlinking is for SEO, then you're not just going to take your friend from across the street's word for it.
You're going to check who is validating and repeating the information you're receiving, and Google does the exact same thing by looking at backlinks.
How Much Focus Should You Place on Backlinks?
Your website is essential to what your business does, and so much work goes into it to achieve continued B2B success.
Nobody will pretend backlinking is easy - it can be one of the most frustrating aspects of SEO, so how much focus should you be placing on building your backlink profile?
Google is excellent at what it does. The reason billions of searches occur on it every day is that it consistently gives people the best results. There's no shortcut you can take to get to the top of the rankings, and backlinks aren't the magic bullet that's going to turn around your SEO fortunes.
Instead, backlinking needs to be done as part of a comprehensive SEO strategy (here's what we believe will make the biggest difference in 2021).
Backlinking can make a difference, but it's got to be done in conjunction with technical SEO, on-page SEO, and quality content creation.
Like with anything in SEO, there's no magic formula for how you should split your resources - if you've got everything else in order, then it might be beneficial to try and expand your link profile, but it's important to have a holistic approach.
Tactics to Help You Build Backlinks for Your B2B Business
Backlinks are important for your B2B SEO, but how can you ensure you're building quality, valuable links to your site?
These tactics will help you build strong links and boost your authority in the eyes of Google.
Create Linkable Content
You've got to give people a reason to link to you.
If you're producing mediocre content, then other businesses don't have any real incentive to link to you. However, if you're constantly producing amazing content that's full of helpful information, then it's much more likely people are going to find it and link to it.
Remember a link is another website vouching for the quality of your website, so you've first got to prove that quality.
Check Your Competition's Links
If you think your pages could benefit from more backlinks, then it's a good idea to check out the competition and see what their backlink profile looks like.
There are two ways to do this:
Search for your keywords on a rankings tracker (Ahrefs, Moz, SemRush) and see how many links the top pages have.
Search your competitor's domain on a rankings tracker and see which websites are ranking to their site.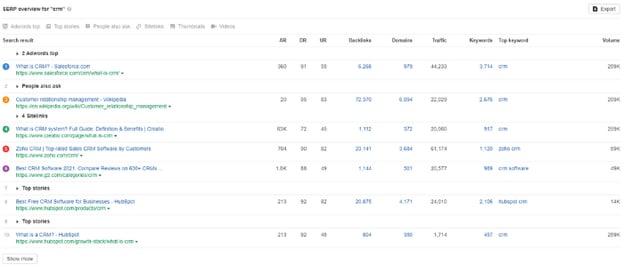 This will give you a clearer picture of how many links it takes to rank for your target keywords and also give you a good idea of the kind of websites you can reach out to for links.
Remember, this is just a guide, and there's no magic number of backlinks that will help you rank.
Guest Post
Your business is a source of industry-leading knowledge and expertise.
This is exactly what amazing content is built upon, so you have an extremely in-demand resource. Make the most of this by offering your knowledge in the form of a guest post to external websites.
If you can give someone an incredible piece of content for free, then they won't mind giving you a link in return.
It takes some hard work on your site, but it can be worth it for a backlink from an authoritative site.
Here's a snippet of a post I did for Social Media Today: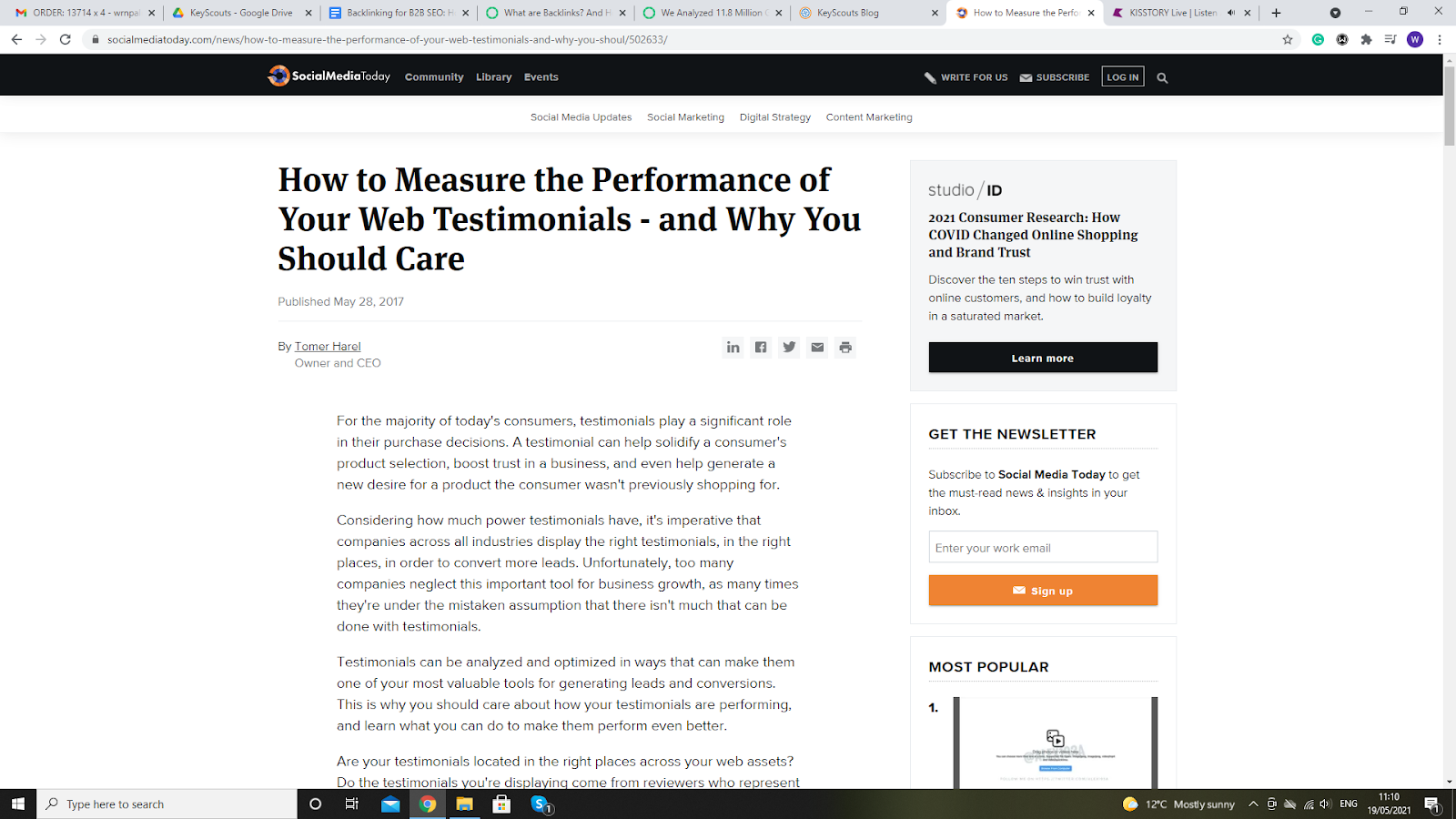 Everybody Loves Data
Think back to the first external link we used in this article.
What was it?
It was cold, hard data.
Original studies and in-depth analyses are brilliant ways to get links. If you can make important insights and present your findings in the right way, then you'll find people will be eager to link to it.
A great way to do this is by incorporating infographics to make your information easy to share. People can simply use the image and give you a link when they attribute it to you. If you've done an intriguing original study, then you might find lots of high-quality sources link to it.
Conclusion
Backlinks are an important part of any SEO strategy.
They show Google that other websites view your content as valuable, giving it greater confidence your site is worthy of ranking.
Getting backlinks from high-quality websites isn't always easy, but it's something you can factor into your B2B SEO. As always, it's important that you approach it in a way that adds value. Spammy links won't help your SEO, but high-quality content that gets picked up by authority websites will.
Backlinking is an important ranking factor, and it needs to be something you're planning for.