Marketing is highly data-driven. While it's still creative, B2B marketing is focused on using data analytics to reach customers more effectively. Data takes the guesswork out of marketing and transforms it into an insightful business function that relies on customer statistics, leads, and conversion rates to get results.
One of the most highly data-driving areas of B2B marketing is lead generation. And it makes sense considering 65% of businesses admit that generating traffic and leads is their biggest marketing challenge, according to HubSpot.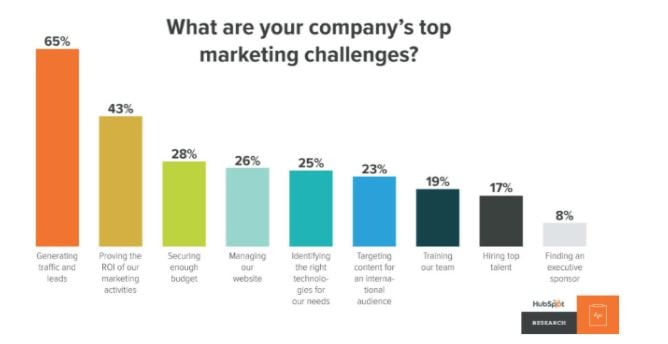 Discovering and nurturing leads for conversions along the buyer journey isn't easy, though it is a top priority for 74% of companies. That's where lead scoring can help.
What Is Lead Scoring?
Lead scoring uses a set standard of rules and regulations to narrow the marketing funnel by ranking prospective customers based on their perceived value to your company. This is useful for helping you decide where to focus your marketing and sales efforts, so you waste less time on potential leads who won't go anywhere.
Think of lead scoring as the process of assigning values (numerical points) to every lead you generate for your business.
The key is to be able to prioritize your sales and marketing efforts by engaging with leads who have the best chance of becoming customers. When 96% of customers who come to your website aren't ready to buy yet, according to Marketo, lead scoring ensures you have a solid strategy in place to nurture the leads that matter most.
Is Lead Scoring Right For Your Business?
As for whether or not lead scoring is right for your company, it's useful for every B2B online marketing strategy, but only if you have enough leads. If your sales pipeline isn't filled with a sufficient number of leads, then you should focus on lead generation over lead scoring.
You should also only consider lead scoring if have the necessary historical data from past leads to create a solid value system. You'll need to look at all your contacts who became customers to see what they have in common, comparing that to contacts who didn't become customers, to see what attributes indicate that someone is a good fit.
What Are The Benefits Of Lead Scoring?
Only 56% of B2B organizations verify leads before they're passed to sales, but lead scoring changes all that and is an important part of your lead generation strategy. If you have what you need to start lead scoring, you'll recognize immediate benefits when it comes to your lead generation efforts.
Higher conversion rates because you're spending more time focusing on leads who have a better chance of ultimately committing to a purchase.
Increased sales productivity because you can do more with a smaller team when you only focus on leads that matter. The most effective lead nurturing programs result in a 50% increase in sales-ready leads and 33% lower costs (HubSpot).
Shortened sales cycle because lead scoring cuts out the busy work by helping you zero-in on the best opportunities.
Improved sales forecasting because you're using data to drive your sales strategies and efforts.
Alignment of marketing and sales because both teams have the data they need to go after and nurture quality leads.
What Type Of Data Do You Need To Use In Lead Scoring?
How you score your leads is up to you, but it includes three types of data:
Explicit Data: This information is provided by the customer through a form, account log-in, or something else. It's voluntarily provided by the customer and should be accurate.
Implicit Data: You collect this data by monitoring and analyzing customer behavior. This data can be gathered by a third party such as Google Analytics, HubSpot, etc.
Social Engagement: This data helps you assign a score to leads based on how active and engaged they are with you on your social platforms.
The data you find most important for your lead scoring is completely customizable to your industry, company, and past sales history. There's no set way to score leads, and the more fluid you keep your scoring, the better.
Lead Scoring Best Practices
As we already said, there is no right or wrong way to do lead scoring, but here are some basic examples of how to get the job done right.
Email Activity
54% of email marketers say increasing engagement is their number one priority, according to Ascend2. That's because more than 59% of marketers say email is their biggest source of ROI.
Lead scoring based on email activity makes sense. The key is to break it down into simple engagement statistics and make sure you have an email automation software or are using HubSpot to set up to track how your customers engage with your email. For example:
If a contact has opened three emails in the past 30 days, give them +20 points.
If a contact has not opened any emails in the last 90 days, give them -10 points.
If a contact clicked a CTA in your email in the last 60 days, give them +10 points.
Pages Visited
93% of B2B buying processes start with an online search (Pinpoint Market Research and Anderson Jones PR), and 68% of B2B companies use landing pages to nurture sales leads for future conversions. So, how do you score prospective customers who find your website? You need to break it down into specific actions. For example:
If a contact has visited your solutions page at least three times in the last 60 days, give them +10 points.
If a contact has visited your homepage at least three times in the last 60 days, give them +10 points.
However, if a contact has not visited your homepage in the last 90 days, remove -20 points.
And if a contact has visited your careers page, also remove -20 points.
Forms Filled
50% of marketers say onsite forms are their primary source of leads. This makes prospective customers who fill out your forms highly valuable, and they should be scored as such.
If a contact filled out your "contact us" form, give them +20 points.
If a contact filled out a form to download an ebook, give them +10 points.
If a contact filled out a demo request form, give them +20 points.
Other Parameters
There are many more parameters that you can score when it comes to leads. It's up to your marketing and sales team to decide which parameters are most valuable, but here are a few more ideas to get you started.
Business Email Address: What type of contact information did the prospect provide? If it's connected to their work, it should be more valuable and thus score better.
Phone Number: A phone number is more valuable than an email, and it should especially receive more points if providing a phone number is optional.
Budget: Leads with the highest budgets should be contacted first, so you should score them appropriately.
Job Title or Role: A low-level salesperson will not have the same value as a C-level executive who has decision-making power. Give greater points alongside seniority.
Location: If your product is based on location, remove contacts who don't fit your location parameters. And if you're targeting a certain region, give more points to contacts within that market.
Organization Size and Type: Award more points to organizations that most closely fit your ideal customer. For example, a B2B organization in one of the verticals you target might get +10 while a broad B2C organization receives 0.
Downloads: A download can be a great indicator of interest. Assign proper points to your different downloadable assets based on their indication of sales readiness. For example, a checklist or ebook might receive +10 points while a free trial or data sheet might receive +20.
Lead Source: Which channel has your best close rate—social media, PPC, blog, organic search? Assign more points to leads that come from sources with high conversion rates.
Automation Workflows
80% of marketers using automation software generate more leads; 77% convert more of those leads (VB Insight, APSIS). So, it should be no surprise that the final step to lead scoring is setting up automation workflows based on those scores. This means:
Assigning specific salespeople to leads based on their score.
Starting specific marketing and sales campaigns with different conversion goals based on lead score.
Sending specific emails to individuals depending on their score.
If you need help with your marketing automation activities and setting up workflows based on your lead scoring, contact KeyScouts today. We'll work with your team to get your marketing and sales teams aligned and to set up your automation software and activities for the best results.