Video killed the radio star. Will artificial intelligence copywriting kill the content writer?
AI is threatening many people's jobs today and will do so even more in the future. You've likely already heard the predictions and trends. A recent study from McKinsey estimated that "60 percent of occupations have at least 30 percent of constituent work activities that could be automated."
You can see from the chart below, a recent poll from Gallup found the industries Americans expected to be impacted the most by advancements in automation, AI, and robotics.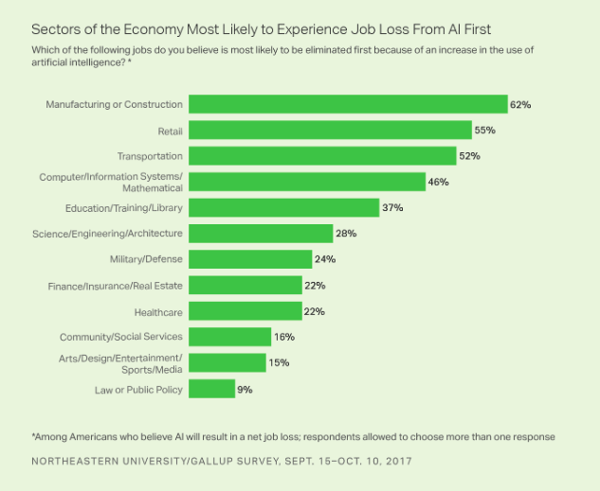 Manufacturing, construction, and retail top this list. With industries like manufacturing and construction, it's easy to understand how robots can end up taking over.
But that doesn't mean marketing and creative roles aren't going to be affected by changes in AI and automation as well. We're already seeing it with some customer service roles and chatbots.
Automation is a hot topic in the marketing world these days. We are all looking for ways to streamline our processes and be more efficient.
But can AI and automation work when it comes to content creation? Will B2B marketing executives, like you, soon be managing robots instead of people?
Let's start with understanding what we are dealing with:
What is content automation?
If you pay any attention to the landscape around marketing technology, you've heard a jumble of letters over the years. AI, along with NLG and NLP, are all hot topics today.
To understand what these mean, how they are connected, and how they relate to content marketing, let's look at the overall idea of content automation.
Content automation is powered by natural language processing (NLP) and natural language generation (NLG).
Both of these work in conjunction to help create content that tries to sound and read as naturally as a human writes.
NLP
This is a process that allows a computer to hear a human speaking and translate it appropriately. You've probably used it if you've tried voice search on your phone or used something like Google translate. NLP is the more simple and straightforward of the two processes.
NLG
With this one, things can get more complicated. NLG uses AI to take the information from NLP and attempt to transform it into a narrative, a story.
NLG relies more on machine learning; you can 'teach' it to understand the relationship between data and what it composes. So, for example, an automated content system that writes financial reports might be taught that % gains over a certain amount can be conveyed with specific words.
These two systems work in tandem with the goal of creating factually correct, high-quality content that can be understood by human readers.
If it sounds like something from the future, you might be in for a surprise, because guess what? It's already here.
There are many automated content generators on the market right now. These include ArticleForge, ContentOP, and Articoolo.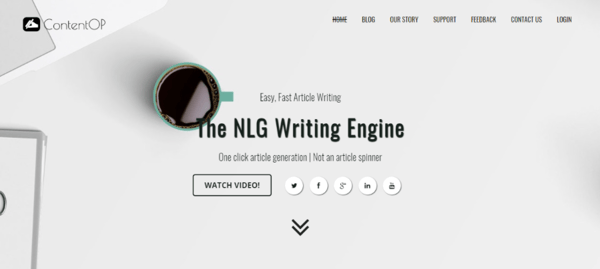 The Washington Post has embraced automated content as well. It's Heliograf "automated storytelling technology" was used to cover local high school football games in 2016 with the goal of expanding it to other sports in 2018 and beyond.
It all sounds pretty impressive, but can computers actually get the job done?
Can AI take over content writing?
The short answer is "no" (or at least "not yet").
The main point that's holding AI back when it comes to creating content is, at its core, a human one. It's incredibly difficult for a computer to write with human emotion, spark debates, or create new thoughts.
Emotion is a fundamental part of storytelling, which is at the core of B2B content writing and marketing.
Brands that aren't tapping into emotion are more likely to struggle to make a connection with their readers, build trust, and ultimately convert more customers.
On a more practical level, marketers need to understand that AI, NLP, and NLG are still being developed. So far, this technology can write the dry facts, but the excitement and engagement are not there yet.
For example, take a look at this story The Washington Post's Heliograf technology wrote about a high school football game:

While you certainly get the facts, it's also relatively dry and straightforward content. It reads barely above a box score in terms of excitement.
So while it might be a good start, it should also give marketers pause. Do you want to trust your content creation to AI when it has to be taught emotion and can't innovate or see the bigger picture on its own?
What
CAN
AI help with in the content production?
It's not that AI can't have tremendous benefits for content marketing in other ways. AI can help free up time for marketers to focus on other tasks and boost their efficiency and productivity.
Here are a few ways AI can help:
Coming up with ideas for topics and titles
Ever get stuck staring at a blank page hoping an idea will pop into your head? Well, AI can help. For example, HubSpot created their Content Strategy Tool using AI to help you come up with ideas on a particular topic.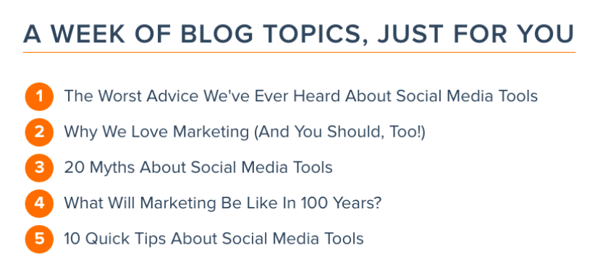 Plug in a few nouns that you want to write about and hit enter. You'll get five mock titles that can help you develop content ideas for your content calendar.
Content optimization
A big part of content today is paying attention to search. You can write all the incredible content you want, but if it's not optimized to be found by search engines, you're not going to get much traction.
A tool like MarketMuse uses AI to help you create content that is perfectly optimized for search. Its technology helps you move beyond just looking at keywords and shows you how to create content that has reader intent in mind, too.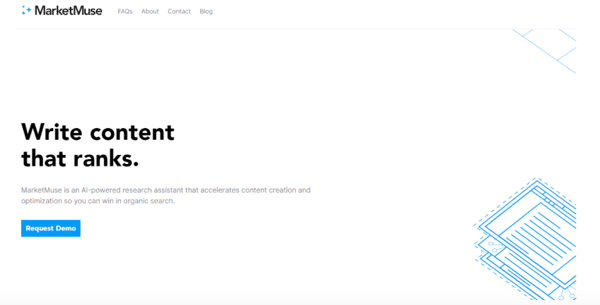 Test content performance
Any good content marketing strategy should not stop monitoring content once it's created. Performance should be tracked and analyzed, as well.
Ascend is an AI-powered tool that lets you move past simple A/B testing and test a number of ideas at the same time, from design to headlines. This allows you to find winning results more quickly and not spend weeks running experiments.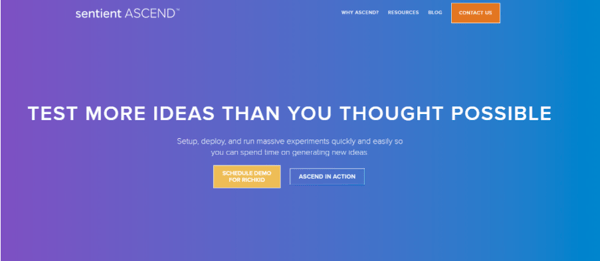 Should you consider content automation?
If you think that AI or NLG technology might be worth it for your company to invest in, consider these 3 questions first:
1. Does your brand use a lot of structured data?
Remember: To generate content, NLG technology needs structured data. That's fine if you've got a lot of numbers in an annual report, but many brands don't rely on that sort of content.
2. What stories can you tell with the numbers?
In order to get the stories behind the numbers or data, you'll have to teach the system to understand it. AI can't yet determine that sort of information without humans feeding it the correct data and why that data matters.
3. Is content automation something your brand even needs?
The right answer depends on the brand. If you've got a lot of structured data and need to create content at scale, and if you have the time and money available to implement it and train employees, it might be something to consider. But those are all critical factors that must be weighed.
Final thoughts
For now, AI-generated content still requires a lot of manual work and teaching in order to make it effective, so is it really worth it?
B2B content still depends heavily on the human touch — generating emotions to tell a story and having the ability to develop fresh, innovative ideas. These are things that technology, no matter how advanced, still has a tough time doing.
So, before you invest in any platform or tool that claims it can write all your content for you instead of hiring a writer, think twice.
If you are looking for a way to streamline your content production and improve your content marketing results, KeyScouts is happy to help. Contact us for more information.