The online buyer has changed and so has the journey; as marketers, we must change our approach to accommodate the new steps and methods that online buyers respond to. As our target audience journeys from one stage to the next, we must solidify our role as the tour guide, the provider of information, and the trusted advisor.
New Trends in the B2B Buyer Journey
Saying that the buyer's journey has changed may be an understatement. Saying that is has been transformed and revolutionized is probably more accurate. Today's online buyers are doing more research themselves and engaging with more content.
DIY Buyers
B2B buyers reach approximately 57% into their journey towards a purchase decision before they reach out to a vendor.
Which begs the question, where do they do their research?
They start online. Forrester found that 90% of B2B buyers "start their B2B purchases with search." These buyers are searching for information and they are digging into everything from blog posts to online catalogs to video content.
These DIY buyers, as they are called, are becoming less dependent on the traditional model of selling, as they can find more and more information online. That means sales people must shift their approach to working with leads today, understanding their role might be seen more as an advisor versus seller.
Diverse Content
We have all heard that "content is king" and it's more true now than ever. A 2018 Demand Gen report found that almost half of B2B buyers rely more on content when making their purchasing decisions.
And, these buyers enjoy interacting with all sorts of content. The same study found that "case studies (79%), top white papers (71%), and blog posts (71%) [were] the most commonly consumed type of content overall in the past year to research B2B purchasing decisions." And, podcasts are becoming quite popular, with 64% of respondents indicating they preferred them for top of the funnel content.
Content can be a blog post, an infographic, a video, a case study, a slide presentation, or information in many other forms.
When it comes to content there are a few things that can help a brand stand out from its competitors in the mind of buyers,. Here are a couple examples from LinkedIn's Rethink: The B2B Buyer's Journey:
Buyers want to work with brands that provide valuable education in their content and are subject matter experts

Buyers prefer more product information and demos that help them make buying decisions
Customer Service Expectations
In the B2C world, customer experience is a key talking point that gets a lot of attention. Unfortunately, as McKinsey found, B2B brands often lag behind. This presents a huge opportunity for B2B companies who want to stand out from the competition.
Accenture found that 90% of the B2B leaders they surveyed believe that the customer experience is "crucial to their companies' strategic priorities." And 71% of them are trying to create a overall user experience that is more in line with B2C brands, in that they are focusing on faster response times, 24/7 availability, and a more uniform experience across channels.
There are a number of factors that go into providing an excellent customer service experience including:
Creating personalized content for every stage of the B2B buyer's journey

Crafting content that speaks to the challenges, goals, and pain points of customers

Having content that is more educational and guides readers through their customer journey

Operating a user interface that is clean with a clear navigation hierarchy

Being mobile-friendly, as more and more users are reading content and visiting websites from their mobile devices
It's the brands that focus on customer-centricity that are going to beat out the competition. Taking a customer-centric approach, and developing the blog posts, whitepapers, and webinars that readers value is going to have a lot of benefits over both the short- and long-term.
Fewer Stages In The Journey
We used to talk about purchasing funnels with five or six stages, but new research tells us that there are actually only three: awareness, consideration, and decision. As we remember, buyers complete two-thirds to 90% of this journey without reaching out to the vendor.
Therefore, we need to offer content that will support them through the awareness stage, the consideration stage, and partially through the decision stage without a live touch point.
Buyers' Journey: Stage 1 Content
The first stage, awareness, is the point at which buyers start to realize that they have a problem or a need. At this point, they are likely unaware of the fact that your company or product exists and may be able to solve their pain.
To create content that will be helpful and secure your status as a trusted advisor at the awareness stage, create content that is focused on their pain point, not on your product or brand. Ideally, this will include content that is presented as third party or vendor-neutral.
Content types to consider:
White Papers, eGuides, and eBooks

Editorial content and expert commentary on external sites

Tip sheets or checklists

How-to videos
For example, the content marketing superstars at Hubspot offer this checklist for website redesigns. On a given page, they do not promote their marketing automation software, they do not even show their logo; their domain is listed very minimalistically in the bottom corner.
They give buyers the high-quality information that they crave at this early stage of their B2B buyer's journey; thereby establishing themselves as trusted authorities to online marketers, their target audience.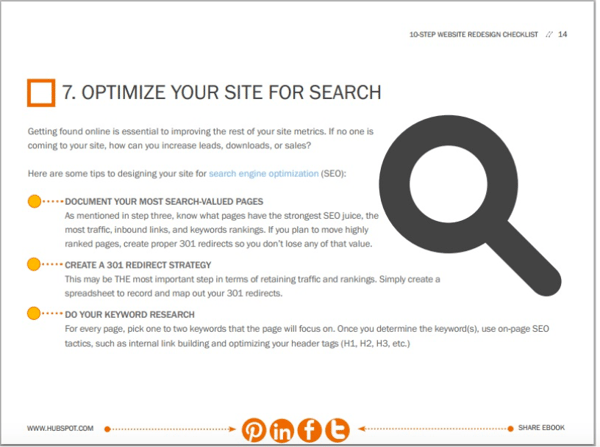 Buyer's Journey: Stage 2 Content
The second stage of the B2B buyer's journey, consideration, is the time when buyers understand their problem and are researching available solutions. At this stage, they may have already found your product as a possible option, but they are likely considering some of your competitors. too. Your stage 2 content, therefore, must aim to prove that yours is the best choice for their specific case.
When buyers are evaluating or considering your product, they again turn to Google. According to Pardot's State of Demand Generation report, 72% of buyers return to Google at least 2-3 times during the course of their research along the B2B buying journey.
At this point, they need content in the forms of:
Vendor comparison charts

Expert Guides

Case Studies

Product or solution webinar

Demo videos

Free samples

Frequently asked questions

Customer testimonials and reviews (as videos and/or text)
HubSpot, one of the leading brands in the marketing automation space, has a customers page where prospective buyers can filter case studies by company size, industry, challenges, solution, location, and type.
When buyers want to research what companies like theirs are doing, they simply set the filters and explore: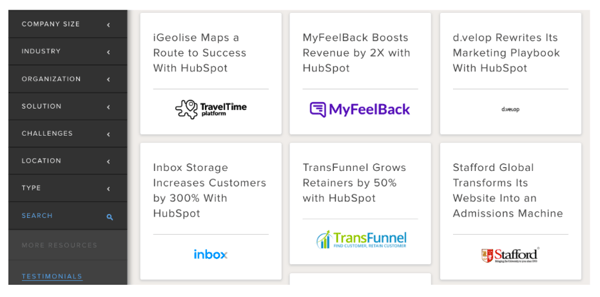 Buyer's Journey: Stage 3 Content
The final stage, decision, is the time when buyers have defined their strategy and are ready to make the purchase. They are likely now considering not only the purchase decision, but how to implement the chosen solution.
For this stage, supporting content needs to focus on helping them make the final decision, taking action, and next steps. Such content will often offer benchmarks, support documentation, and information about customer support. Offer content in the forms of:
Consultations

Product comparisons

Pros and Cons listings

Product literature & support documentation

Trial downloads

Demo webinars or live Demos
Here is an image from HubSpot that summarizes this information: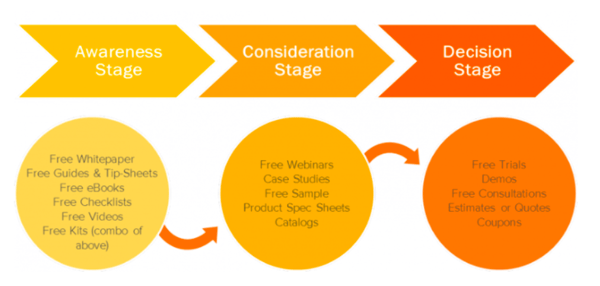 Don't forget, the B2B buyer journey doesn't end when a purchase is made. It's important to understand that existing customers are also a part of the sales funnel and need to have special attention paid to them as well.
Create a content marketing strategy that also includes existing customers and ways to keep delighting them so they become repeat buyers and evangelists.
Content Distribution
Creating excellent content will not do any good if no one sees it. There is where content distribution comes in.
Content distribution refers to how content is promoted through various channels. Generally, distribution falls into three main categories: earned, paid, and owned. Here's a graphic that helps illustrate it: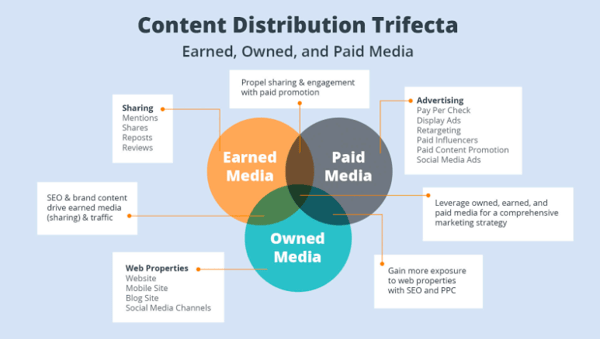 An important part of any B2B content marketing strategy is to pay close attention to content distribution. That includes not only sharing content on social media and publishing blog posts, but also solid outreach strategies and investing in paid advertising across channels.
Investing time and effort in content distribution will help bring in new leads to the sales funnel.
Lead Nurturing
Once more leads enter the funnel, it's important to nurture them as they move through their buying journey. Lead nurturing is all about developing relationships with potential customers. As these leads move through each of the stages of the buyer's journey, it's the responsibility of the brand to focus on understanding the the needs of buyers and offering help and information throughout each stage.
When it comes to lead nurturing, segmenting leads is a key strategy, and this is especially true when it comes to email communications. Segmentation is dividing your contacts (or leads) into groups that have pre-determined characteristics. These characteristics can include:
Behaviors

: These could include clicking specific links, downloading a gated offer, filling out a form, signing up for particular opt-ins, purchasing a product/service, etc.

Engagement history

: These could include opening a certain number of emails, registering for a webinar from an email, etc.

Location

: These could include customers/leads who live in specific countries, regions, cities, etc.
Segmenting leads help brands create specific and personalized content that speaks directly to where their leads are in the buyer's journey.
This can help build trust and nurture buyers as they are guided through the funnel.
A Helpful Tour Guide
Have you ever been on a tour of a new city where you didn't know anyone or anything? You likely remember many things about your tour guide: some of the sites he spoke of, maybe even some of the jokes he told along the way. You may have even asked him for personal recommendations (where to eat or shop) after the tour.
This is the kind of influence we, as marketers, aim to have with our content. If buyers come across our assets early in their search, we aim to help them journey to the next step and remember us as a helpful resource, to be sought out again later. We want to accompany them at every possible step, help with every possible debate, and always keep our company and our product at the top of their minds.
Would you like more tips on how to be a guide for the B2B buyer journey? Contact KeyScouts, today.