The vast majority of visitors to your website probably leave without a trace. They're a number in your analytics, but that's it - you don't have any way of reaching out to them and building a relationship.
Touchpoints lead to conversions, and unless you can get someone's contact details, it's much more difficult to build them. This is where lead magnets come in, and they can make a huge difference for your digital marketing.
What Is a Lead Magnet?
As you might have guessed from the name, a lead magnet is a tool that helps us attract leads. It encourages your website visitors to take the first step by handing over their contact details in return for something of value.
That something of value is your lead magnet, and it can come in many different forms. It might be an informative guide, a free consultation, a free template, an entertaining quiz - anything that offers value and relates to your business goals.
Why Are Lead Magnets Important
Lead magnets are important because email marketing is such a great tool for businesses.
If you look at your customer journey, you'll find that most people don't make a purchase the first time they visit your site - especially in B2B. Instead, you've got to create multiple touchpoints and build relationships with people before they become a customer.
The difficulty is, once someone leaves your website, you've got no way of reaching them unless you've got their email address. This is why email marketing is so useful, but there's a catch.
With so much spam out there, people are rightly wary about giving out their contact details, so you've got to work hard to convince them there is value in them giving you their email address. Lead magnets are a great way to do this and to begin to build trust.
Essential Parts of a Lead Magnet
So you give people a valuable piece of information, they give you their email address, and the jobs done?
Well, as you might expect, it's not quite that simple. Building an email list full of solid leads takes hard work, and you've really got to think about what you offer with your lead magnet and how you present it.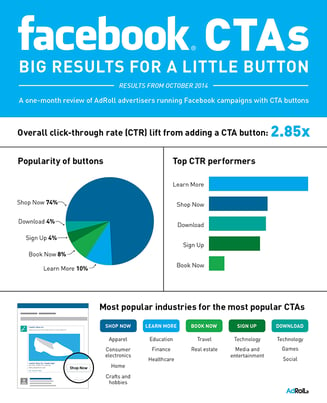 1. CTA
Many times companies feel like they don't have control over how users navigate their websites, but this shouldn't be the case. It's your job to understand what your target audience wants and guide them into taking the desired action.
You might have created the best lead magnet ever, but people need Calls to Action (CTA's) to help them find it and understand the value of taking that action. The right CTA's will boost your click-through rate (CTR), and more importantly, bring in more leads. Check out a typical report illustrating the effectiveness of various CTAs in a Facebook campaign.
2. Landing Page
The landing page is extremely important if your lead magnet is going to work. You can have a great lead magnet and guide people through your site with impressive CTR's, but if you don't accurately convey the value of what you're offering, people will not surrender their contact details..
Don't bombard people with lots of different to[ics on these pages. Keep them focused on one question - do they want to opt-in or not?
3. Lead Magnet
The lead magnet is just a part of this process, but it's a very important one.
First, you've got to offer people something that grabs their attention and promises to offer value. Next, you've got to follow through on that promise by offering something that's legitimately valuable.
This is the first step in your relationship with the lead, so you want to start it off on the right foot. If the lead feels cheated, then the relationship won't last very long.
4. Email Series
Your lead magnet is just a means to an end. It's something you offer so that you can get people's contact details and start a conversation with them through email.
The problem is, many companies think long and hard about their lead magnet content, but don't have a detailed plan for their email campaign to promote it. Having worked so hard to build a strong magnet, you must make every effort to publicize it to customers and prospects by creating personalized, engaging, and valuable emails.
How to Create Great Lead Magnets
Creating great lead magnets starts with one of the most fundamental aspects of SEO - understanding your target audience. What does your audience want to see, what information are they looking for, and how do they want to consume it?
Once you understand what your audience is looking for, you can use your industry expertise to put together something that's going to help them achieve their goals. You may think this defeats the purpose as it's teaching people how to do the job you do, but it's positioning yourself as the expert, and when people realize they need expert help, you're the ones they're going to turn to.
In creating your Lead Magnet, remember these important principles:
Understand your target audience
Answer their questions / solve their pain points
Make it easy to consume
Link to useful resources
Show your character - and don't make it boring
5 Simple B2B Lead Magnet Ideas
Your lead magnets don't have to be revolutionary, they just have to offer your audience something that they consider truly valuable and beneficial.
1. Free Consultation
A free consultation sees you trade your time for people's contact details. This allows your leads to benefit from your expertise without having to commit to anything.
Although we live in a digital world, people still like to create a personal connection by having a conversation, and a free consultation allows people to do this.
2. Behind the Scenes Access
People don't just care about products and services, they also want an experience. Your branding plays into this experience, and when done well, it can build a strong sense of customer loyalty.
A good way to use this in your lead magnets is by showing people what's behind the brand. Show off your personality, and give people exciting insights into how your business works. This is also a good way to give your lead magnets an interactive feel.
3. Complete Guides
One of the difficulties with learning from blogs is that a lot of the information is dispersed over different articles and websites. Your lead magnet is an opportunity to make this process much easier for your leads by bringing everything together in a complete guide.
You may already have a lot of the content you need for the guide. If so, then it's just a case of bringing everything together and formatting it in the right way.
4. Checklists
People want to find answers to their pain points. The easier you make it for them to do this the better, and this is why checklists are a great lead magnet.
They give people a "quick win," allowing them to take tangible steps towards solving their problems.
5. Toolkits
There are so many tools out there these days, that it's hard to know where to start. Take marketing - you have ten pieces of software for any given function, and it's easy to get lost in this minefield.
Giving people a list of the best industry tools to use can save them lots of research, and again, it allows them to quickly solve their problems.
Conclusion
Getting visitors to your website is important, but what happens after that is even more important. The majority of people won't give you their details on the first visit, so you've got to find ways of reaching out to them and bringing them back to your site.
High-quality content is a great way to do this, but sometimes you've got to go further. That means getting people's contact details and making the most of email marketing.
Why should people give you their email address?
That's what you've got to figure out. By offering your target audience something they truly desire - a lead magnet - in return for their email address, there's a good chance you're going to build your list much quicker and improve your conversion rates faster than you think.