Every B2B company wants their website to rank high on search engines. After all, it's one of the most effective ways to attract quality leads to your business, and search engine optimization (SEO) is the way to achieve it. But, not just any type of SEO.
Unfortunately, there are many people out there who are still using underhanded and shady SEO practices to promote their websites. "Black hat SEO" means engaging in practices designed to increase your site ranking through means that actually violate the search engines' terms of service.
These practices include:
Spamming the web on forums, blog comments, social networks and directories
It's one thing to add a blog comment from your own account in order to create a discussion. It's quite another to use someone else's blog as a link farm. If the agency providing you with B2B SEO services is planning a "link building strategy", keep your eyes open for spammy work.
Using repetitive keywords
Keywords are an extremely useful tool to attract relevant site visitors, but only when they are used correctly. A webpage with repetitive use of keywords is not only off-putting towards visitors, it will also negatively impact your ranking. To find the most relevant variety of keywords for your content, use Google's Keyword Planner.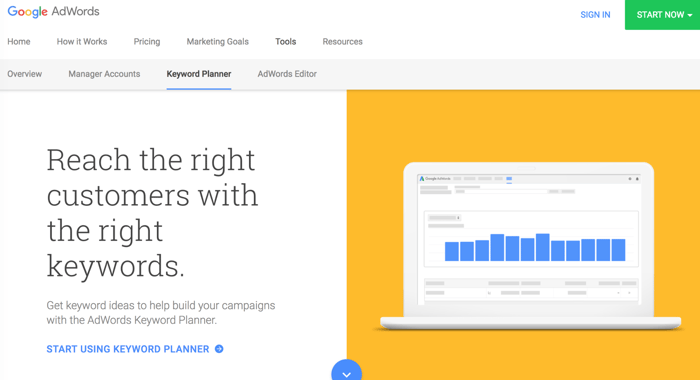 Keyword planner gives you access to search results data in order to help you determine and plan the best keywords for your campaigns.
Creating sites and content for spiders instead of people
Instead of creating content and websites designed to attract interested readers, some SEO businesses design websites to please search engine spiders—the mechanism that search engines use to "crawl" your website and understand what it's all about.
While it's great to have the spiders in mind while designing your site, you don't want to go overboard and make your website useless for actual people.
Buying or planting links
Buying links is an absolute no-no in the B2B SEO world. The reason some may want to do it is because search engines determine the authority of your website based on how many relevant authoritative websites have linked to your content. Link buying is one way to spread your content to other sites, but building organic links because your content is so valuable is a much more effective strategy.
Placing way too many ads on your site
It's no secret that advertisements are annoying to your site visitors. Just think about how frustrated you get when you enter a website and are bombarded with flashy advertisements distracting you from reading the content you were looking for. If you're website has too many ads, you are damaging the user experience and should expect to rank lower on search engines as a result.
Writing boring or uninteresting content
Your site is only as good as it's content. Publishing boring or uninteresting content is the fastest way to increase your bounce rate and consequently lower your ranking. If someone comes across your blog post about "ways to increase B2B sales" and you offer no actionable advice--or worse, boring, irrelevant, and outdated information, search engines will take notice and drop your ranking.
Although you may not even realize you're doing it, or are left in the dark by the agency working on your B2B SEO, ignorance is no excuse. Search engines will penalize you for engaging in these types of black hat SEO activities. Google has even come out with algorithm changes like Panda, Penguin and Hummingbird, which were designed to penalize manipulative SEO efforts.
What is Google's idea behind these algorithm changes?
It should be clear by now that search engines want to reward websites with high quality, relevant content and that offer impeccable user experiences for their visitors (and punish websites with low-quality, irrelevant content that offer poor user experiences). The idea is to continuously encourage user-friendly websites that make people want to come back.
However, the idea of panicking over Panda or Hummingbird algorithm changes is like panicking while a store alarm goes off - if you didn't steal anything, you shouldn't worry about it. So, if you're only engaging in clean, or "white hat B2B SEO" best practices, than you've got nothing to worry about.
What is white hat SEO and how can you do it?
White hat SEO is used by those intending to make a long-term investment in their website. Clean B2B SEO best practices are designed to make your site as relevant and user-friendly as possible, in order to boost your search engine rankings the good old-fashioned way.
Here are some B2B SEO tips on how you can leverage white hat SEO on your website:
PR and Blogger Outreach
Instead of insidiously spreading blog comments like there's no tomorrow, focus on quality B2B SEO marketing by building one link at a time from reputable websites. This means:
Researching the top blogs or online publications in your industry

Determining what type of content their audience would be most interested in

Writing a quality guest post with one relevant link back to your site
Following the above steps will increase your chances of having a reputable website interested in publishing your content and linking back to you. That one quality organic link will be a lot more effective at increasing your ranking than even 50 spammy links.
SEO Optimized Content
Another way to boost your website's ranking on search engines is posting high-quality content on your website that has been optimized for SEO. We've mentioned this several times now, but what exactly does it look like?
High quality content means content that is targeted at your audience's interests. Begin with analyzing your ideal audience's pain points and creating tailored content designed to meet their needs or solve their problems. And, don't just write a general overview with no valuable information. Make sure to include actionable advice and suggest relevant tools that can help them.
Once you've written your content, optimize it for B2B SEO by including relevant keywords (where appropriate - avoid keyword stuffing), writing a meta description, and including internal links to your other blog posts. A great tool that can help you ensure you've optimized each piece of content on your website to its fullest potential is Yoast SEO.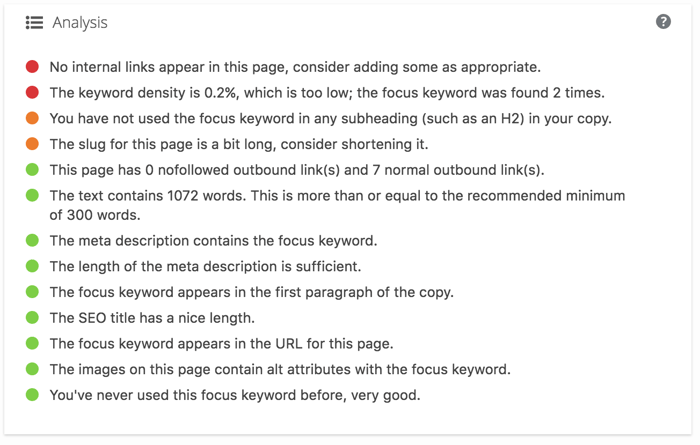 Yoast SEO is a Wordpress plugin that scans your content and creates a list of things you need to complete before the piece is deemed "SEO optimized". The green light means you're good to go, the orange light means not quite there, and the red light means you need to stop and take action.
Honest Social Engagement
There is a positive correlation between high social engagement and search engine rankings. This doesn't mean you should go out and by a bunch of followers or likes. You need to use social media wisely.
Genuine social engagement takes time and effort. Take the process step by step. Plan ahead and create engaging content, dedicate time each day to answer questions on reputable groups and sites from an official persona (and let people know you represent a company, so you won't look spammy). Only by joining in on the conversation through honest communication will you garner trust and attract users to your social media pages.
One great tool to help with managing your social media is Buffer.
Buffer is a social media management platform that provides a simpler way to schedule posts, track the performance of your content, and manage all your accounts in one place. You can utilize Buffer to make your planning easier and to analyze your content's performance to see what type of posts are working and which ones need improvement.
These are the basic guidelines for clean white hat B2B SEO. They may take more time and effort to execute, but they're the only way you'll attract quality leads and ensure your website remains competitive in the long run. Remember - if you're promised "fast results" for rankings, or are getting a lot of traffic but your bounce rate is still high - something is not working. Rethink your B2B SEO strategy and keep it clean.
Contact KeyScouts for a free consultation on how you can improve your B2B SEO, and download our ebook: "Conquering B2B SEO: A Guide For B2B Marketers".
Want to speak to someone about KeyScouts?