Marketing automation tools can be very valuable assets for a B2B marketing team. They're specially designed to make your life easier by increasing productivity while decreasing your budget. But there is one thing that automation is not intended for—to replace your B2B marketing strategy altogether.
The problem is that many B2B marketing departments don't view automation correctly. They either see it as a fix-all to their marketing troubles or as a tool that is only used sparingly and for specific situations.
In truth, when used correctly, automation can make a difference in almost every aspect of your strategy from email to social media, blogging, lead generation, and more.
To ensure your B2B business is using marketing automation correctly, here's a list of the six most common marketing automation mistakes to avoid:
1. Making Communication Automatic and Robotic
Marketing automation opens up dozens of new ways to automatically communicate with your customers and clients. Through implementing chatbots or marketing automation communication tools, you'll be able to connect with leads at an omnichannel level, which is an amazing benefit. However, if you're not careful this may lead to substandard communication across the board, which is exactly what you don't want.
No one wants to talk to an impersonal chatbot that sounds highly robotic and formalized. You need to ensure your communication remains personal and natural. To do that, set up a system that includes both automated communication as well as personal, one-on-one interactions with humans.
A successful example of this is the new Twitter chatbot. Launched in 2016, the chatbot automatically answers low-level customer service questions, while also offering an opportunity to filter high-level support to the right department.
GVC Mortgage, Inc. uses the Twitter chatbot to provide their followers with prompt customer service. But, not only that. They cleverly blend the worlds of customer service and brand marketing with fun, engaging conversation templates, like in this example: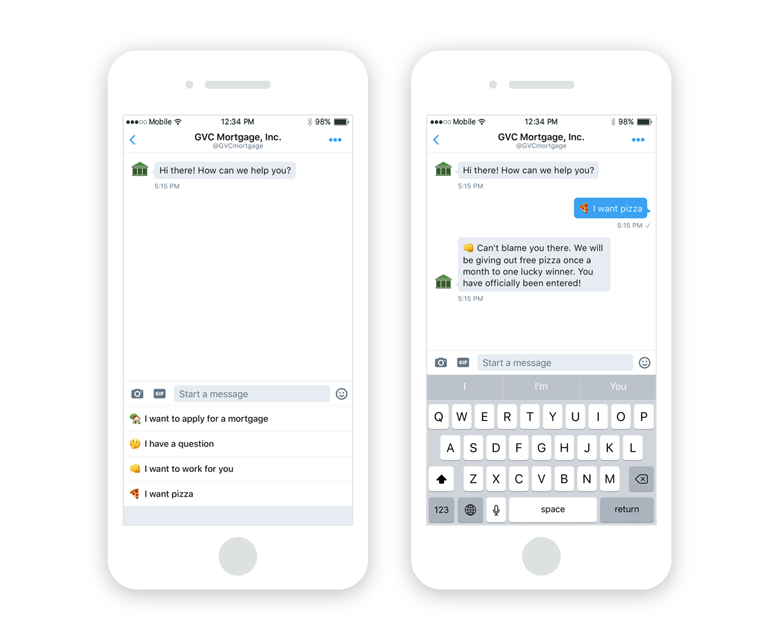 (Image source: www.sproutsocial.com)
A tool like this not only takes care of answering basic questions for customers. It also makes it easier to connect to customers on a personal level—giving you the best of both worlds.
2. An Unclear Strategy
While marketing automation tools are great, they should be used with a plan in mind. There is such a thing as too much marketing automation. That's why we recommend creating an automation strategy before you even begin to purchase and use tools.
Automation tools should be implemented based on your overall marketing strategy—used to fill in pieces of the puzzle where there's a gap or where automation can best improve your productivity.
To do this, you'll want to clearly identify the goals you want to achieve through leveraging marketing automation, and regularly monitor your progress. Goals can include:
Increasing leads from content campaigns

Increasing your email marketing CTR

Increasing leads generated from social media
It's best to use short-term, monthly, weekly, and daily goals to best gauge your automated processes. For example, some tools are only worth the price if you use them daily, while others may only save you time once a month but are worth the effort for those times.
The key is to not fall into the trap of paying for an automation tool you don't need. For instance, only 42% of email marketers send targeted messages even though most automated marketing software allow segmented campaigns. In this case, it's a matter of using a tool incompletely and missing opportunities.
3. Lack of Integration with Other Departments
For marketing automation to be effective, you need to operate it in cooperation with both marketing and sales teams. Though your marketing and sales departments might have different responsibilities, you're both on the same team and need to work together in order to achieve the best results.
Take advantage of the leads developed by your marketing team and make sure to communicate with the sales team about the potential customers coming down the pipeline.
The best thing you can do is break down the silos and integrate your sales and marketing team by holding regular meetings to share and discuss your processes, resources, and best practices. You can also align your two teams by using a marketing tool such as HubSpot, which offers both a marketing and sales hub.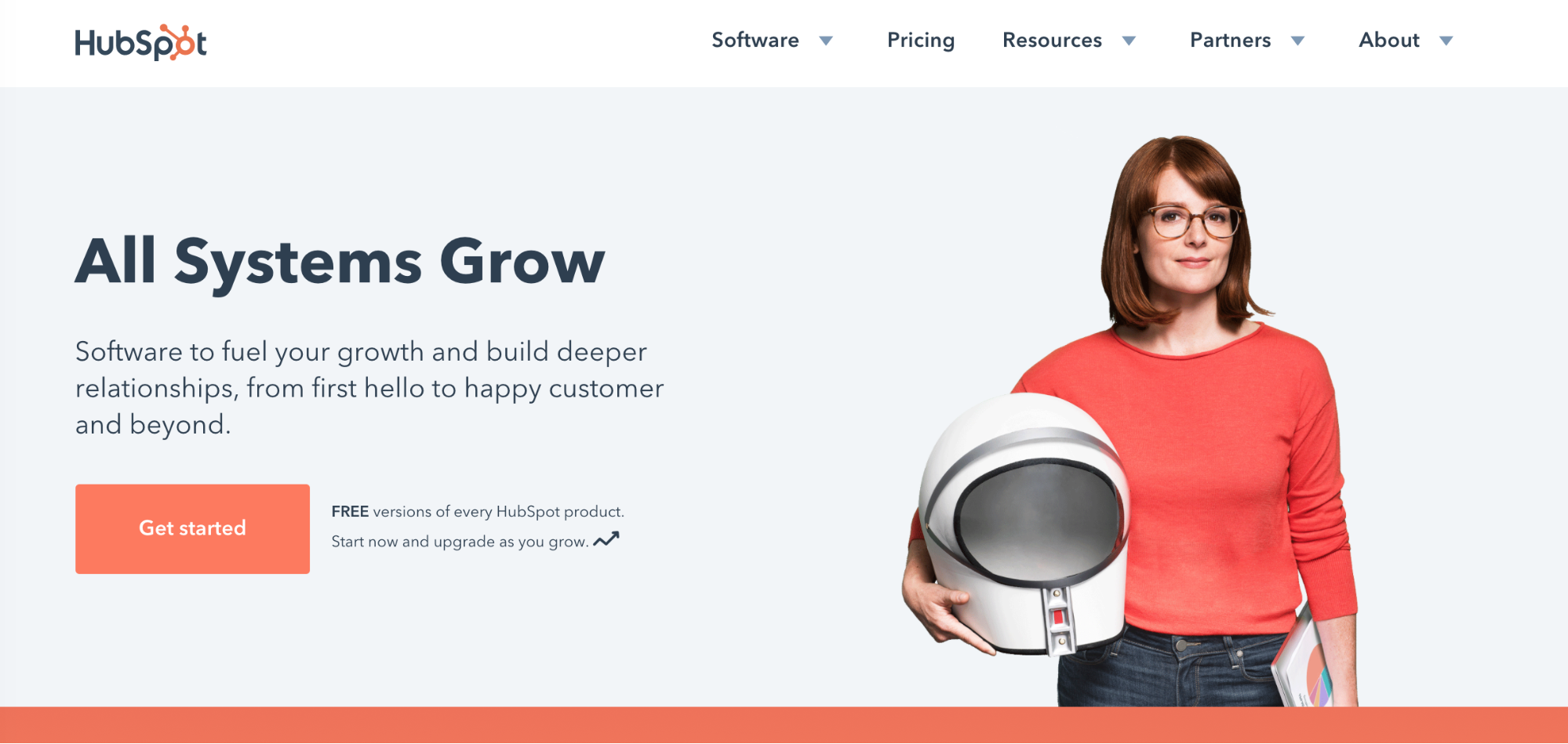 Using an automated tool like this you can follow the customer through the entire sales funnel from initial priming completed by the marketing department, through to the final sale.
4. Using Marketing Automation
Only
for Emails
85% of B2B marketers who use automation tools feel they're not using them to their full potential, according to SiriusDecisions. Part of the reason for this is the trap of using automation only for emails.
You can use automation for far more than just a weekly newsletter. In fact, everything from lead management, to social media management, CRM, content marketing, and multi-channel campaign management can be improved through automation.
But even if you're really hung up on email automation, there's more to automation than just auto-sending emails. 77 percent of email marketing ROI comes from targeted, segmented campaigns, which generate 58% of all revenue, and it can be set up via automated tools.
These tools can help you create buyer personas or identify users based on where they are on the buying journey to ensure that each person on your list only gets an email that matters to them. Not only will this help you cut back on sending too many emails, it will drastically improve your opening rates.
5. Not Testing Properly
When it comes to any new tool or software, you need to test it to ensure it handles what you require and works properly. The same goes for marketing automation tools. It's not a simple one-and-done process to set up automation. Instead, it's something you'll need to watch and test over time to ensure that it keeps in line with your strategy and processes.
To test your marketing automation efforts, create a dummy lead and campaign. This is a made-up prospect or customer that is added to your software as if it is a real record. This lets you test each process using your dummy as the recipient. This allows you to check that your CRM is synced with your email and other marketing automation systems to ensure that the client sees and receives the content they're meant to receive at every step in the conversion funnel.
6. Using Too Many Different Tools
There are hundreds of different marketing automation tools available, and it can be easy to fall into the trap of using all of them. Using too many different marketing automation tools is a recipe for becoming overwhelmed and falling into the trap of under-utilizing your tools.
In most cases, marketing automation tools overlap with each other. That's why it's important to focus on using an all-in-one tool which integrates all of the most important aspects of marketing automation into one platform. This will streamline your processes and teach you how to get the most out of your software.
As mentioned above, HubSpot is one such tool that aggregates all the most critical activities for marketing automation into one, all-encompassing platform. With HubSpot you'll get a clear and simple, 360-degree view of all your marketing and sales activities.
It's evident that marketing automation needs to be a part of your overall B2B marketing strategy. However, there are many B2B companies who fall for these common marketing automation mistakes and don't leverage the full potential of the tools they have in place.
To better understand how to implement B2B marketing automation and ensure you're doing it properly, download our ebook for the complete step-by-step guide.