Boosting awareness. Establishing thought leadership. Generating leads and sales. These are all goals of any company or individual with a website offering a product or service. Search engine optimization is, therefore, a must-do.
But, while many tried-and-true strategies are still viable (backlinks, keyword research, mobile-friendliness, SSL certificates, etc.), a new year brings new opportunities for revisiting and revising your overarching SEO strategy. Here we take a look at the "Top 8 SEO Strategies to Implement in 2020."
1. Content clusters
Content clusters are designed to boost SERP results through the strategic creation of a long-form pillar post and shorter blog posts aligned around a single core concept. With this strategy, content in the cluster should be interlinked, which not only helps your visitors learn more, it guides them deeper into your website. Linking various blog posts back to your pillar post also shows Google that you are an expert on the core topic, and they reward you by ranking your site higher in the search results for your topics and keywords.
Let's say you want to rank for the keyword "ecommerce subscription billing platform". With this strategy, you would write a pillar blog post with this keyword, and it would do a deep dive into the subject. Pillar posts are usually around 2000 words. Then, you would write 4-8 shorter blog posts about related topics using other keywords you found in your research, such as "online store subscription billing", "subscription billing for ecommerce sites", etc. Each of those shorter blog posts should link back to the main pillar post.
Of course, the content should be created with target end-users in mind. Just as in traditional SEO spending some time doing keyword research to identify the words and phrases likely to drive users to your site is critical. With content clusters, though, marketers can focus more on long-tail search, optimizing for keywords that are less competitive and more niche-focused.
Read more about content clusters here.
2. Schema Markup
This is a fancy tech term for code that you can add to your website to help search engines find your content. Schema.org was created in 2011 by Google, Yahoo, Bing, and Yandex, according to a HubSpot post which provides an easy-to-follow, six-step process for adding schema markup to your website.
Schema.org was intended to be a "collaborative, community activity with a mission to create, maintain, and promote schemas for structured data on the Internet, on web pages, in email messages, and beyond." Schema markup creates a rich snippet that appears in search results, like in this example: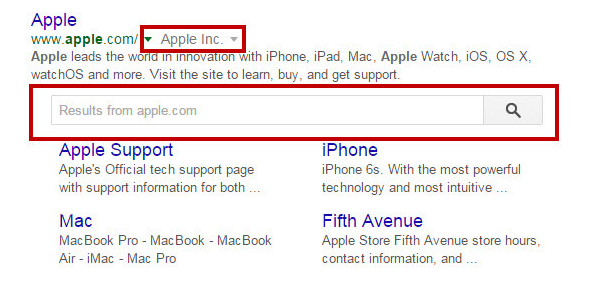 The type of microdata you select will depend on your product or service but might include such things as reviews, location, pricing, etc.
3. Featured Snippets
Featured snippets and video featured snippets have become the holy grail of search. These are the boxed answers to questions that appear at the top of search results. For instance, if you were to enter the search term, "What are featured snippets" into Google search, this is what you'd see: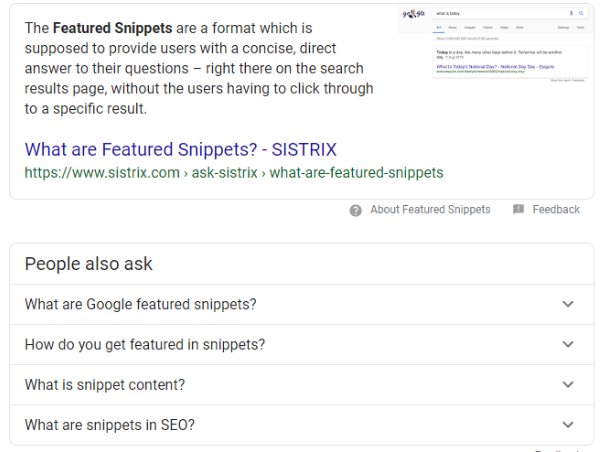 The snippets are extracted from web pages and include the page's title and URL—which is what makes it so highly valued by digital marketers. Having your content selected by Google to feature signifies the high value of your content and is likely to boost your ranking. How to get your content selected? Keep snippets in mind as you create your content. Consider ways that you could incorporate frequently asked questions (FAQs) into your content in natural ways, focusing on the top-of-mind questions your intended audience is likely to have. For instance, if your SaaS company offers a platform for managing HR activities, you might post blog posts with titles like: "What's the best way to increase employee engagement?" or "How to streamline the hiring process?" The idea is to think of the commonly asked questions your audience might have and create content that answers them.
4. Focus on CTR optimization
Organic CTR (click-through rate) is the percentage of people who see your links in the SERPs and click on them. While the optimal CTR will vary based on your audience and what you have to offer, according to HubSpot, the average CTR for general search is 1.91%. You can monitor your organic CTR using tools like Google's Search Console Basics.
You should focus on organic CTR optimization to compete with the other search results like snippets and PPC ads. Organic search is down—significantly. According to Backlinko.com, since 2015 organic CTR has declined by more than 41%. To combat this trend, Backlinko.com recommends: including your keyword in your URL, using emotional titles, and writing relevant meta descriptions for every page.
5. Improve page load speed
According to Google, while the average time it takes for a mobile landing page to load has dropped, load time is still too long. The average load time is 15 seconds, while "53% of mobile site visits leave a page that takes longer than three seconds to load".
Statista data indicates that more than 50% of searches take place on mobile today compared with about 31% in 2015. As mobile search builds, page load speed will continue to be critical.
Improving page load speed can be done by using a content delivery network, or CDN.
The first step is selecting a CDN and there are a variety to choose from including AWS CloudFront, Akamai, Google Cloud and Microsoft Azure. The steps to getting it set up are a bit technical, so ask your web developer for help here. This CSS-Tricks post will walk you through the process.
6. E-A-T
This is an acronym that stands for expertise, authoritativeness, and trustworthiness—the three elements of a web page that will boost its value from Google's perspective. These are the attributes that Google is looking for as it decides which pages to boost further up in rankings to deliver to people conducting searches.
It boils down to this according to a Search Engine Land post: "Google is telling us that there is nothing you can do to fix your site, so you should just focus on making a great experience, offer better content and a more useful website."
Increasingly, from Google's point of view, it's all about providing a high-quality user experience. That means thinking about the kind of information that you can uniquely provide that will establish your company, or members of your company, as authoritative experts that users can trust. So, for instance, don't just tell your audience that something is important to do, tell them:
Why it's important
Back up your claim with relevant and credible data
Tell them how to do it
Provide examples to illustrate your point
Content today needs to be authoritative and practical from a user standpoint to meet the E-A-T criteria.
7. Video and visuals.
As we approach a new decade, video and visual content will continue to rule. People like looking at pictures, and especially moving pictures and videos. Plus, those pictures—when optimized with keyword-rich tags—will work to boost your SEO by providing additional keywords related to what your audience is searching for.
In fact, according to Google, 6 out of 10 people now prefer online video to live TV. In 2020, that's what your audience is looking for so that's what you need to deliver. Here are some ways to publish video content for SEO:
Include a video transcript
Use an engaging thumbnail image
Make sure your video title and description include the keyword you want to rank for
Create a video sitemap
Use a data compression tool to optimize your videos for speed
Post the video on various platforms, but be sure to leverage YouTube to rank higher.
8. Optimize for Voice Search Using Google Actions
Google Actions are like chatbots that can be used to program various functions for products, services, and brands, such as making it easy for your customers to place orders. Google Actions approximate conversations and are powered through artificial intelligence (AI)—so the more they're used, the smarter and more powerful they become. Creating Google Actions requires programming—similar to creating chatbots or the type of instructions that IFTTT.com made popular. Google provides detailed instructions on how to build actions that can help, but you might want to work with a developer to take maximum advantage of this technology.
To learn other ways to optimize for voice search, check out the tips here.
There you have it—our Top 8 SEO strategies to implement in 2020. And check out some bonus tips for when you find some spare time or just feel like optimizing! How many of these will make their way to your list of New Year's Resolutions?