With blogs mainly identified with personal and lifestyle topics, the question becomes why a business should invest resources in their blog. The short answer is that there are many marketing benefits related to B2B blogging including increased deal flow and enhanced brand recognition.
The Importance of B2B Blogging
Overview
With 8.28 million blog posts published worldwide every day, it's no wonder they make up a full one-third or all web pages on the Internet. Yet when examining the leading blog types, Business Blogs don't even crack the top 10 - with Food, Travel and Health, not surprisingly, garnishing the top three positions.

That's because B2B blogs are not about competing to be the most popular blog on the Internet, but can be instrumental in producing business results. Let's take a look at why B2B blogging is critical for digital marketing success, increased brand awareness and better Google rankings.
Brand Authority
B2B blogging can have a significant impact on a company's brand authority. By consistently publishing high-quality content on topics related to the company's industry, B2B blogs help establish a company as a thought leader and an expert in their field. This increases brand recognition and trust among potential customers and partners.

Adding fresh content on a regular basis can also have a significant impact on Google rankings. Google's algorithm takes into account a wide variety of factors when determining search rankings, and brand authority is one of them. When a company has strong brand authority, it is more likely to be seen as a credible and trustworthy source of information. This results in higher click-through rates, longer time spent on web pages and more backlinks - all of which further improve search engine rankings.
Content Clusters
A content cluster is a group of interlinked articles that are all connected to a pillar page and focus on different aspects of a central theme or topic. Below is an example of content clusters connected to a pillar page based on The Complete Guide to SEO.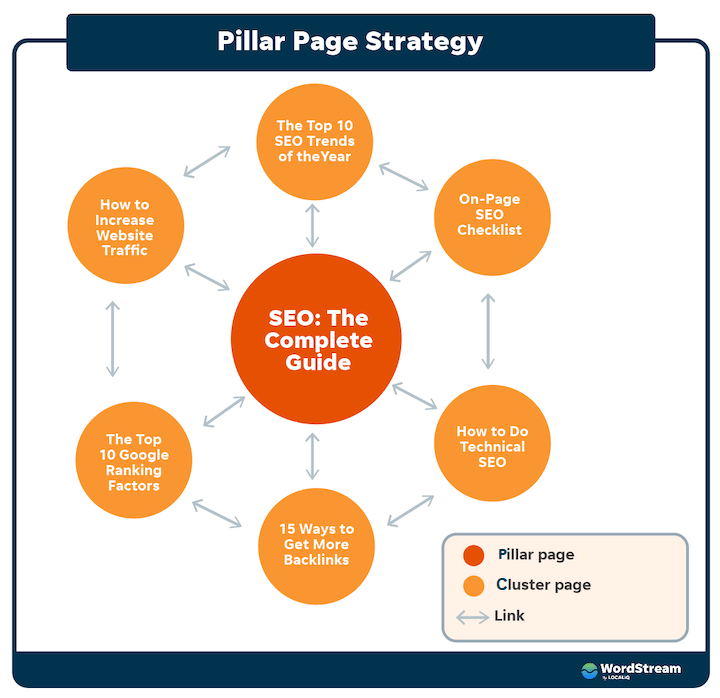 When creating individual blog posts that are part of a greater cluster, it provides your audience with a more comprehensive understanding of your company and product. Content clusters are important for SEO because they build greater authority with Google and improve search engine rankings as well as the organizational structure of a company's online content.

Interlinking between articles within a content cluster creates a more cohesive and interconnected content structure which improves the user experience while further improving SEO rankings for your website. Additionally, the use of relevant keywords and phrases in your blog posts, also contributes to improved search engine rankings, resulting in even more organic traffic.
Frequency
There is no one-size-fits-all answer to the question regarding optimal frequency for B2B blogging. The number of blogs published per month depends on a variety of factors, such as the industry, the target audience, the resources available, and the goals of the blog.

That being said, it's generally recommended that businesses post 2-4 times a month to keep their audience engaged. In some fast-moving industries, however, that can increase up to 10-12 posts a month to keep the audience updated regarding the latest news and trends in the industry.

According to a recent HubSpot survey:
34% of marketers publish content multiple times a week, and

33% publish content once a day. Only

13% reported publishing content multiple times a day,

10% said weekly,

6% said multiple times per month, and

4% said once a month or less
As you can see from the chart below, increasing the number of posts can increase the number of views, but customers who are bombarded with too much content are likely to ignore it and come away with a negative impression of the brand.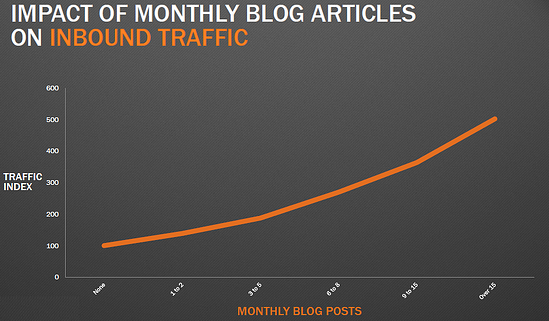 Ultimately, the key is to find a frequency that works for your business and your audience and to focus on creating high-quality, informative content that provides value to your readers. You can also use analytics to track the performance of your blog and adjust your posting frequency as needed
.
Optimization
B2B blogs can be optimized for SEO in several ways, including:
Keyword research - Identify the relevant keywords and phrases that your target audience is searching for and include them in your blog posts. Use tools that show you what questions your audience is asking, such as Moz, SEMRush and AnswerThePublic to name a few.

Page optimization -Ensure that posts are well-written, informative, and engaging. Use header tags (H1, H2, H3) to organize content and include relevant multimedia to make posts more visually appealing. Make sure to use compelling meta descriptions and title tags that accurately describe the page content and include relevant keywords.

Internal linking - Link to other blog posts you have published to keep visitors engaged on your website and improve Google rankings by linking each blog post to a pillar post as part of an overall content cluster strategy.

Link building - Build links to your blog posts from other websites in your industry. This can help improve your search engine rankings and drive more traffic to your blog.

Mobile optimization - Make sure your blog is optimized for mobile devices, meaning that it loads quickly, is easy to read and simple to navigate on mobile devices.
Following these optimization tips, helps B2B blog pages rank higher in search engine results, drive more traffic, and generate more leads and conversions.
Conversions
Using blogs to increase website traffic is a great first step, but getting visitors to become leads is what it is really about. One of the biggest challenges occurs when blogging programs finally start generating significant traffic but are not producing enough conversions. Fortunately, there are several steps one can take to increase blog post conversion rates.
CTA
Calls to Action such as "Click here for more information" or "Schedule a meeting today" are examples of classic CTAs. The closing paragraph of each blog post should include a call to action that refers to the topic of the post and ties that in with moving to the next step in the sales funnel.
Gated content
It's really important to get visitors to provide their contact information which qualifies them as leads. A great way to do this is by offering a deeper look into a related topic in the form of a White Paper or eBook that requires filling out a registration form prior to download. Check out the example below.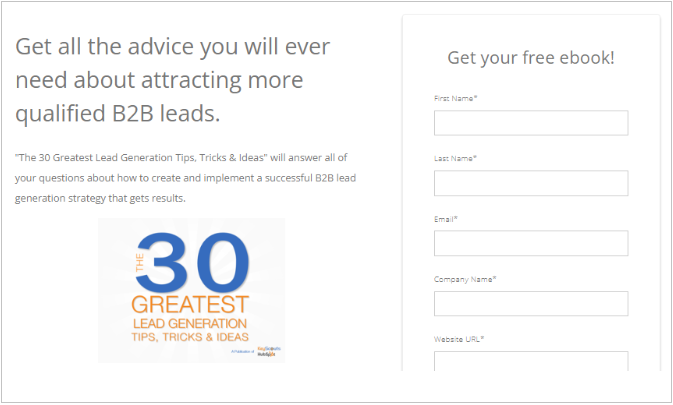 Pop-up windows
Toward the end of the blog, it is sometimes effective to have a pop-up window requesting the reader to sign up for a newsletter or download gate
Content Marketing
Publish your content across all your social channels, content hubs and partner websites to max out its reach and visibility.
Internal distribution
One of the easiest ways to increase exposure to blog posts is for each employee in the company to send out links to the post using email or relevant social platform
LinkedIn
Share a link to your blog post on your personal and company page, along with a brief description and relevant hashtags. Share with relevant groups and republish as a LinkedIn article to share with your network.
Twitter
Tweet a link to your blog post along with a catchy headline, relevant hashtags, and an engaging image or video. Find people who are discussing related topics and reply to their tweets with a link to your post.te
YouTube
Toward the end of the blog, it is sometimes effective to have a pop-up window requesting the reader to sign up for a newsletter or download gate
Email
Toward the end of the blog, it is sometimes effective to have a pop-up window requesting the reader to sign up for a newsletter or download gate
Forums
To reach a wider audience you can also distribute your content in additional formats such as a presentation and publish it on platforms such as SlideShare or Powershow.com. It's also possible to gain additional exposure to your target audience by uploading content to vertical industry platforms related to your business that can be found on platforms such as Reddit and Quora.
When using these platforms it is important to participate in forums and discussions which may or may not be related to your product to gain some credibility prior to raising issues related to your product or service.
Many of these forums frown upon or reject posts that are clear cases of self-promotion. When posting to these platforms try and make sure that mention of your solution makes sense within the context of the forum.

Overall, the key to promoting your blog posts on social media is to create engaging content that resonates with your audience and encourages them to click through to your blog. Experiment with different formats and strategies to find what works best for your blog and your audience.
Summary
When it comes to digital marketing for tech companies, B2B blogging is a must-have to become a thought leader, generate leads, and build a strong online presence. Considerable effort must be made to create a content strategy and maintain ongoing content creation operations month after month.

Once it is established, however, there are multiple benefits from both a high-level brand leadership perspective, as well as increasing web traffic, converting leads into prospects and generating more business.

Call KeyScouts today for a free evaluation of your B2B Blogging program.
.