With an unprecedented inflow of venture capital resulting in a large number of startups, these young companies must establish themselves as serious international players to market their products and establish their brands. That's where we step in.
1. The Startup Challenge
The challenge of most startups is how to become recognized as a domain expert and industry player when you are actually a relatively small unknown company. Successful startups have accomplished this by creating relevant content and using multi-channel digital marketing to rank at the top of the page for Google search terms relating to their particular product or solution.
2, The KeyScouts Solution
Having a significant digital presence certainly helped many of our startup customers sell products, attract investors and establish themselves as industry experts. KeyScouts helped them accomplish this by ranking high for their industry keywords and providing content that increased organic traffic and raised conversion rates.
3. Customer Recognition
Hence, it is a great honor for all of us here at KeyScouts to be recognized as the top provider of SEO and Digital Marketing Services, in a ranking provided by Clutch, a business analytics platform based on unbiased reviews, comparisons with other solutions in specific markets, as well as industry trends and insights from recognized thought leaders.
Tomer Harel, KeyScouts Founder & CEO commented: "KeyScouts set out on a mission to help companies build sustainable online growth and win the awareness they deserve. We have been helping dozens of amazing companies over the years and are truly humbled to be recognized as the market leader by Clutch, based on feedback from our customers. We also want to give a big shout-out to our team of experts that help our customers achieve and exceed their digital marketing goals."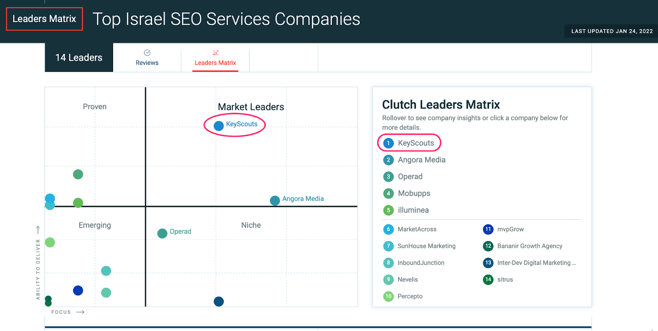 4. Conclusion - SEO Agencies Contribute to Startup Success
SEO and Digital Marketing agencies operate in a highly competitive environment and must leverage the latest technologies, use innovative techniques and produce impressive results just like their startup customers. It's refreshing to see that the agencies in the digital marketing space are now getting the recognition they deserve.
If you are a startup looking for a digital marketing agency to help you become known as a player in your industry, then pick up the phone and give us a call today!