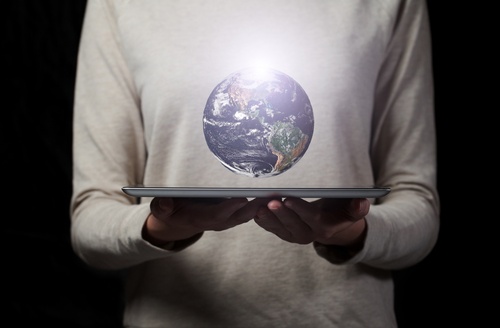 If your business is considering entering a new market, I'm sure that you've already done your fair share of research. Numerous challenges, possible successes, and common mistakes lie ahead, which is why it's important to be as prepared as possible and minimize major risks. Although you're probably aware of the big do's and don'ts for penetrating a new market, consider these out-of-the-box new market entry tricks to get the extra edge you need to succeed.
1. Do hands-on cultural research

When doing the research to prepare your company to enter a new market, try to go beyond the statistics, and dive deep into their cultural nuances to fully grasp their lifestyle. Attend conferences and trade shows being hosted in your new target market to meet local businessmen and experience their culture, first-hand.You can conduct your cultural research by doing small things such as going out to eat with your new connections in a local restaurant to see how they interact with each other, with you, and with the waitstaff. It is also a great opportunity to pick their brains about any cultural and/or business questions you may have.
You can also watch their local business TV channels in your hotel room to give you tremendous insight into their position as potential buyers. Simply by networking and interacting on a personal level with local businessmen and by consuming their business-related media, you can identify various cultural dynamics that will help you understand their perspectives, buying habits, and values.
Having authentic experiences enables you to gain valuable critical insight. However, in this day and age, we're fortunate enough to have access to the internet and tons of apps where we can easily learn about other countries and cultures. This is great in case you cannot take advantage of the hands-on methods, or as a way to learn even more.
A great app for understanding other cultures is CultureCompass. It helps you analyze, understand and handle cultural differences by allowing you to compare your country profile to that of another country based on Geert Hofstede's scientifically validated 6-dimensional model on national cultures. The app is free to install and perform country to country comparisons, but there is a fee for comparing your profile to that of another culture. It is available for iOS and Android.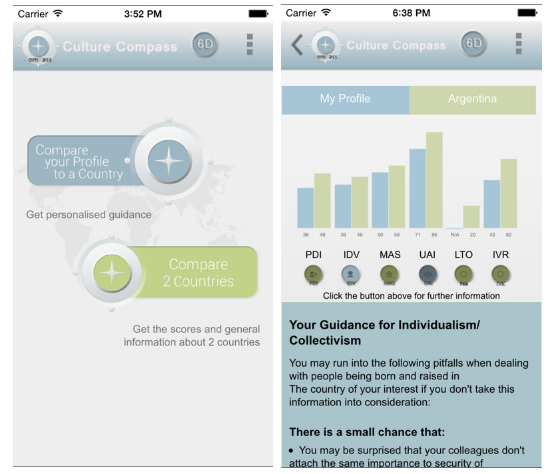 2. Talk to someone who has "been there, done that"
When entering a new market, there is no need to reinvent the wheel or go in blindly. Utilize those who have already successfully established a business abroad. This could be someone you know personally, or someone in your extended network. Take them out for lunch, pick their brain, and try to gain as much knowledge as you can. Although it seems basic, this step is often overlooked when preparing for global company expansion. Seek the guidance of those who have already made it happen, and you'll surely have a clearer idea of what it takes to succeed.
If you do not have any connections with other businessmen who have been successful in their global expansion efforts, then you can try to find one through local profession MeetUps or an app, like Shapr.

Shapr is a mobile-only way to get connected with the right people. It is like a dating app for business relationships, and its purpose is to make it easy for businesspeople to expand their networks and make the connections they need. Without having to sift through an endless amount of online contacts or ask for email introductions, users can find and connect with relevant professionals. All you have to do is fill out your profile, and then get presented with the profiles of other users who could potentially be a good connection for you.
3. Change your pricing to fit your market
Although your price points might be appropriate for your current market, in order to gain a competitive edge in a foreign country, you should consider adjusting them. It's important to spend a significant amount of time and resources researching the industry standards within the new market so that your product can fit in well. Otherwise, your company could quickly be driven out by local competitors who hit the right right price point and quality standard.
4. Adapt your value proposition to match your new buyer personas
Unsurprisingly, a strong value proposition in one market won't necessarily transfer to a new foreign market. It's likely that you'll have to create an entirely new CTA from scratch. Once you have a deep understanding of your new target audience, make a note to identify clues that will help you form a new value proposition that will resonate with them. Obviously, a solid value proposition has to go much deeper than your product - it has to encompass the values of your new ideal customers.
5. Reach out to local influencers and thought leaders
In any industry, having relationships with relevant influencers can have a huge impact on your brand image. If possible, reach out to those within your new market who are considered thought leaders and see if they're interested in forming a partnership, or trying a free demo and telling their followers about your company. Having that social proof will make your target audience more likely to trust you and choose your brand over another, so having those relationships in place can actually make your business come to life within a new country.
But finding the right people, reaching out, and forming those relationships can be a challenge. Platforms like Buzzstream Discovery make it simpler - and it is free! It makes finding and researching influencers for your marketing campaigns a much smoother process.
If you want to take your influencer marketing efforts to the next level, platforms like Traackr can help.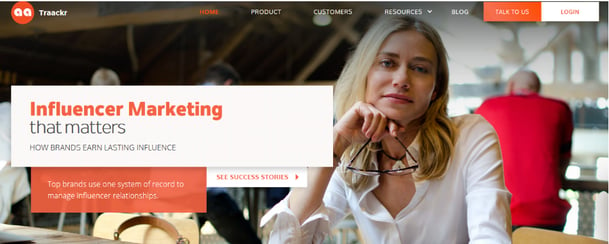 Traackr is an influencer marketing and analytics platform. It helps you find out who the main influencers are in your industry and market, get social insights and determine the best way to connect with them. The platform provides an influencer search engine, sentiment analysis, trending content, among many other features.
Entering a new market requires more than just the regular ol' market research and planning. You need to think creatively about how you will take your company global in order to gain the competitive edge and position yourself better for success.
Staying organized is also important for a successful new market penetration. Download your free New Market Entry Checklist to keep your endeavor on track!