Chances are, you and most of the people you know are on Facebook. With over 1.5 billion monthly active users, it's the biggest social networking site there is. And if you're a marketer, you need to make sure you're using Facebook to promote your brand.
I'm not going to explain why Facebook needs to be a central component of your social media marketing strategy, here. Instead, I'm going to focus on how you can leverage this mighty social platform to promote your brand. There are a lot of marketing initiatives you can do right in Facebook to help your business grow—and a lot of mistakes that you can make, too.
For example, did you know that the most popular reason a person will unlike your brand on Facebook is because your posts aren't interesting? Posting too often is almost just as bad as publishing uninteresting content, and it's the second most popular reason a follower will unlike your page.
If you use Facebook the right way, you can enjoy numerous benefits like increasing your visibility, building a social community and growing your follower base, and improving your branding. Here are 13 tips that will help you realize these benefits and others.
1. Use a recognizable profile picture
When your fans perform a search for your company name on Facebook, one of the easiest ways to make sure they reach you is by using a profile image they'll recognize. For example, check out Huggies' Facebook profile picture: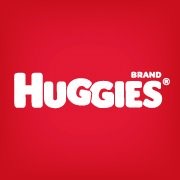 Huggies Facebook profile picture
Any parent who uses and admires the Huggies brand will instantly recognize this logo and know that they are clicking to the page they're looking for. When you upload your image, make sure you abide by Facebook's guidelines that it be 180 by 180 pixels, so it doesn't come out distorted.
2. Choose a great cover photo
The cover photo you choose sets the tone of your entire Facebook page. Use a large, high-quality photo that will resonate well with your customers and fans, and that communicates your values. Once again, Huggies has done a great job of choosing a photo that speaks to what their customers desire: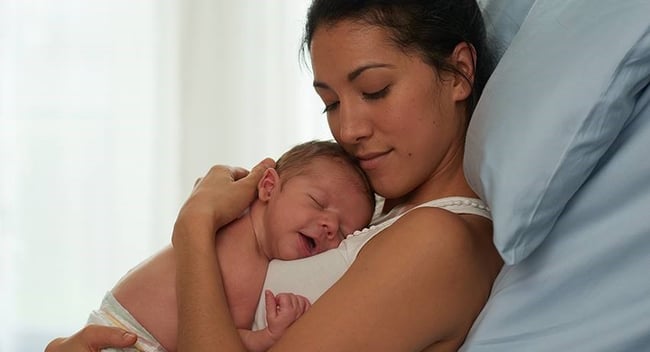 Huggies Facebook cover photo
3. Take advantage of your photo descriptions
Your photo descriptions offer a great opportunity to place links to your website or a blog post, or to a landing page you're promoting. Using links within your photo descriptions also gives fans the chance to learn more about your company and get to know you better.
4. Don't neglect your About section
When it comes to promoting your brand on Facebook, a blank About section is a big no-no. Take the time to fill your About section with brief yet informative descriptions to help your followers get to know you and find the information they need. To add information, simply click on the About tab and click the "Edit" link that appears next to each section when you hover over it:

About section on Facebook business page
5. Add a call-to-action button
The call-to-action button is a great feature on Facebook that can help you drive more traffic to your website. It's located at the top of your page next to the Like button.

Facebook call-to-action button
Facebook offers seven pre-made options you can choose from for your CTA button: "Sign Up," "Shop Now," "Contact Us," "Book Now," "Use App," "Watch Video," and "Play Game" – and you can use this button to direct to any page on or off Facebook.
To get helpful insights on how your CTA button is performing, click the "Create Call-to-Action" button. Then click the drop-down arrow on your button and select "View Insights."
According to one early tester of the CTA button, "Over the course of a three-week test, the Sign Up call-to-action button delivered a 2.5x higher conversion rate versus other comparable social placements aimed to drive new user acquisition." So make sure you check how your CTA button is performing, and make changes if needed!
6. Add noteworthy milestones
Did your company recently launch a new product? Do you have an important event coming up? On Facebook, you can add important milestones to your page, such as the day your company was founded and the dates of product launches.
To add a milestone, click on the "Offer, Event +" button at the top of your timeline, and then select Milestone.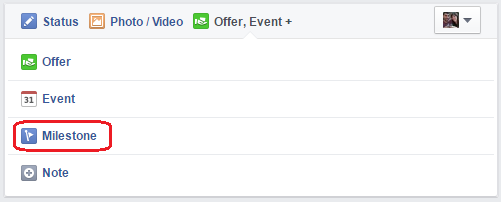 Adding a milestone on Facebook
7. Add relevant apps
You can further customize your Facebook business page and help promote your brand by adding useful apps. Here's a list of 37 of the best Facebook apps for brand marketing.
To add an app, simply go to the app's page and click on the app page's cover photo. Then select "Add App to Page" from the dropdown menu. If that option isn't there, it means the app isn't available to be added.
8. Use visuals in your posts
This rule comes up often in social media best practices, and for good reason. Visuals draw attention more than text, and will help your posts gain more views. Use photos to help promote an upcoming event, product release or other company news. You can use videos, too, but make sure they're not longer than 2 minutes.
Check out this great example of a visual in this Facebook post from Best Buy: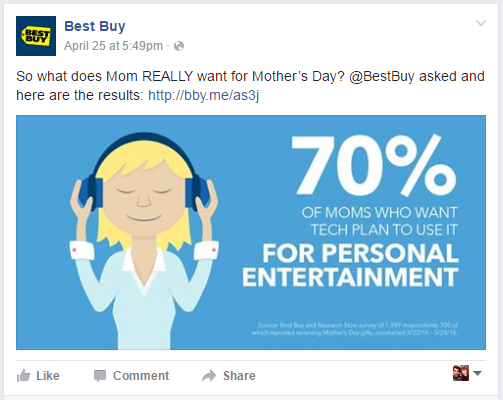 Best Buy Mother's Day Facebook post
9. Offer variety
In the same way that you don't want to overwhelm your followers with too many posts, you also don't want to bore them with posts that all revolve around the same thing. Don't use every one of your updates to promote your products or services. Mix it up with other types of content, like an interesting read on a topic that your followers will be interested in, or a funny and relevant video you found on YouTube.
Consider the 70-20-10 rule for your posts:
70% of your posts come from your brand, and add some type of value to your community. This can include company news, events, business tips and survey questions.
20% of your posts are content from others. You might promote another business's event or share a post from another company (obviously not a competitor, though).
10% of your posts are promotional. These include discount codes and sales—and yes, only 10% of your Facebook posts should be about them!
10. Pin important posts to the top of your Facebook page
If you're afraid that an important post will get lost among the others on your page, fear no more! Facebook offers a great feature that allows you to pin your most important posts so they stay at the top of your page. The only minor drawback is that you can only have one post pinned to the top of your page at a time.
To pin a Facebook post, simply click the drop-down menu at the top right of the post after it's published, and select Pin to Top.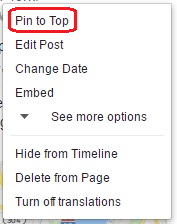 Pin a Facebook post
11. Make use of Facebook's publishing and targeting tools
There are a variety of tools you can use on Facebook to help you target your desired audience and set up a publishing schedule ahead of time. For example, the Scheduling tool can help you make sure your posts are spaced out enough and also varied enough in their content. To access these tools, click on Publishing Tools at the top of the page, just below the Facebook search bar.
12. Gauge your user engagement
Facebook makes it easy to get useful insights on how well your posts are performing. Below each post you publish, you'll see the number of people reached as a blue, clickable link. Clicking this link opens a window featuring more stats about the post, such as how many Likes, Comments and Shares it got. Use these insights to help shape future posts that will perform even better.
13. Keep track of comments and engage with your community
Fans leaving comments on your Facebook page is an excellent opportunity to engage and show that you care about their feedback. Interacting regularly with fans on your Facebook page should be a priority—not only when they reach out to you directly, but also in the conversations they may be having with one another.
Would you like more information about promoting your company on Facebook or help building your social media marketing strategy? Contact us at KeyScouts today for a free consultation!