As a B2B marketer, you know that lead generation is at the heart of everything you do. You play a vital, fundamental role that your entire business relies on to stay alive and thrive. Because it's the work you do that brings in leads… And without leads, there are no sales. No revenue. No business.
So, what can you do to get more leads?
Here are four B2B lead generation tips for your business to boost your reach and enhance your ROI.
1. Use Social Media Right
You may already be trying to generate leads through social media, and you may be seeing very few results. Let's face it… When it comes to getting B2B leads, social media by itself isn't the best tool for doing so. While 83% of B2B marketers use social media, only 54% of marketers said they've been successful at generating leads from the various social channels in use.
But that doesn't mean you should abandon ship! While social media might not get you loads of quality leads, it's undeniably where everyone's at. And that means you need to be there, too.
LinkedIn, Facebook, Twitter, and Google+ are all effective platforms for attracting B2B leads. One likely reason for this is that these platforms are great for sharing quality content (more on that below in #3).
So, if you want your social media lead generation efforts to be more fruitful, start by focusing on the social platforms where your main target audience spends most of its time.
Make sure your social media campaigns direct visitors to a relevant landing page with information or a downloadable content offer that is related to the messaging of the link they clicked on. The goal, here, is for visitors to provide their email addresses in order to access the offer. That means your landing page needs a call to action and a signup form!
Notice how Salesforce entices B2B marketers with a landing page that automatically asks for their info in order to sign up with a 14-day CRM trial.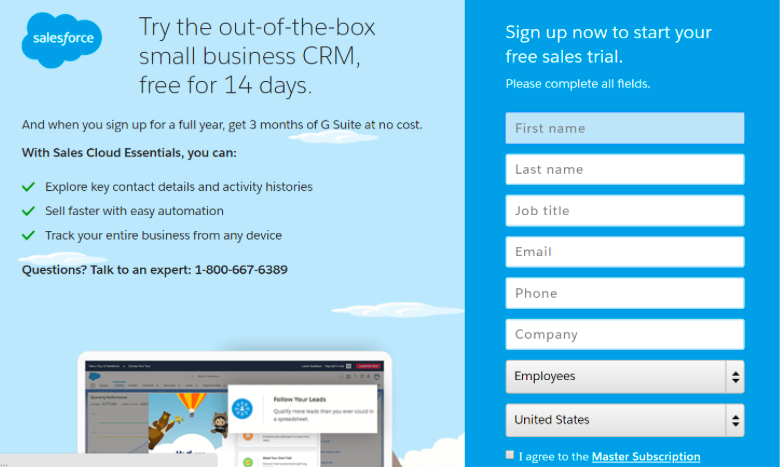 Read our blog post for more information about landing page best practices.
Finally, remember that simply having a profile on social media isn't enough. You've joined a social community, so you have to be social. Fill out your profile completely. Connect with colleagues and industry professionals. Join relevant discussions and groups. Make a presence! No one pays attention to the guy who showed up at the party and has been huddled in the corner ever since.
2. Develop A Consistent Content Marketing Plan
Everybody nowadays, especially in the B2B world, is using customer-centric content marketing. In fact, today's B2B marketers spend about a third of their budget on content marketing!
There are essentially two ways to market. There's outbound marketing, which requires an intensive amount of time and resources, and then there's inbound marketing. With outbound, you're doing all the work. You're reaching out and putting yourself out there, but the methods for gaining leads this way are very much hit and miss.
Inbound marketing, on the other hand, puts the energy and impetus in your target market's hands. By putting out unique and engaging content, your audience will begin to research your company and learn more about your offerings. And when they're ready to commit, they'll come to you.
Inbound marketing isn't intrusive, it doesn't make prospects feel as though they're being pushed, and the cost-per-leads are lower than outbound. The choice, then, is clear. Inbound marketing is the way to go.
There are dozens of ways to use inbound content marketing in order to gain leads. But a few tactics stand out from the crowd:
Webinars
Webinars offer a great way to educate your audience about something they're interested in. While webinars are not an opportunity to sell your product, they can definitely help generate leads. Come up with topics that will interest your audience and deliver valuable (and free) information.
Blog
Did you know that blogs come up in search results more often than any other type of content? By maintaining a blog that offers rich, valuable information, you're not only going to get in front of more eyes in search results, but you'll also become a thought leader and gain rapport with industry leaders.
Videos
It's no news that people's attention spans are waning. But videos have the unique draw of being an easy way to quickly digest interesting content. If there's anything to prove that, it's the fact that YouTube is the second most popular search engine in the world. Don't neglect videos, unless you want to neglect a potential source of a very large pool of leads.
Podcasts
With a microphone, engaging subject matter, and influential guests, marketers can release regularly-updated podcasts to teach their audience new tricks, keep them abreast of the latest industry news, and get great brand exposure. Keep the episodes coming and you'll experience the true power of B2B lead generation using the talk-radio-esque podcast.
Outreach
By publishing education articles on industry-related news sites and information portals, you can potentially unlock a wide range of B2B lead generation opportunities. While generating new leads may not pan out immediately, it will in the long-run as outreach is a great way to establish your brand as a thought leader and industry authority.
3. Give Away Free and Useful Materials
Giveaways are an effective and straightforward method for obtaining leads. B2B marketers have been using this technique for quite some time now, and it's still proving worthwhile.
An ebook, a whitepaper, an industry report, and even a checklist are all great examples of content offers that you can give to your audience for free. While creating these educational resources takes time and can dig a bit into your marketing budget, it can reap huge rewards. Potential customers will be more than willing to provide personal information about themselves and their company (like email address, company name/size, their role in the company, etc.) in order to access those resources.
You should create your content offers based on the specific pain points and concerns of your target audience, and offer truly valuable insights addressing their questions. In order to gain access to these types of tools, most people will happily provide personal details.
For example, we know that many of our readers would like to learn more about how to drive high-quality leads to their businesses. Thus, we have created a free ebook called "The 30 Greatest Lead Generation Tips, Tricks & Ideas" in order to help answer our readers' questions.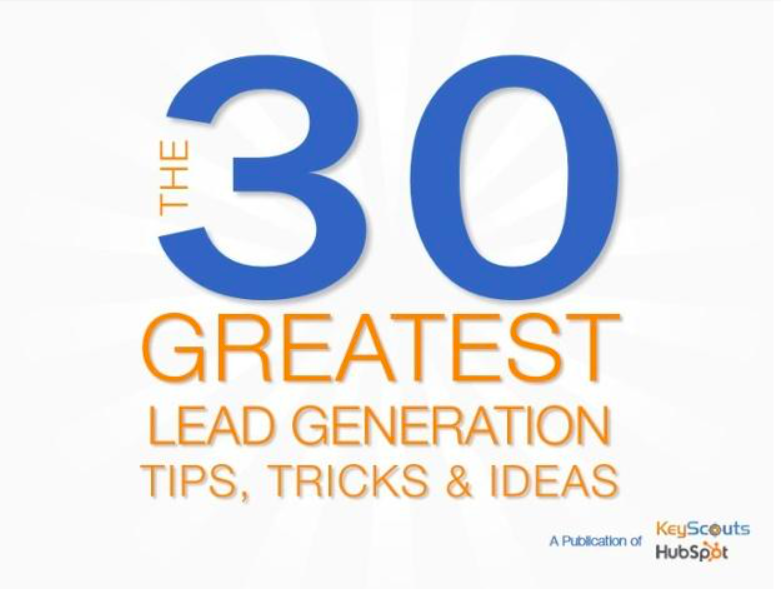 Download the free ebook, here!
4. B2B Lead Generation Using Marketing Automation
Marketing automation, a.k.a. lead nurturing, is a buzzword in the B2B marketing community. And not for naught. It has the potential to be wonderful tool for B2B lead generation if used correctly.
When you implement a marketing automation system, you're embracing software that can take on a great deal of your marketing tasks. But more importantly, you're gaining a tool that can intelligently deliver relevant content to the right target audience, giving you better chances of gaining leads.
Some of the leading marketing automation tools out there include HubSpot, whose Workflows solution focuses on lead nurturing…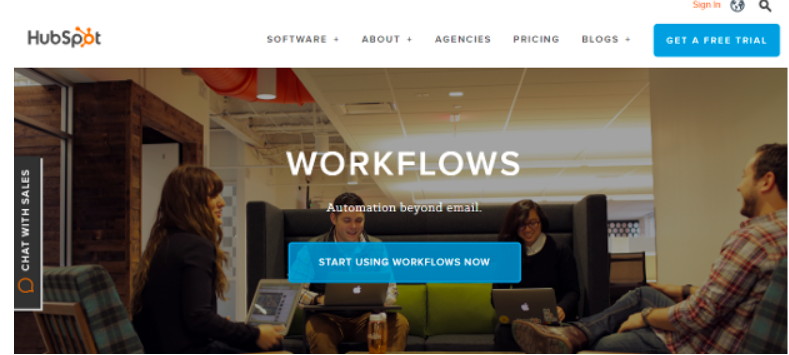 Marketo, another popular marketing automation tool that's typically used by larger enterprises…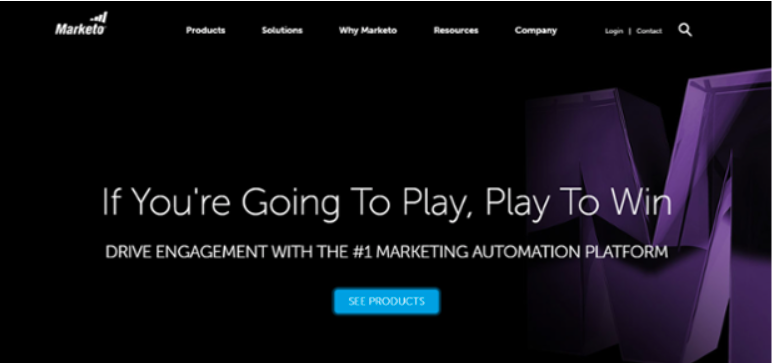 and Salesfusion, which is a popular lead nurturing tool among small and mid-sized companies.
Marketing automation software can track user behavior in order to properly nurture potential leads, and then employ email marketing tactics that will help to guide them through the buyer journey, which will most likely result in conversions.
Marketing automation will cost some money. It will require a good deal of work from your end to get it up and running smoothly. And you won't see immediate results… But the investment will be worth your while in the long run.
Check out our blog post for more information on starting a lead nurturing plan.
B2B lead generation is a real challenge for even the most experienced marketer. But the four tactics outlined above, if implemented correctly, are sure to drive quality B2B leads your way.
Do you want more ideas on how you can start generating more B2B leads, today? Download our free ebook "The 30 Greatest Lead Generation Tips, Tricks & Ideas"!