How do you know if your B2B marketing strategies are effective? One of the best ways to measure your digital marketing initiatives is by analyzing the key metrics
that drive your business forward. These seven key metrics will not only tell you where you're currently at with your business, but they'll also give you insight into where you should be going next to further improve the performance of your company's B2B digital marketing activities.
1. ROI on Digital Marketing
Return on investment (ROI) is an essential tool in digital marketing. The ROI can be calculated by taking the expenses related to your digital marketing activities and comparing that to growth in sales.
Here is an example of how to calculate basic Digital Marketing ROI for a given month:
Sales Growth Before the Campaign
Our goal here is to see how our digital marketing campaign affects the growth in sales. Before doing so, we need to see if there was growth in sales before the campaign. To do that, we look at the previous 12 months prior to the campaign and see if sales have gone up, down or remained static during that period.
Now take the total sales growth/loss for that period and divide it by 12. That gives the average monthly growth/loss of sales over the last year and one of our important variables known as Monthly Organic Growth in Sales. We use this figure to represent what would have happened to sales that month if we didn't run our digital campaign. Then we compare that figure to the actual monthly growth/loss in sales one month after running the campaign.
Sales Growth After the Campaign
After calculating the Monthly Organic Growth in Sales, you then take the actual Growth in Sales for the past month and the Cost of Digital Marketing for the same period. Once you have these figures, you can make your Digital Marketing ROI Calculation as follows:
((Monthly Growth in Sales - Monthly Organic Growth in Sales)- Monthly Cost of Digital Marketing) / Cost of Digital Marketing = Monthly Digital Marketing ROI
Or putting it into numerical terms, assuming Monthly Organic Growth of $500, and Monthly Growth in Sales of $25,500, and a Monthly Cost of Digital Marketing of $15,000, then the Digital Marketing ROI would come out to 67% and would be considered an extremely successful campaign.
(($25,500 - $500) - $15,000) / $15,000 = 67%
ROI is the number that shows how much value you're getting from your investment in digital marketing, giving you an immediate sense of whether your efforts are actually affecting your business or not. While this gives you a general picture, it is also necessary to get more granular information on the various metrics that go into the ROI calculation so they can be improved.
2. SEO Metrics
Successful SEO relies on a variety of data points, but ultimately boils down to two main numbers: organic traffic and lead conversions. Both can be tracked via readily available analytics software. Organic traffic refers to people visiting your site via a link or through search engine results pages (SERPs). Conversion refers to visitors to your website who take the desired action that leads to further contacts, such as contacting a sales rep, scheduling a call or even providing their personal information on a form. Both are relatively easy to measure.
SEO is a proven and effective digital marketing strategy that creates opportunities to increase brand awareness, improve reputation and drive traffic to your website. SEO metrics are an important performance metric because they can help you determine how much progress you're making towards your goals. For example, if your goal is to increase site traffic, you might measure that in terms of visitors or unique users.
3. Cost per Acquisition
Cost per acquisition (CPA) refers to the cost of acquiring a qualified lead or new customer. Most business owners have heard about CPA, but not many use it effectively in their marketing campaigns. To be fair, CPA can be tricky—especially when you're focused on getting new clients fast. But think of it as an investment: You want to get the biggest return from your ad spend, and in order to do that, you need to use a target amount to determine how much you're willing to pay per lead or sale.
When considering all the touchpoints on a typical customer's journey, calculating CPA isn't easy, and you should use several different metrics to compare over time. The easiest way to keep track of your total costs is by keeping a spreadsheet with your expenses listed in chronological order—this will make it easier to see how much was spent on each activity. Divide that figure by your sales or leads to arrive at a CPA value. Be sure to include information regarding all the touchpoints and digital marketing-related activities that were involved along the way.
4. Cost per Click
Cost per click (CPC) is a term used to describe what it costs to have someone click on a link or an advertisement that brings them to your website. It's important to note that CPC refers only to the act of clicking on a link to your site, but does not take into account what happens after the visitor gets there. It's an important metric because without visitors arriving at your site, there is no chance to convert them into leads and eventually customers.
CPC allows you to hone in on how to get potential customers to arrive at your site in the first place. After a prospect arrives at your site, you then need to provide them with the compelling content or value-added offer that can convert that visitor into a lead.
5. Sales Funnel and Qualified Leads
The are many steps in the customer journey but for the sake of simplifying our metrics we can break it down into the four phases of the Sales Funnel: Visitors, Leads, Prospects and Customers.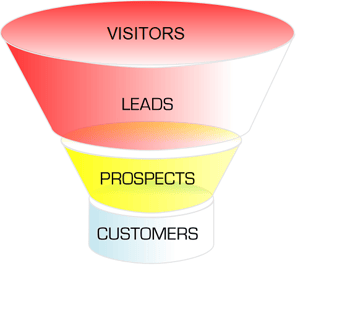 As you can see the funnel starts out wider at the top so there are many visitors and narrower at the bottom which means there are fewer customers. It is important to track all these phases to see the effectiveness of our digital marketing campaign. While all the stages are necessary to reach the end goal of acquiring a new customer, it may be necessary to tweak certain aspects of your digital marketing while leaving others as they are. For example, if you have a high conversion rate of Leads into Prospects but don't have enough Leads, then you must concentrate on digital marketing activities that draw more visitors to your site in order to create more Leads.
That of course begs the question, how can we measure a Lead if we don't know how to define it. That's where MQLs and SQLs become important B2B metrics in their own right.
Marketing Qualified Leads (MQL)
In general, an MQL is a potential customer who has indicated some level of interest in your solution. This makes this particular Lead more likely to become a customer than others. Often they have already engaged in some way by submitting contact information, opting into a newsletter, agreeing to receive discount offers, or repeatedly visiting a web page. An MQL is judged to be interested in your products has taken the first steps to become a Lead, and is primed for additional contact to convert into a Prospect or Sales Qualified Lead.
Sales Qualified Leads (SQL)
An SQL is a Prospect who is perceived to be willing to make a purchase. SQLs are based on intent and have taken actions that indicate that they are very interested in making a purchase. Some examples of these actions include: Requesting product information, requesting a price quotation or signing up for a webinar. SQLs are often handed off to sales reps who can then invest their time in those prospects who are most likely to buy.
Measuring the sales funnel and making sure that there are sufficient MQLs and SQLs in the pipeline are other important metrics when determining your Digital Marketing ROI.
6. Engagement Rate
Engagement rate is one of several metrics used to determine how successful a piece of content is. A post's engagement rate is its total number of interactions divided by its total number of social shares. So, if you share something on Facebook and get 500 likes, 10 comments, and 2 shares, your post's engagement rate would be 2%. To put that in perspective, 15 million pieces of content are shared daily on Facebook—so your 2% engagement rate is actually pretty good.
The reason that engagement rate is so important is that it gives you a way to tell what type of content resonates with your audience. When someone likes, comments on, or shares your post, they're giving you real-time feedback about what they like and don't like. It shows that people actually read and enjoyed your content—which means you can post more articles like it in the future.
7. Individual Marketing Activities
Digital marketing can be a daunting task with multiple channels, inbound and outbound campaigns and multiple budgets to manage. That's why it's so important to stay on top of your digital marketing operations by measuring all the touchpoints and activities when calculating your ROI.
While overall performance is important, it equally is important to dig down and understand the individual metrics of each of your digital marketing activities. Improving the results for each part of your customer journey, from Lead through Customer, is the most effective way to improve the overall Digital Marketing ROI.
Even after getting together all your statistics, getting a handle on the data necessary to get an accurate picture of your Digital Marketing ROI can be challenging. If you need a hand, then why not contact the Digital Marketing experts at KeyScouts to see if you qualify for a free consultation