Turning traffic into leads is a huge part of digital marketing. If you can't get people to take action, then you're not going to reach your goals and grow your business,
So how can you make sure that your lead generation program is going to be effective?
There are lots of lead generation techniques out there. New technologies and applications are introduced on a constant basis with communications channels varying in their effectiveness over time. In the end, we have found that the familiar and proven methods that have worked for us in the past are still the most effective. There may be alternatives out there, but from our experience, these five tried and true techniques really work.
1. Focus on Landing Page Optimization
To improve lead generation results you must concentrate on landing page optimization. You can do so many things right, but if your landing pages are poorly optimized, then you're not going to see the best results.
One of the most common mistakes people make with landing pages is having too broad a focus. These pages should have one goal - to get people to provide contact information or fill out a lead capture form.
Too often, website visitors become confused due to different links and calls to action. Landing pages must be focused on making it as easy as possible for people to become a lead. Offering valuable gated content and making it simple for visitors to fill out lead capture forms is a big part of this. The more complicated it is, the more potential customers will drop out and fail to convert to leads.
It's easy to focus on how you get people to your site, but traffic is irrelevant if your pages don't get people to take action and ultimately provide the information that turns them into a lead.
2. Create Value-Added Lead Magnets
Lead Magnets refer to the value that you offer visitors to your website. In return for providing valuable information, visitors are required to leave their contact details or fill out a form. In this transaction, visitors get something of value, and the company receives data regarding a prospect.
What can you do to make this transaction more valuable for the prospect?
The answer is using lead magnets, which are high-value pieces of information that require users to provide information about themselves before gaining access to the content.
The key here is value. This transaction is the beginning of a relationship - if you promise quality and deliver junk, then you may create a lead, but you're unlikely to convert them into a customer.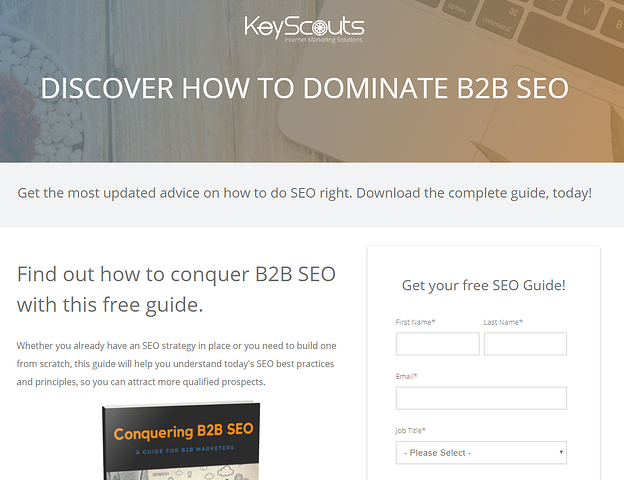 In the image above, you can see how KeyScouts used a detailed guide to Conquering B2B SEO as a lead magnet which makes sense for its target audience who are very interested in learning more about this topic. The main thing is to find the content or application that provides value for your target audience.
Besides content, you can also offer something more interesting like an interactive quiz or calculator tool. Since our ultimate goal is demand generation, below is a great example of a Demand Generation Calculator which would be a great lead magnet for this blog post.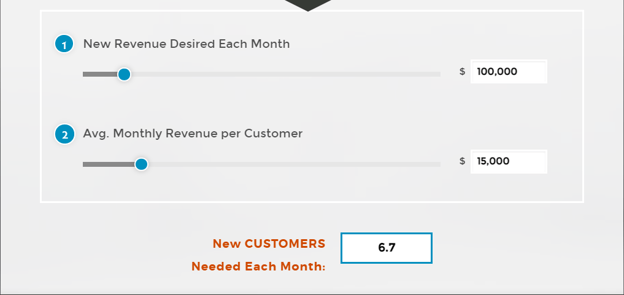 Next is an example of a quiz that determines where the visitor wants to vacation and then suggests appropriate holiday packages that match their preferences. A great way to turn leads into customers using content they enjoy.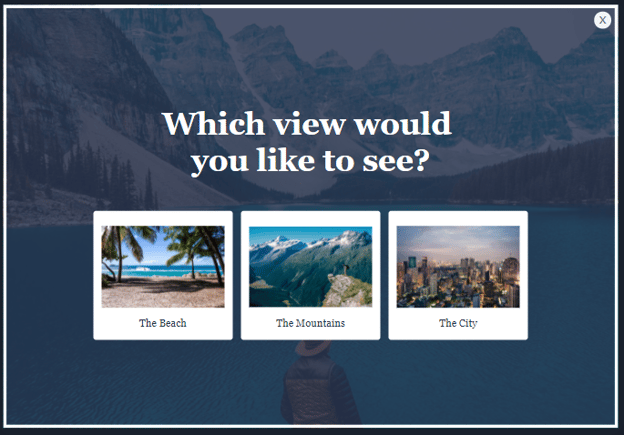 Ultimately, it's something that engages your audience and offers them added value that turns a lead into a customer.
3. Run Webinars
In the recent past, most lead generation was done through physical contact at trade shows and face-to-face meetings by sales staff. Since then the world has gone online, a trend that has been accelerated by the recent pandemic. Some industries still rely on physical meetings, but more and more of the leads today are generated by digital inbound marketing programs.
That said, we still want to try and maintain some level of personal contact - even if it's virtual. One of the best ways to do this, and provide value for your target audience is through a series of webinars.
The great thing about these webinars is they offer a somewhat personal experience while giving the ability to reach many leads at the same time. It's a perfect opportunity to gain trust by sharing your expertise and offer high-value information in return for receiving high-value information from potential customers.
Besides the technical aspects of scheduling, broadcasting, recording and storing your webinar, it must always be emphasized that the main purpose of a webinar is to generate leads and move existing customers forwards in the sales cycle.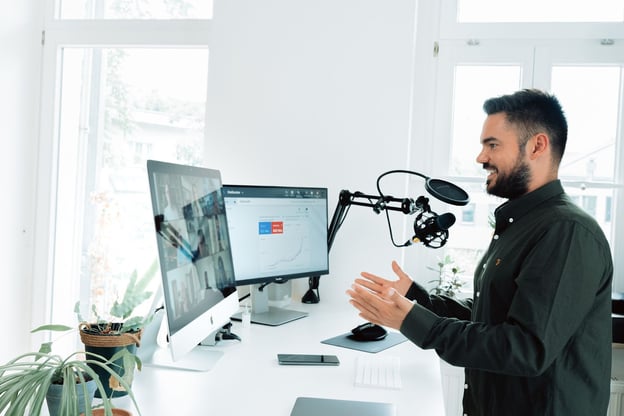 Fortunately. there are a number of applications out there that can help make your webinars successful both technically and - more importantly - at tracking and generating leads. Some of the top offerings include:
The Livestorm enables creation of interactive webinars including live chat, questions, polls and replay features. Automated emails and registration pages with powerful analytics help understand your audience
Demio provides a simple, no-download webinar experience and the marketing tools needed to generate better results. It goes beyond attendance rates by tracking exactly who engaged with content, answered a poll or downloaded a handout.
Zoho Meeting is a secure online platform and webinar solution that helps people find new ways to collaborate and work remotely It enhances remote collaboration experiences with highly secure online meeting software.
The popularity of live streaming goes to show that consumers love live experiences, and a webinar is an ideal opportunity to give them this.
While live webinars have the greatest pull, your old webinars can still be great sources of information and help in your lead acquisition.
4. Create Multi-Touch Campaigns
If you've ever done a cold email campaign, then you also know that it takes perseverance and the results may take a while to materialize. This is why you create a sequence of emails or other interactions, also known as Multi-Touch Campaigns, that are designed to engage your prospects over a pre-defined time period or automated according to user actions.
Getting noticed isn't easy, but you have a much better shot by f creating a campaign with multiple touchpoints.
With the right software, it's possible to engage your prospects in lots of different ways, which increases the chances of getting noticed. One of the ways to do this is by creating a multi-touch flow that takes your potential customers on a well-defined journey. A typical multi-touch campaign might look something like this:
Run a targeted LinkedIn PPC campaign
Prospect clicks through to your website
Prospect is retargeted and brought back to your website
Prospect downloads your lead magnet and enters into an email sequence
After a certain time period or the prospect taking a predefined action such as clicking on a link, a gift package is sent to their physical address.
After receiving the gift package, the prospect is entered into a new email sequence.
This is a campaign that blends the physical and digital spheres, and is hard to ignore. It also reflects the current marketing environment where prospects interact on a website, using social media, sending emails, and taking action in the physical world.
Using software such as Zapier, all of this can be automated, allowing you to create a highly efficient flow that can penetrate the consciousness of your prospects.
5. Invest in Your Referral Program
There are few selling tools as powerful as social proof and testimonials.
Reviews are powerful, but when people are actively referred to a product or service through a trusted contact, it's going to make them sit up and take notice. The basis of this is having a great product, but just like with your lead magnet, it's much more effective if you have incentives.
How can you encourage the people who love your product or service to pass the message on to their family, friends and contacts?
Some businesses offer future discounts or enter participants into a draw to win a valuable prize. These are effective options, but if no one knows about these programs then they have little chance of making an impact. Therefore it is critical not only to offer the incentives, but to publicize the referral program as part of your marketing campaigns.
If you do this well, then referrals can introduce your business to new audiences and you're going to gain leads and start relationships while establishing online credibility.
Kickstart Your Lead Generation with KeyScouts
These lead generation techniques can make a big difference to your customer acquisition, however, it's not always easy to get started. You need to create a clear plan and keep working towards it. Your sales pipeline always needs more leads, so remember to view lead generation as a constant process that can always be tweaked and improved over time.
Whether you are just starting out or want to take your lead generation program to the next level, then you should contact the digital marketing experts at KeyScouts and arrange for your free consultation - a real value added lead magnet!
For professional advice on how to boost your lead generation program, start a conversation with KeyScouts and see if you qualify for a free consultation today!