Selling a product or service online—or even simply trying to get a visitor to land on your site to download an ebook—requires the use of what is known in marketing circles as a conversion funnel. This is the process through which a site visitor turns into an actual lead.
Since leads are opportunities that can eventually (and ideally) turn into customers, analyzing your conversion funnel regularly can help you achieve your goals.
Only 22% of brands are satisfied with their conversion rates. It's recommended that you put a conversion funnel optimization plan into place to improve the results of your content marketing strategy over time.
Every B2B brand has a conversion funnel, even if it's not presently analyzed. Some brands' funnels have holes, such as untargeted content or a failure to utilize the most popular channels in the niche.
Where there are holes in a funnel, leads will "leak", and your conversion rates will fall.
Conversion Funnel Stages
There are four key stages to be aware of when analyzing your conversion funnel.
Awareness:
This is the stage where the visitor has a problem and begins searching for a solution, ideally one your company can provide.
Interest:
The visitor has locked onto your brand as a potential source of information or possibly a solution to his or her problem — and the research into your brand begins.
Desire:
This is the stage where you foster your relationship with the prospect, making him or her want your offering all the more.
Action:
Here, you entice the visitor to act, officially turning the individual into a paying customer.
Many people confuse the conversion funnel with the buyer journey, as some of the stages seem the same, and they are closely related to each other, but in fact they are different things...
Conversion Funnel vs. Buyer Journey
Simply put, the conversion funnel is the process from the company's point of view, while the buyer journey is the process from the customer's standpoint. Thus, the buyer's journey is segmented a bit differently.
The buyer journey only has three stages:
Awareness
Consideration
Decision
It describes the path prospects and customers follow when considering a purchase. This buyer journey is more customer-centric and caters to your prospects' needs, pain points, challenges, and goals.
While the conversion funnel is important for planning your budget, selecting the proper channels to spread your message, and reporting KPIs, the buyer's journey is important when designing new products, building strategies for improving the customer experience, developing targeted content, and determining how to communicate with your various buyer personas.
Developing Your Buyer Personas
Selling anything online requires the use of one or more buyer personas, which represent fully-detailed profiles of your target audience. The information you use to describe your personas can come from you're your own insights, market research, and interviews and surveys from current customers.
When developing your buyer personas, you are encouraged to:
Give him/her a name, job title, organization, and yearly salary

Describe likes, dislikes, hobbies, buying habits, and points of interest

Pinpoint demographics, family life, educational background, and other important details
As a side note, don't be afraid to design negative buyer personas. For instance, your website may continually attract lower level executives who aren't the right fit for your offerings. Creating a negative persona can help you avoid these types of interactions in the future.
Other important points to include with your negative persona include:
Any red flags from prospects that aren't caught right away and that continue to frustrate your sales team

Common qualities of prospects that made it to the end of your conversion funnel without actually closing

Behaviors that continue to cause your team to spend more time and money with prospects than originally planned
Once your buyer personas are created, you'll have one of the most powerful tools for ensuring your advertising is correctly designed and placed.
Now you can check your conversion funnel against your buyer personas to detect any holes that may be present.
Conversion Funnel Optimization Tips
Awareness
The Awareness stage of the conversion funnel is when prospects are drawn into the funnel. It is when they realize that they have a specific problem and start to research it.
To analyze this stage properly, look closely to where your site visitors come from and – most importantly — whether each of those channels is working effectively.
For instance, after looking at your analytics data, you may determine that most of your traffic reached your site through organic search results. In this case, your SEO efforts would need to be regularly examined and updated as necessary.
If your traffic is reaching you through social media, make sure your advertising there is also properly targeted.
The folks at MailChimp have mastered attracting their buyer personas. What do most business owners worry about when collecting leads? The ones who got away. Here, MailChimp tells business owners they can get those leads back by choosing the MailChimp platform.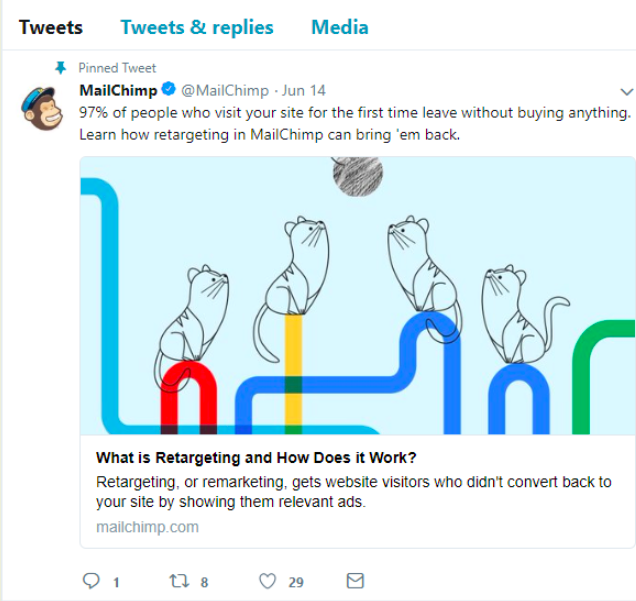 Of course, some new traffic might visit your site directly. You can draw these site visitors into your conversion funnel by offering content they're likely to be interested in before they browse away from your site, like HubSpot does this on their homepage.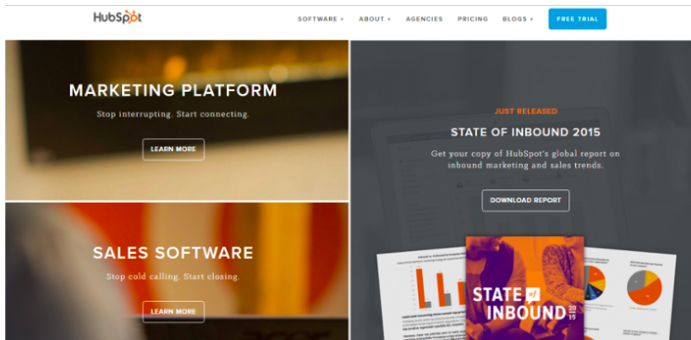 Here you can see that Hubspot offers learning resources, a free download, and a host of other options in its menu, further enticing visitors to stick around and stay awhile.
Interest
The Interest stage in the conversion funnel is when prospects start looking for possible solutions to their problem they researched during the Awareness stage.
The underlying focus here is to communicate your offering's benefits while describing the very characteristics that set you apart from competition.
At this stage, you should offer a piece of relevant content (such as an ebook or whitepaper) for download in exchange for information, like a name and email address.
When collecting personal information, always use a simple form, as the ease of use will increase the likelihood of the lead proceeding to the download.
To push leads to convert, tell them what to do. A strong call-to-action (CTA) will help draw attention and create interest in your content. The best CTAs are short, urgent, and stand out graphically, such as a button that reads, "Download Now!"
When Your Leads Won't Convert
If you have a free download on offer and it's not converting, you'll need to ensure you're using the most effective content and messaging. The ebook or whitepaper might not be relevant to your prospects' needs. Or, your messaging may be off point.
Check out this example from Centric Business Solutions. Their blog has a ton of interesting, free content for leaders in their industry, which is perfect for the Awareness stage. And every post also gives readers an opportunity to provide their details to access premium content, which puts them right in the stage of Interest.

Clicking on the download button brings prospects to a simple form where it's easy for them to convert.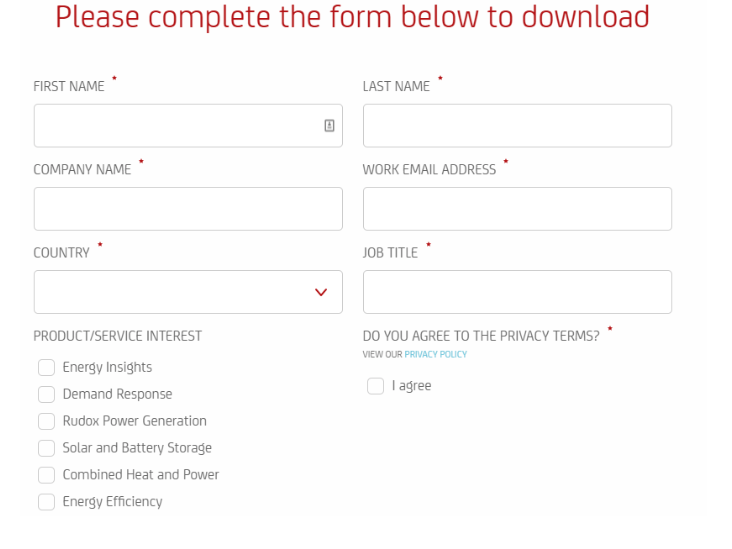 Here's another CTA from the brand enticing visitors to keep up to date with the latest news, thus allowing Centrica to capture more of the otherwise anonymous leads that land on their site.

Desire
Once you have an interested lead, your job is to make the person really want what you have to offer.
An automated email program or a strong lead nurturing campaign is a great way to manage the Desire stage of your conversion funnel.
As you create and develop a relationship with your prospects through the use of automated emails and valuable content, continue to use strong CTAs to guide users towards the final stage of the conversion funnel — Action.
Action
This is the final stage of your conversion funnel, where your prospects become official paying customers.
Once prospects purchase your product, be sure to provide them with onboarding information or training and additional educational materials on a regular basis.
Remember — just because a lead became a customer, doesn't mean the conversion process is finished. It starts all over again, as you build customer loyalty to drive up/cross selling opportunities and referrals.
In this way, you effectively keeps customers engaged, completing the conversion funnel and putting it into perpetual motion.
Conversion Funnel Optimization Tools
There are a variety of tools out there that can help you analyze and optimize your conversion funnel. Beyond Google Analytics, there are more specialized analytics software providers that can help you gain useful and actionable insights to effectively design your conversion funnel.
These include Mixpanel, Woopra, and ClickTale. These tools offer session replays, heat maps, and other tools that can help you understand exactly how your leads are interacting with your site and where you're losing them.
With this knowledge, you'll be better equipped to effectively redesign those aspects of your conversion funnel that aren't working.
Still not sure about where to start with optimizing your conversion funnel? Contact us at KeyScouts, today, and we will be happy to help!